Stage 1
In stiff breeze and gnarly chop, the 48 boats that started the first short leg of the fifth annual Race to Alaska on Monday — 40 miles from Port Townsend, WA, to Victoria, BC — took a pounding. Only 37 finished. The docks at Victoria's Inner Harbor were a carnage-fest of broken gear, torn sails, drowned radios, lost hatches, hulls or amas filled with water, and things lost overboard. But that's why this short first leg exists — if you need to fix stuff, you're still within walking distance of the hardware store or chandlery.
Stage 2
But that's all old news. The 'real' R2AK — 710 miles to Ketchikan — started at noon yesterday. As of this morning, the fleet is spread out over almost 100 miles of Inside Passage. Topping the leaderboard are three Bay Area-associated teams. Team Pear Shaped Racing, racing a custom Cochran 10.6M trimaran with Sausalito connections, has covered almost 100 miles and is currently passing Blubber Bay on Texada Island. (Full disclosure: We have zero local knowledge about this area; we're just reading off the race tracker.) Team Angry Beaver, sailing a former San Francisco-based Schock 40 (ex-Secret Squirrel) being sailed by some of Seattle's finest, is less than five miles behind. And Team Givin' the Horns, sailing a Goleta-based Corsair F-31R trimaran, is about six miles behind them. Last year's winners, the all-woman Melges 32 crew, Team Sail Like a Girl, are currently in seventh place about 30 miles back.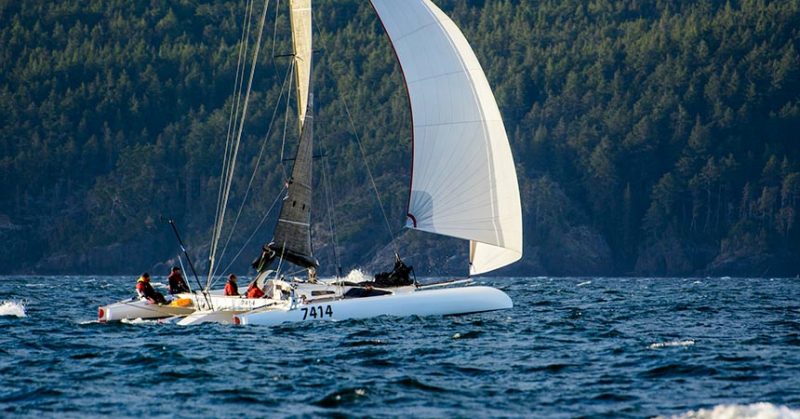 Of course, with 600 miles to go, and several areas of 'narrows' where currents can run in the double digits, it's still anybody's ballgame.
In case you're just tuning in, the R2AK is as unique as it is crazy. The only 'rules' are "no motor, no outside support." Which means not only sailboats, but human-powered boats are allowed. So about a quarter of the original entry roster of 48 have no sails at all. They are kayaks, rowboats and even a couple of stand-up paddleboards.
And even the sailboats are hybridized. Due to the fluky and often light nature of the breeze in the Inside Passage, all the sailboats have been fitted with some kind of auxiliary human power — oars, paddles, pedal-driven props and who knows what else.
There are no handicaps and no 'classes'. The first boat into Ketchikan wins $10,000. The second, a set of steak knives. That's it.
We'll have an update — possibly including a winner — on Monday. Until then, you can check in on the progress of the fleet at r2ak.com.
Receive emails when 'Lectronic Latitude is updated.
SUBSCRIBE