It Was Fun While It Lasted
It's a tumultuous world, and you never know when the quiet little cove you're anchored in is going to suddenly be in the crosshairs of some global dispute. On Tuesday the 'human wrecking ball' (as New York Times columnist Thomas Friedman described Trump) and his Treasury Department published new regulations halting group travel to Cuba. Previously, travel had been possible for "people-to-people" educational purposes. That's now prohibited, along with visits to the island via cruise ships, personal aircraft or personal yachts.
This is true for Carnival Cruise lines, and for cruisers who were looking to amble across the 90 miles from Key West to Cuba for some of the same cruising Europeans and Canadians will continue to enjoy in those unspoiled tropical waters. Members of the Corinthian Yacht Club in Tiburon have now had to cancel their annual commodore's cruise scheduled to go to Cuba this July.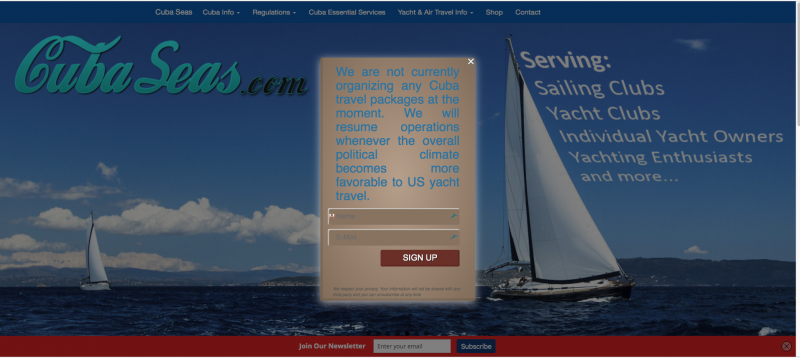 Like all new rules, it will take some time to sort out how this one will be applied and enforced. But, according to the Washington Post, a Commerce Department spokeswoman said, "Cruise ships as well as recreational and pleasure vessels are prohibited from departing the US on temporary sojourn to Cuba effective tomorrow."
Latitude 38 founder Richard Spindler took his Ocean 71 Big O to Cuba just over 20 years ago. He wrote, "American sailors, of course, have long been able to take their boats to Cuba on the condition they not 'trade with the enemy' by spending any money once they get there. Ho, ho, ho, that's a funny one!" He continued: "We spent nearly two weeks cruising the north shore of Cuba on Big O and marveled at two things: 1) How unspoiled and undeveloped the country is, and 2) How awful slavery is. Teenagers in America complain about 'not having a life', but in Cuba it's really true. Those hopeless people have nothing to do all day but sit around and wait to die."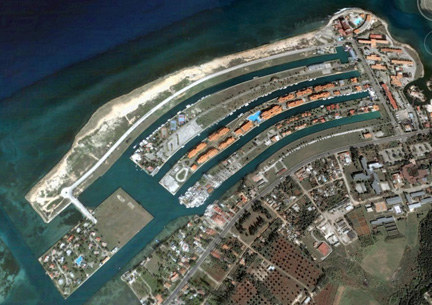 Spindler took Big O to Cuba during the Clinton years when the Coast Guard "advised" them not to go but didn't try to stop them. Upon arrival, they found there were already plenty of Americans on their boats in the Cuban marinas. Under George W. Bush, the US clamped down again, and all the American boats cleared out. Obama's administration loosened restrictions again. Of course, this all started after Fidel Castro took over and Kennedy imposed economic sanctions in 1962.
The loosening up under Obama helped stop desperate 'boat people' escaping in rafts and re-start some friendly inter-island racing in the Conch Republic Cup from Key West to Cuba. The Bay Area's Peter Krueger participated with his J/125 Double Trouble in 2016. Jeff Zarwell was the PRO. Race organizers canceled in 2018 due to bad weather. Now the event will be canceled due to this latest form of lower atmospheric disturbance. The Obama thaw also allowed 64-year-old endurance swimmer, Diana Nyad, to complete the 103-mile swim from Cuba to Key West in 53 hours in 2013.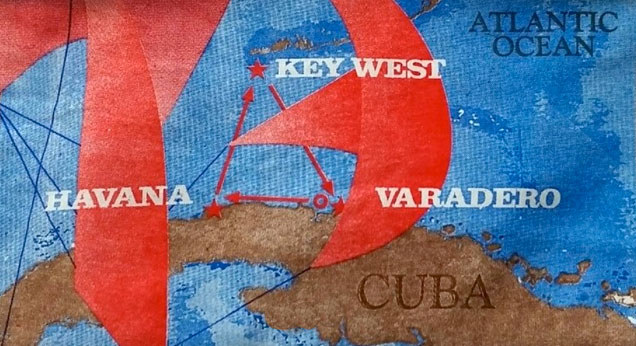 One of the reasons we enjoy sailing is escaping all the turmoil ashore. Yet somehow it can find you wharever you escape. Soybean farmers in Iowa might feel the same way. Cruisers in the turquoise-blue waters of Cuba are caught up in a similar Tweet-storm as farmers in the bucolic fields of the Midwest. The amber waves of grain are as disturbed as the sea to shining sea.
Will American cruisers be able to sail to Cuba as long as they don't 'trade with the enemy'? Will French, Germans, Canadians and other cruisers miss the American cruisers who will be departing again? The ebb and flow of sanctions has disrupted the course of many sailors, but neither loosening nor tightening sanctions has appeared to change the course of Cuba. While this storm blows through, sailors will once again need to adjust their sails and head for calmer waters.
Receive emails when 'Lectronic Latitude is updated.
SUBSCRIBE