The list of best 'sailing movies' is familiar and dated. There's only been a handful of films featuring sailboats, and a hint at the lifestyle that draws us. Like most stories churned out by Hollywood, sailing movies are rife with cliches, inaccuracies and improbabilities that can make us scream at the screen, but at the same time, take some satisfaction in seeing sailors doing their thing.
We'd like to hear about your favorite sailing movies, and hope you'll educate us on films beyond the usual suspects like Master and Commander, Wind, White Squall, Pirates of the Caribbean, Dead Calm and yes, even Waterworld.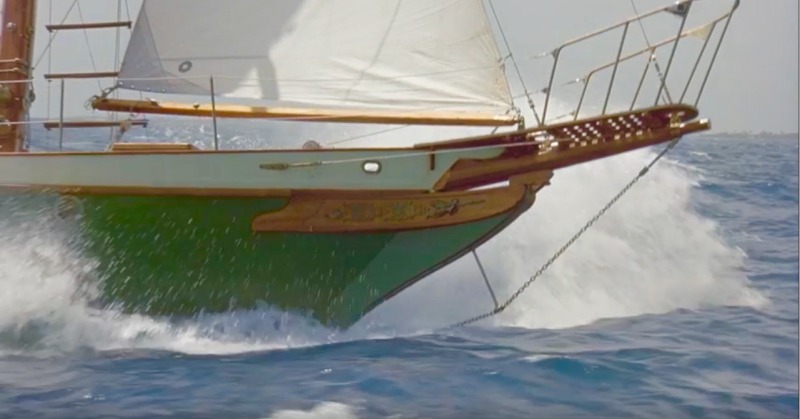 We imagine this more as a book club rather than creating just another list with a brief summary telling us all what we already know. We'll pick a film, give our analysis, have you discuss, then publish your responses. In particular, we want to hear what the movie in question meant to you — if anything. What are your favorite quotes? Were you inspired to head south? Were you inspired to buy a boat? Or did you watch the film and swear you'd never give Hollywood another dime of your money again?
One of our favorite things about movies is making fun of them, especially films that have aged a little (like bad wine). We like to take early '90s adventure rom-coms seriously, and laugh hysterically at movies meant to be dramatic and solemn.
Let's start with (dare we say) a classic — a movie that we recently heard quoted by many of you. It's a story about two men.
One man is a face among millions in a cold, sprawling metropolis. He looks dejected, even lost in the crowd as he ambles through busy streets in the opening. He's stressed, tightly wound. As he walks into his office building, our protagonist — Martin Harvey, played by Martin Short — is trapped in a revolving door by an inconsiderate younger man. Is it a metaphor? Stuck in a spinning cycle from which he cannot escape?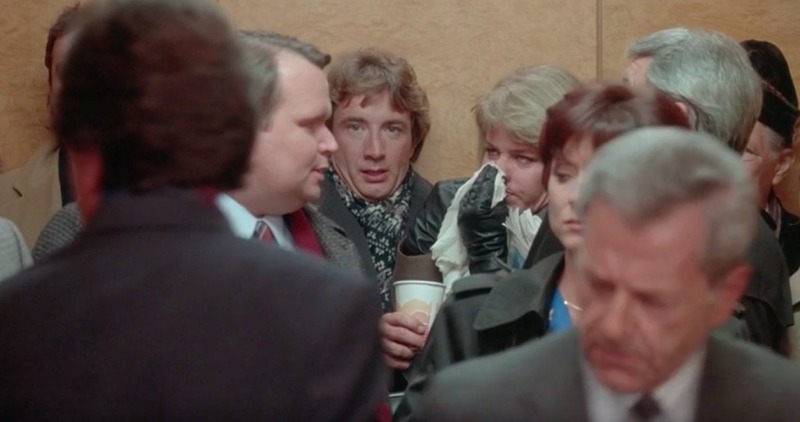 All the while during this decidedly early '90s opening sequence, a bike messenger zips, without explanation, through busy, frozen city streets. Oddly upbeat (and decidedly '90s) reggae-ish music is juxtaposed in the background, strangely sanguine against the bleak world our protagonist inhabits. The paths of the messenger and Harvey, it seems, are destined to cross. Without him knowing it, the sea calls to our hero.
Harvey crams into an impossibly crowded elevator. A rotund and especially garrulous man reveals (embarrassingly, inappropriately) to the crowd in the elevator that our hero wants to write a novel. "I mean that's what he told me. But what're you gonna write about, adventures in new product development?"
"I just said someday . . ." Harvey starts to answer.
"Well my point exactly, someday," the chatty man says dismissively. Just then, the bike messenger crowds into the elevator. He has a package, for Harvey — his uncle just died, and left him a boat in the Caribbean.
The other man is Harvey's antithesis. Loosely wound, his feathers unrufflable. A tanned and dreadlocked sailor. Swashbuckling, beer-guzzling and wearing a patch to cover his glass eye. His presence is large, he leaves a trail of empty bottles, broken hearts and angry husbands. His motto: "Don't worry, they'll get out of the way." Indeed, our other protagonist believes that all of humanity will simply 'get out of his way' to accommodate the happy-go-lucky course he's charted through life.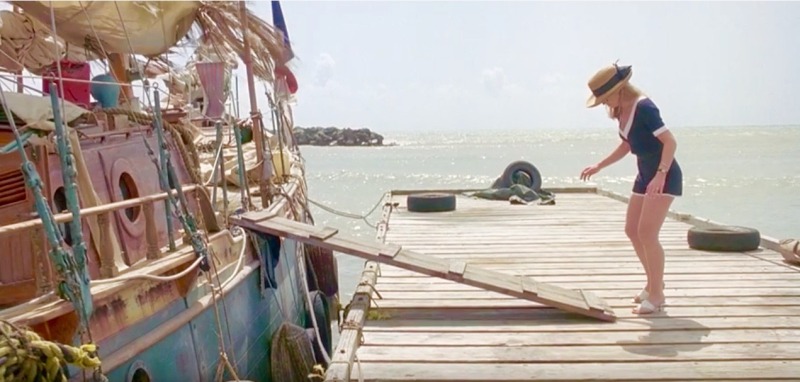 This is the story of Captain Ron (played by Kurt Russell).
Wackiness ensues. The boat Harvey inherits (reportedly one of two 50-ft ketches used in the movie) is a beautiful disaster. The family — consisting of a wisecracking boy, a teenage daughter getting in touch with her sexuality, and a mom who's the upbeat, unsung hero of the movie — reluctantly go to work on their new home (a staple of late '80s and early '90s movies seems to revolve around the 'fixer-upper'). Enter Captain Ron.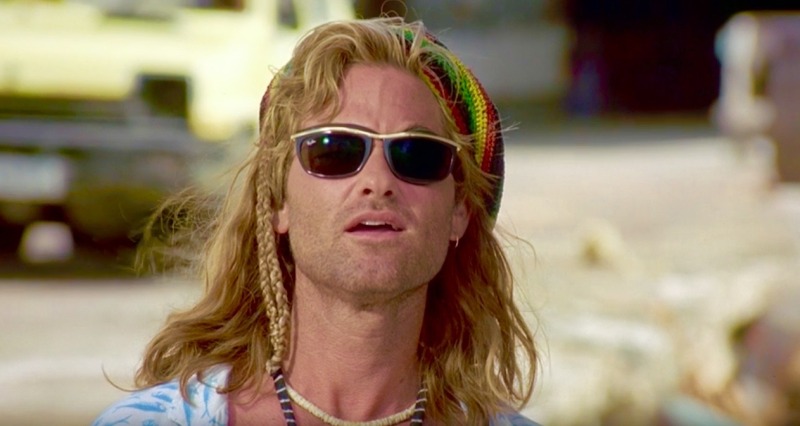 Calamity ensues.
Captain Ron steadily emasculates Martin Harvey by simply being cooler and easier-going than the suburbia dad who has "worked very hard to plan a spontaneous adventure" for his family. In the end, Captain Ron sacrifices his own manhood so that Harvey — who learns to throw at least a little caution to the wind — can reclaim his own.
One thing we think Captain Ron did very well was portray sailing as something truly magnificent. When the family — accompanied by a band of anti-communist guerrillas (not gorillas) — finally sets the sails, the moment is shown in all its glory in a way that Hollywood does so well. Did a sailor consult the filmmakers, or did the filmmakers figure out that sailing was something special unto itself?
Please share your thoughts about the (dare we say) iconic Captain Ron.
PS: You can rent Captain Ron off the Internet through YouTube or a number of other streaming services (said one Latitude editor to another this morning: "You paid money for Captain Ron?")
Receive emails when 'Lectronic Latitude is updated.
SUBSCRIBE