Latitude Movie Club: 'White Squall'
Back in the '90s, I was working at the Navy Sailing Center in Point Loma on an especially windy weekend, keeping an eye on the renters (15 knots being a really big deal in San Diego). I spotted one of our O'Day 14s apparently swamped and flogging along, and sped over to ask if the sailor needed any help.
The woman at the helm was shivering, but nonchalantly waved me off. She was more than game to sail back to the end of Shelter Island, but I eventually convinced her to let me give her a tow. Chatting on the way back, she told me that she was from the East Coast and learned to sail as a young girl.
"Do you know who Chuck Gieg is?" she asked. The name was strangely familiar, and in moments, neurons connected. Chuck Gieg was the narrator of the movie White Squall, and the real-life survivor of a shipwreck in 1961. Gieg's book, The Last Voyage of the Albatross, would be adapted into the screenplay for the film. "Chuck Gieg taught me how to sail," the woman said proudly, adding that the movie was, according to Gieg, fairly accurate, with a few typical Hollywood dramatizations (nobody killed a dolphin, for example).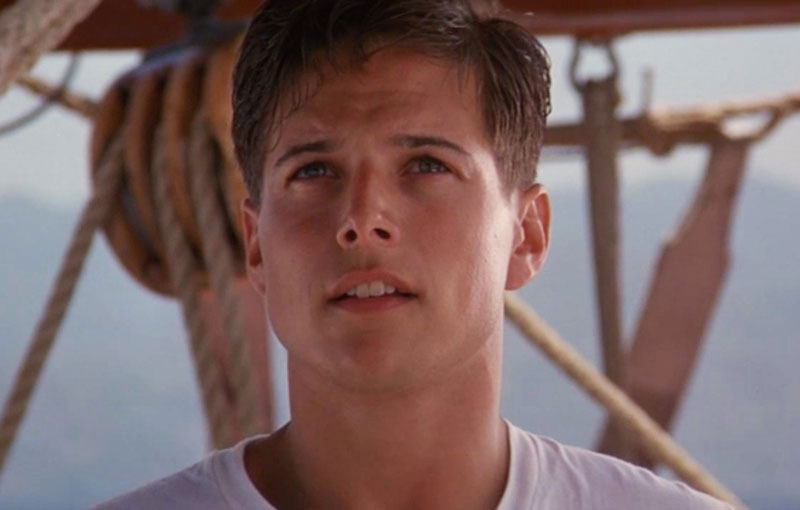 As sailors, we don't get sailing movies very often, and the release of White Squall in 1996 was a boon for those of us who were (but perhaps wouldn't have called ourselves) full-blown sailing nerds. And because it's set entirely on and around a brigantine, White Squall might be one of the most sailing-est of all sailing movies.
Watching the movie last night — more than 20 years after its release, and after our tastes in movies have shifted dramatically — some aspects of the film stand the test of time, while others lack the gravitas they had when we were in our early 20s.
The movie is full of shirtless teenage heart throbs (before they were totally dreamy), like Scott Wolf (playing Gieg), Ryan Phillippe and Eric Michael Cole. In act one, Gieg narrates: "Some of us are here for discipline, some of us are here for escape, and the rest don't even know why. I'm not sure where I fit in but I can see a small piece of myself in each [of the others]. I think I'll have friends here, and I hope this will be home."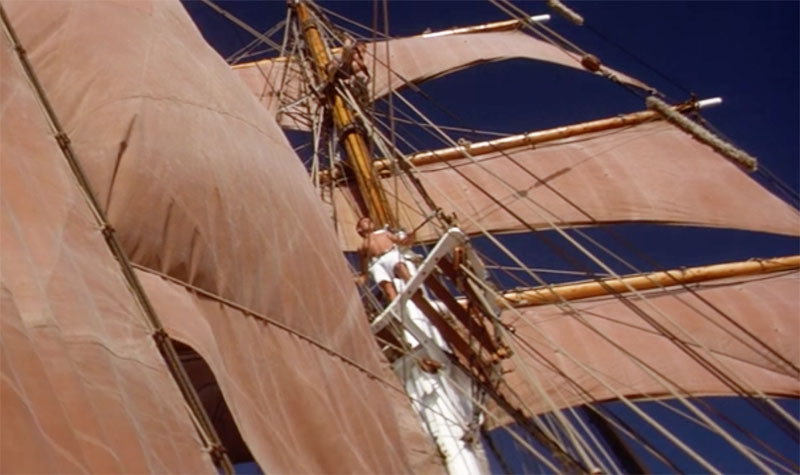 In this sense, the movie covers multiple genres. In addition to be a 'sailing film', it's also a teenfest, a coming-of-age film showing the arc of boys becoming men. I felt the same sentiment re-watching the film that reverberated through me after seeing it for the first time: I wish I'd done a semester at sea. I would have grown up as an entirely different human being.
The movie also has some excellent sailing, with the big, bulky brigantine chugging along in heavy seas and cruising to exotic locales. It is a truly excellent sailing movie, plowing constantly, inevitably toward disaster in that anxious Hitchcock way — we the audience know the characters are doomed, while the characters themselves are oblivious.
But at the same time, parts of White Squall came across as incredibly contrived, as if the film were desperate to be dramatic and taken seriously. Captain Christopher Sheldon was played by Jeff Bridges in perhaps his most strait-laced role of all time. For those of us who know him as The Dude from The Big Lebowski, Bridges was very 'UnDude' in White Squall (even as the President of the United States in The Contender, Bridges still felt like a laid back hippie ready to 'do a J').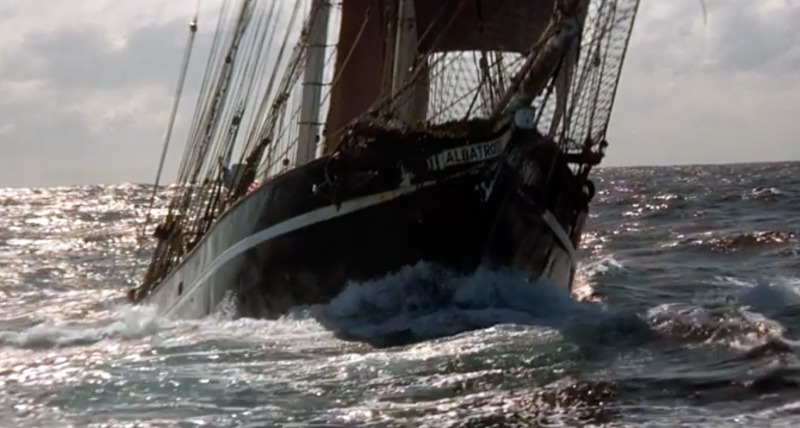 Bridges played a perfect hard-ass, no-nonsense, always-scowling skipper, but some of his lines (and the timing of their delivery) felt contrived. He launched into countless wise-old-skipper diatribes about the need for order and discipline, and the dangers awaiting the boys out at sea. (At one point Bridges says, to himself, "Behold the power of the wind.")
Eric Michael Cole's character of Dean Preston felt especially over the top. "Let me tell you girls something, I do what I want to do when I want to do it, and I don't give a damn what some Ahab up there says otherwise." We get it dude, you're a super badass. But Preston would go on to be vulnerable, breaking down when he wasn't making the grade and asking his shipmates for help. As dramatic as it might have tried to be, you still felt part of the crew of the Albatross, and thus felt part of the tragedy when the ship met its fate in a brief, violent storm.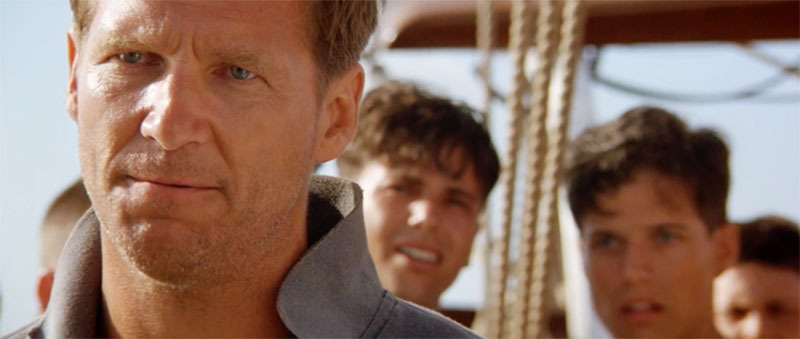 The movie ends with an "Oh Captain My Captain" moment not at all dissimilar to Dead Poet Society, when the boys come together to rally behind their skipper, who is under assault in court. Their mantra: "Where We Go One, We Go All."
This courtroom scene apparently never happened (though this wasn't something the woman I gave a ride to in San Diego told me). According to a 1996 New York Times article, "none of the survivors, both by happenstance and design, ever talked again, until recently, when the movie White Squall was being released."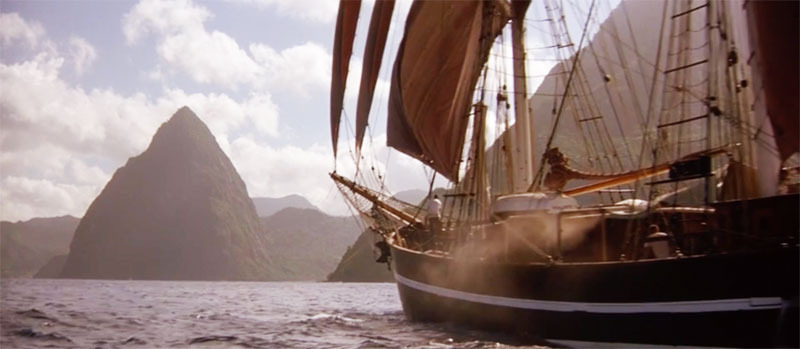 Tod Johnstone, one of the students aboard the Albatross, and Sheldon said the release of White Squall was therapeutic. "It has given them an opportunity to purge feelings dormant for too many years." Sheldon died in 2002 at the age of 76.
We don't disparage art for imitating life, and for taking certain licenses to make that art competitive in the marketplace. But what's always interesting is the way that art changes as one ages. What was awesome in your 20s can be cringeworthy in your 40s. But the sailing itself tends to stand the test of time.
Have you seen White Squall recently? What did you think?
Receive emails when 'Lectronic Latitude is updated.
SUBSCRIBE