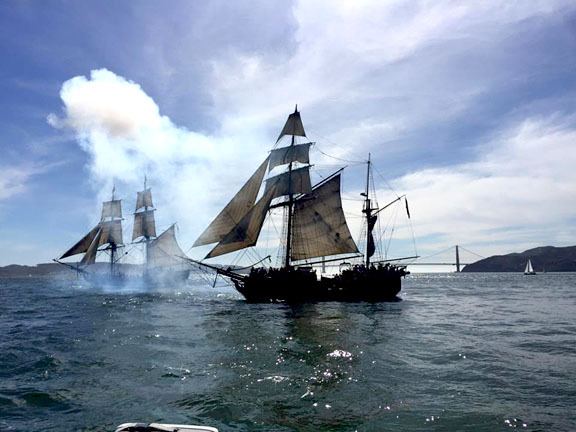 Through telescopes and binoculars, a few residents in the hills above Silicon Valley were surprised to spot two ancient, pirate-looking ships circling the Bay with their cannons booming and smoking. Curious souls found their way to the Port of Redwood City, where one of the West Coast's most popular maritime living-history organizations was on display.
The 112-ft replica brig Lady Washington and the 103-ft gaff-rigged topsail ketch Hawaiian Chieftain have made their annual return to San Francisco, marking the 24th year the two ships have been locked in mock battles on the Bay. The tall ships, which represent Grays Harbor Historical Seaport in Aberdeen, Washington, were in Redwood City last month, and will be at Oakland's Jack London Square until April 24.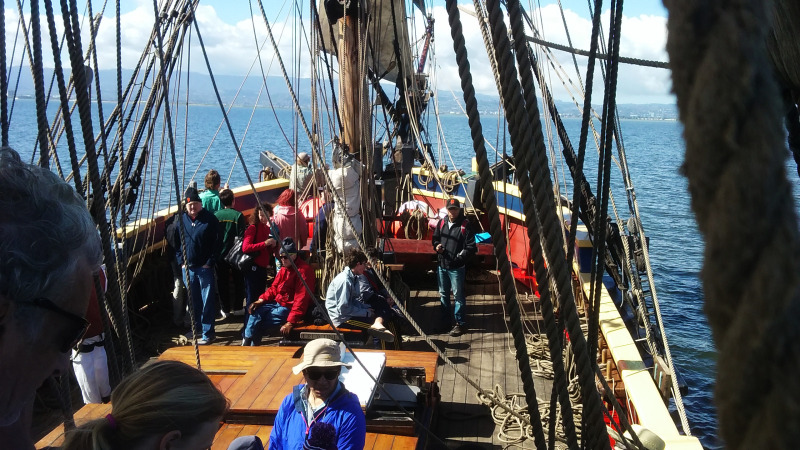 On a weekend in March, the Chieftain and Lady Washington loaded up with passengers — many of them families with young children — and cast off from the Redwood City Municipal Marina. The port is a hodgepodge of sleek industrial office buildings housing some of the biggest names in Bay Area tech, a neighborhood of houseboats, a metal scrap yard, yacht clubs, a cement plant and San Francisco's newest marina.
"I saw you guys through my telescope!" said Sean Williams, who showed the Lady Washington's crew a blurry photo he'd taken from his San Mateo home. "I guess I'm the only one that didn't bring a bunch of kids," Williams joked, adding that he was looking forward to sailing with the tall ships again.
Once into the Bay, the crew, dressed in period-appropriate garb, climbed the rigging to prepare the sails. There was breeze enough to propel the 99-gross-ton Lady Washington and 80-ton Chieftain into slow, lazy battle.
PHOTO
Each ship fires live "black powder," without a cannon ball. The result is a loud, smoky BOOM, an occasional smoke ring and the imagination left to wonder what kind of damage a "round shot" would have done.
"It smells like rotten eggs and burnt popcorn," said 11-year-old Ian Perez.
Though imaginary, such battles are about more than just firing at will. Captain James 'Shiney' McClurg explained that he was looking for "shots" that would travel down the length of the opposing ship, rather than skirt across the comparatively skinny beam of his opponent.
"You want a stern shot," the captain said, "because that's where the rudder is, and that's where the officers of the ship would be." McClurg maneuvered the Lady Washington both to "attack" the Chieftain's stern, but also to protect his own.
The Lady Washington and Chieftain are eventually headed to Eureka and Crescent City, then on to Newport, OR, before joining the Festival of Sail in Coos Bay, OR, at the end of May, and Goonies Day in Astoria, Oregon, in early June.
The ships will be back in Oakland in October.
Receive emails when 'Lectronic Latitude is updated.
SUBSCRIBE