Almost four years after the keel had been laid for the Matthew Turner in her shed on the Sausalito waterfront, the stunning 100-ft tall ship was launched amidst much ceremony and celebration, and a little drama.
The dream of Alan Olson, the Educational Tall Ship For San Francisco is now one huge step closer to setting sail and beginning her mission of introducing thousands of Bay Area youth to the wonders of sailing and the sea.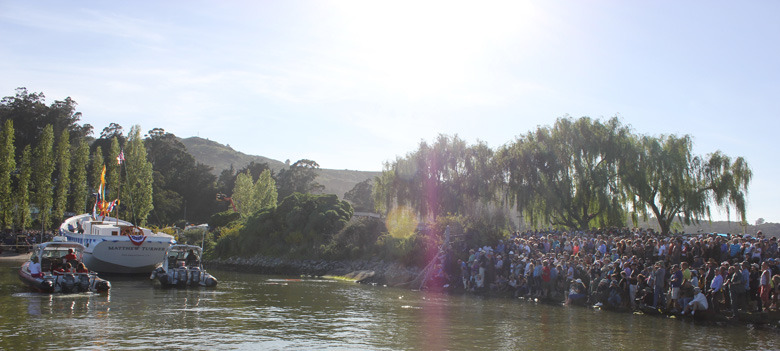 A sizable crowd — we estimate in the thousands — was watching from all angles, as well as a massive flotilla ranging from the 80-ft schooner Freda B to kayaks and paddle boards.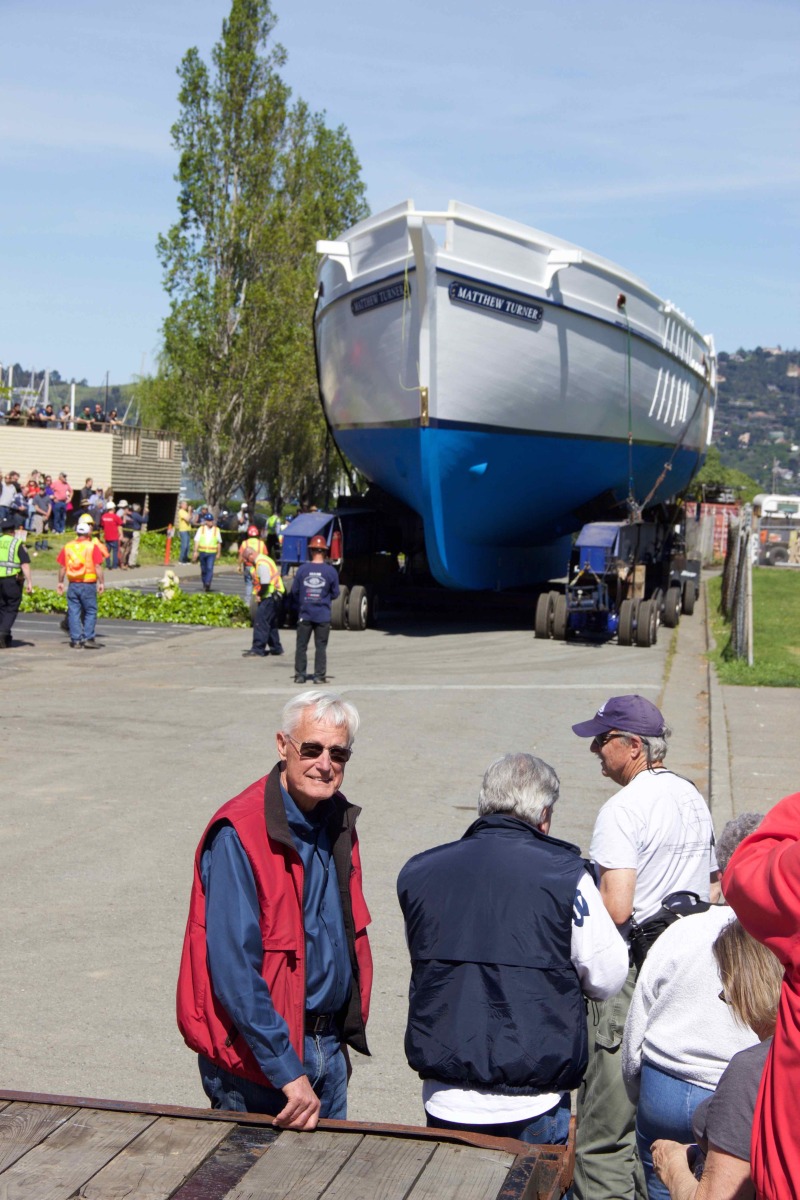 A dive crew was on hand to make sure the massive trailer holding the Turner was sitting correctly on the ramp. At least one tire burst as a semi-truck eased the 175-ton Turner back, then forward, then back and forward again for the better part of an hour, before two inflatables snuggled in on either side and guided her into open water.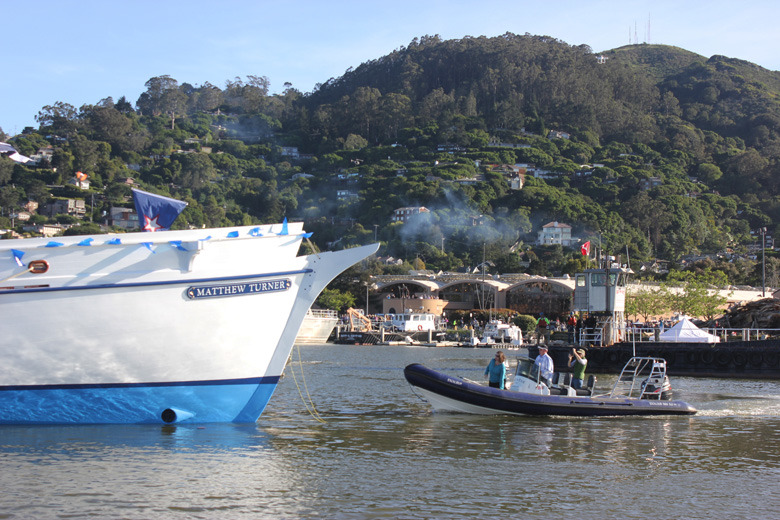 The crowd cheered, boats blasted their horns and the staff and army of volunteers who'd worked tirelessly on the Turner must have breathed a collective sigh of relief.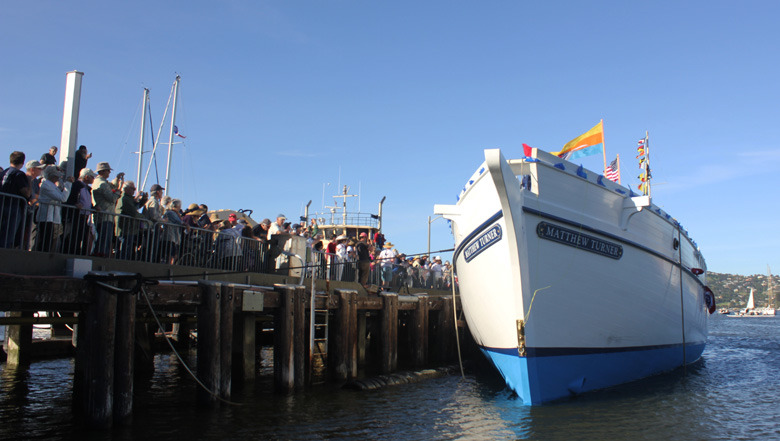 The Turner was docked in front of the schooner Seaward, comprising the Call of the Sea fleet. The Turner is floating high on her lines awaiting the spars, bowsprit and final rigging and sails to make her ready for the sea.
PHOTO
As we've been reporting this story, the shipwrights and volunteers who poured their sweat into the Matthew Turner kept telling us, "She'll last for a hundred years." We were honored to be on hand with everyone to celebrate the Turner's first night in the water in what may be a century of sailing.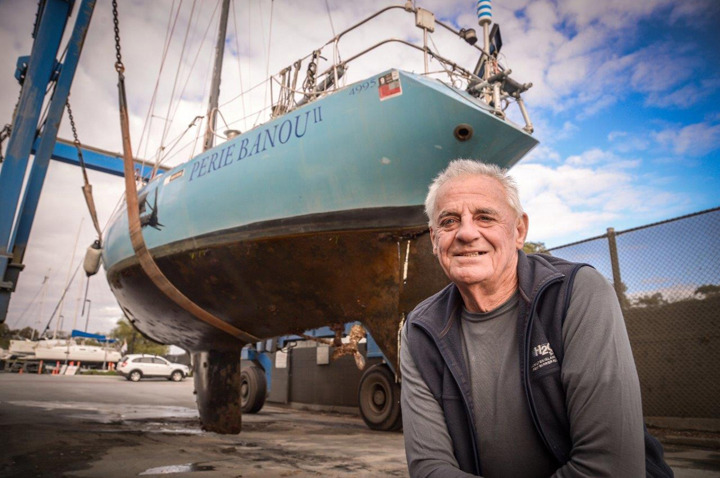 We're not sure how Aussie Jon Sanders has managed to sail beneath Latitude 38's radar for all these years, given what he's accomplished. But he has. The 77-year-old former wool shearer, who has had open heart surgery, is currently on his 'farewell sail'. It's not an ordinary sail, but Sanders' 10th solo circumnavigation. Yes, 10th!
To our knowledge, nobody has done more.
Sanders' first major accomplishment was being the first man to circumnavigate Antarctica singlehanded. And he did it twice during 1981 and 1982 with the S&S 34 Perie Banou. He covered 48,000 miles in 479 days.
But he would easily top that starting in May 1986, when he took off on what has been the world's only triple, nonstop, singlehanded circumnavigation. Before it was over, he would travel 71,000 miles over a period of 657 days with the 47-ft Phil Curran-designed Perry Endeavour.
Sanders' motivation has always been simple. He likes being on the ocean.
You can follow Sanders' latest solo circumnavigation at www.jonsanders.com.au/clientsat-predictwind-tracker. When we last checked, he was coming up the Atlantic and approaching the Eastern Caribbean.
In March 22's 'Lectronic Latitude, we previewed the 100th anniversary of Opening Day on the Bay, coming up on Sunday, April 23. But San Francisco Bay's Opening Day is not the only one.
The California Delta (newly refreshed with plenty of rain and snowmelt), will observe Opening Day on Saturday, April 8, with events including the following:
Discovery Bay will 'open' the following Saturday with a boat parade organized by Discovery Bay YC.
Treasure Island Sailing Center will celebrate their own Opening Day on Saturday, April 22, a free event with music, crafts, games, food and on-the-water activities.
South Bay Opening Day Weekend on May 5-7 is a joint project involving Coyote Point, Sequoia, Peninsula, San Leandro, South Bay and Los Gatos YCs and San Jose Sailing Club. "This year we are collaborating with Redwood City to celebrate its sesquicentennial and the role that Redwood Creek has played in the city's history and development," writes David Jackson of SeqYC. "All events are open to the public, although reservations are requested for the dinners." Events include:
Friday night, May 5, dinner and dancing at CPYC, San Mateo.
Saturday, May 6, breakfast at SeqYC, Redwood City, followed by comments by Redwood City's Historical Advisory Commission, the Blessing of the Fleet, the decorated boat parade, exhibits, boating-related activities and lunch.
Saturday night dinner and live music at Peninsula YC, Redwood City.
Sunday Gin Fizz Breakfast at South Bay YC, Alviso.
Lake Yosemite Sailing Club in Merced will celebrate Opening Day on May 6.
For obvious reasons, Lake Tahoe will 'open' even later. The North Shore has events scheduled for Memorial Day Weekend.
Receive emails when 'Lectronic Latitude is updated.
SUBSCRIBE