Today is set-up day for the Latitude 38 crew who, along with hundreds of other exhibitors, are getting our booth, #C1, ready to welcome you to the Pacific Sail and Power Boat Show at the Craneway Pavilion and Marina Bay Yacht Harbor in Richmond this Thursday through Sunday. We'll have hot-off-the press copies of the April issue plus our world-famous T-shirts, some new fleece beanies, ball caps and more.
Join us at our booth on Friday the 7th, 6-8 p.m., for our 40th Anniversary Party, Baja Ha-Ha/Pacific Puddle Jump/Circumnavigators Reunion and bon voyage party for managing editor Andy Turpin. We'll be serving refreshments including beer from local craft brewer East Brother Beer Co. in Pt. Richmond and wine from Dry Creek Vineyard.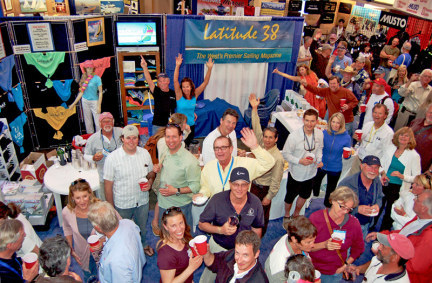 On Friday afternoon artist Jim DeWitt will be in our booth from about 1 p.m. to 4 p.m. to sign the cover of our April issue, which features his painting of classic Bay sailing. Stop by and say hello to Jim and pick up your autographed copy.
This may be your last chance to capture the wisdom of our long-time managing editor Andy Turpin, who will be giving two seminars before the party on Friday the 7th, first the Baja Ha-Ha How To at 11:45 and then Cruising Tahiti and the Pacific Puddle Jump at 4:45. The May issue will be Andy's last as a full-time editor as he and his first mate Julie will be finally joining the rest of the Baja Ha-Ha fleet as outbound cruisers. After this you'll have to seek him out along the coast of Mexico or 'out there'.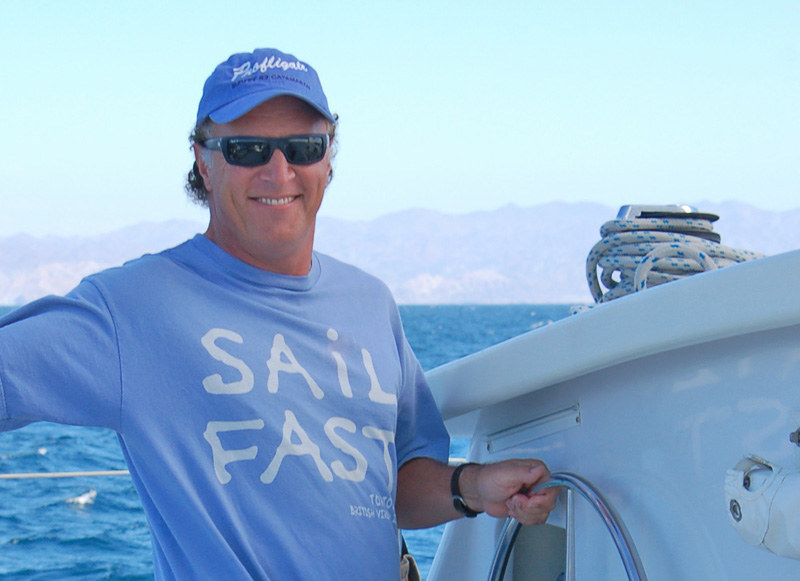 On Saturday the 8th at 10:30, old hand and new publisher John Arndt will share his own sailing story plus stories of the past, present and future from almost 30 years producing the West's premier sailing magazine.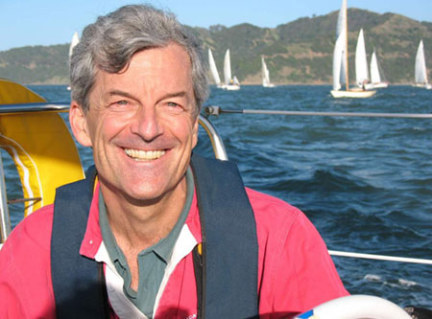 The show will also feature an extensive array of new sail and power boats on the docks at Marina Bay, as well as hundreds of booths with experts on hand to give you the latest information on anchors, watermakers, rigging systems, folding props, hardware, technical clothing, navigation, batteries, electronics and more. There's nothing like taking a break from our device-addicted world and being able to talk to a living, breathing, knowledgeable expert who can answer your nautical puzzlers.
Beyond Latitude 38's seminars are dozens of other enlightening talks by numerous qualified speakers who can prep you for almost any challenge or adventure ahead. In addition to the free seminars are paid seminars on voyaging, weather and electronics with experts like Nigel Calder, John Neal, Amanda Swan-Neal, Lee Chesneau and more. Learn about all those offerings here.
If you're looking to upgrade your skills or your boat, or just enjoy some dream time with fellow sailors, the Pacific Sail & Power Boat Show in Richmond is the ideal place to do it. Flip through the pages of the show guide here to plan your time at the boat show.
You'll find us in our booth or wandering the docks and aisles, where we'll be playing with our new Instagram account. We'll award some T-shirts and hats to folks who Instagram a photo with #latitude38 while they're in our booth or the booth of one of our advertisers.
To save money on your ticket use our discount code LATITUPBS17 when you buy a ticket online here. See you at the show. It's only once a year, only four days and then, like the wind, it's gone!
Receive emails when 'Lectronic Latitude is updated.
SUBSCRIBE