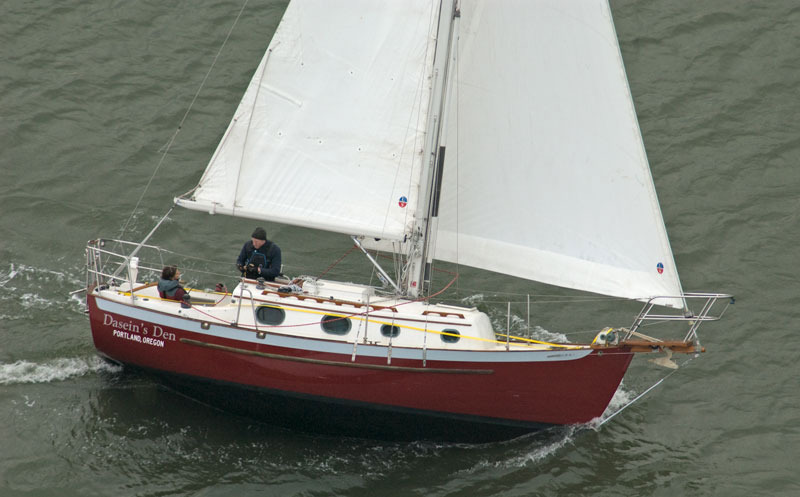 Light air forced a postponement of the start of BAMA's Doublehanded Farallones off Golden Gate Yacht Club on Saturday morning. The sequence, slated to begin at 7:55 a.m., was delayed for 40 minutes. The slow-boat division started — and then the race committee postponed again to wait for those boats to get across the startline while a countercurrent pushed back against them. The predicted ebb was behaving strangely. At the Golden Gate Bridge, instead of going out the Gate, strong currents rushed sideways toward the San Francisco shoreline and bouncing back off it.
Weird and wacky currents near the Golden Gate Bridge. Note the postponed racers milling about in the background.
©2017 www.norcalsailing.com
Once racing finally got underway, the crews who stuck it out had a pleasant day on the ocean. Last year's winning skipper, Mark Eastham, sailed his F-31R Ma's Rover with Cam Tuttle as crew. This year was nothing like last year's wild and windy ride. Eastham said it was "Fun, a walk in the park, easy as could be, with 5-15 knots of wind and water flat as a pool table. The Farallones looked like they'd been washed and rinsed clean, with green poking through and hardly any surf at all." Tuttle, sailing his first Farallones race, saw some whale spouts near the rockpile. "Mark and I also saw a lot of grungy crab pot gear in the water, looking like they had been soaking for a while, out by the weather buoy."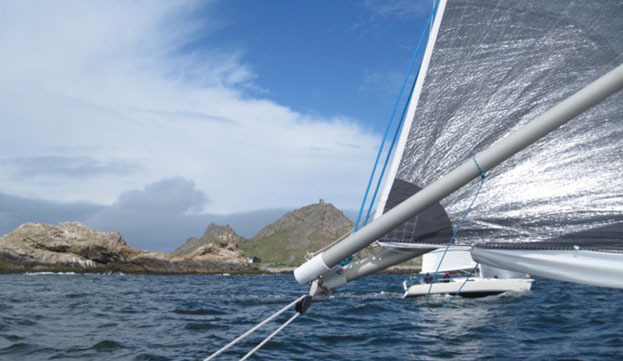 Pat Broderick, sailing with Ross Bliven on the Wyliecat 30 Nancy, called it "Picture perfect and one of the best Farallon races among the 75 or so I've participated in. Nice south wind — perfect for 'Wylie reaching' and not so good for our spinnaker competitors. It was a reach/close reach out and a broad reach turning into a run once we were inside Lands End on the way back. No tacks and only the 'Farallon Jibe' on the backside of the Island."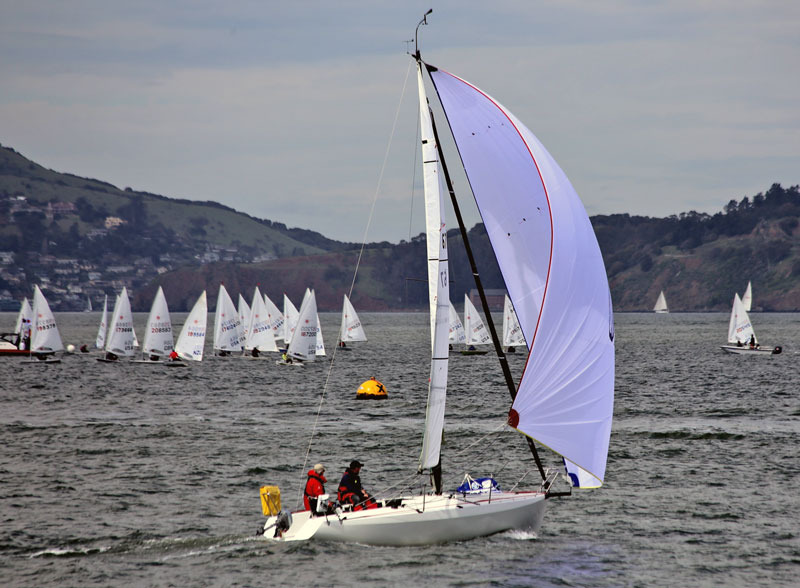 New this year were three alternate shorter courses, called the Race to the Weather Buoy (Lane Splitter),To the Bar and To the Sea. All courses had takers. Posting the fastest corrected time for the full Farallones course were Greg Nelsen and Randy Miller on Nelson's Azzura 310 Outsider. The Singlehanded Sailing Society earned the Pineapple Sails Team Trophy. We'll publish results in the April issue of Latitude 38; in the meantime, check them out here.
Receive emails when 'Lectronic Latitude is updated.
SUBSCRIBE