It's hard to believe that she's already nine years old! Dreamed up at a Latitude 38 staff Christmas party in 2008, the Delta Doo Dah cruising rally has facilitated, encouraged, coaxed, enabled and charmed hundreds of sailors venturing beyond San Francisco Bay into their own back forty, a watery wonderland formed by a network of rivers and sloughs just a few miles yet worlds away from the urban jungle.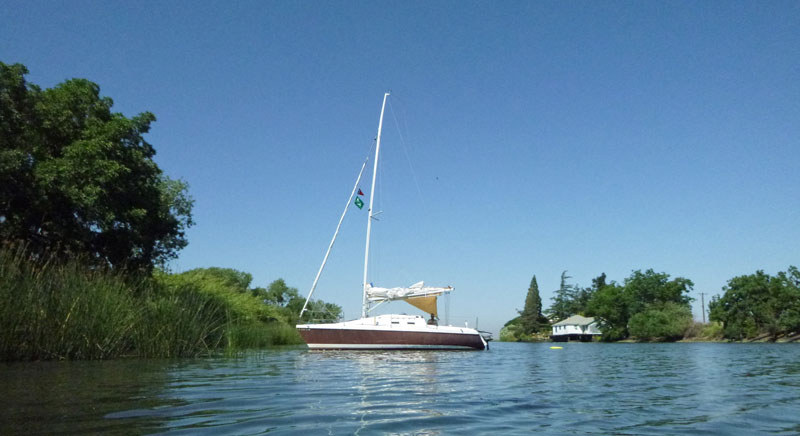 Delta Doo Dah 9 had a 'soft opening' over the weekend (we invited some Doo Dah vets to test out the registration form), and now we're ready for prime time. Learn more about the Doo Dah here, then sign up here. Registration is free, but we encourage you to take advantage of the opportunity to pre-order burgees and shirts. For those who order with their registration, we're waiving the shipping and handling charge.
After its first four editions, the Delta Doo Dah shifted into a do-it-yourself mode, but we still run some events to help rally members get to know each other. The first is a Kickoff Party and Delta Cruising Seminar hosted by Richmond Yacht Club on Saturday, May 13, 6-9 p.m. The very capable, entertaining and seasoned Delta cruisers Ann and Craig Perez conduct the seminar portion with copious input from participants. We'll bring some prizes to raffle off. The club bar will be selling drinks.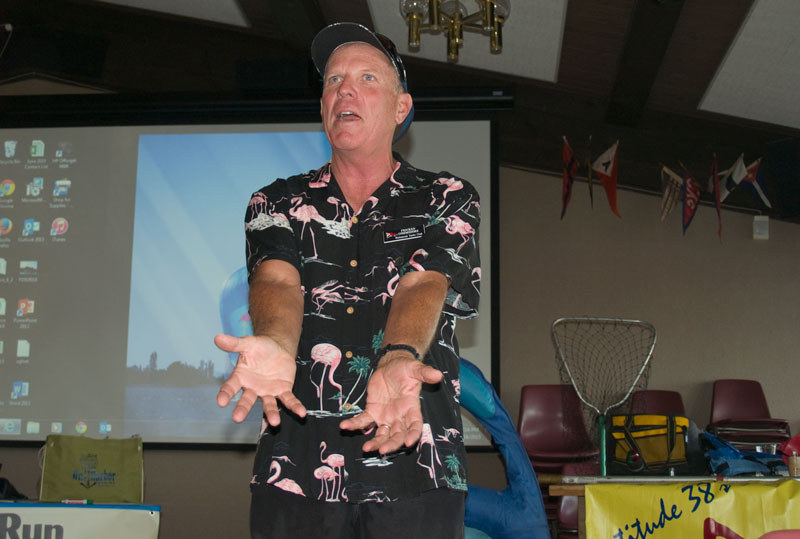 The Delta Ditch Run, a glorious 67-mile race from Richmond to Stockton, is on June 10, and Stockton Sailing Club is again inviting Delta Doo Dah ralliers to join the Cruising Division (or, if you're a racer, enter one of the racing divisions). A separate fee and sign-up are required. We recommend poking around the Delta for the week, or leaving the boat up there and returning to it, because Owl Harbor in Isleton will host a BBQ you won't want to miss on the following Saturday, June 17. Both SSC and Owl are along the San Joaquin River.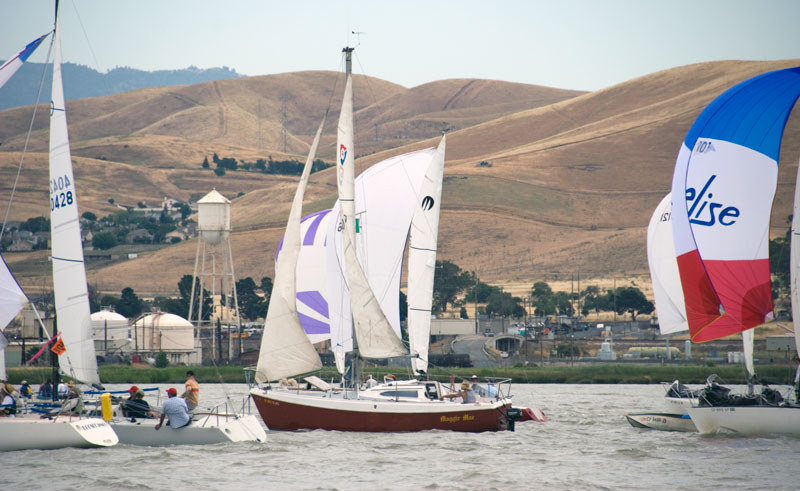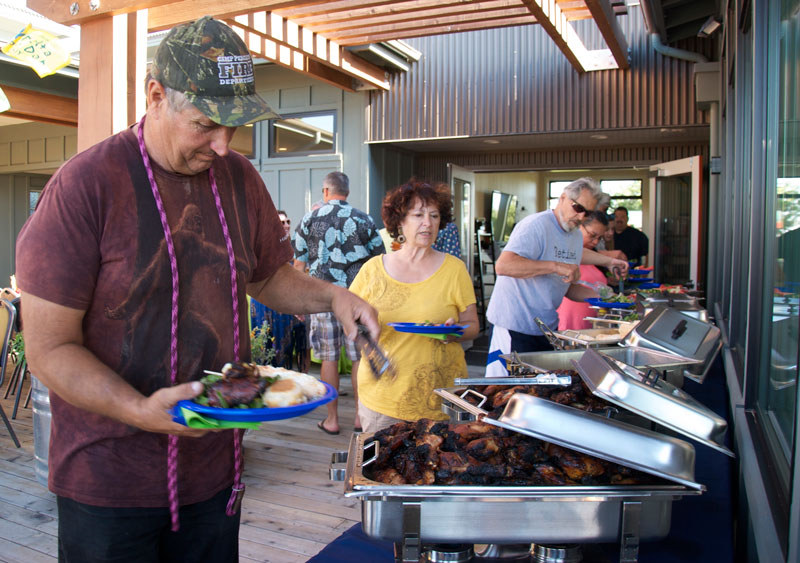 These are early days yet, and we'll be adding a host of prizes and swell deals as the summer approaches. If you're interested in becoming an official sponsor, donating a prize, offering a deal to our official entries, or hosting an event, please contact Doodette Chris or Dood Mitch.

The 30th St. Barth Bucket, an invitational regatta for 38 boats between 100 and 289 feet, was about as fine as it could be. The fleets, the sailing conditions and the social activities were all superb. And just about everybody who is anybody in the world of sailing had been flown in from Australia, New Zealand, South Africa, England, the Northeast, California — wherever.
Six of the 38 yachts were super-competitive J Class yachts between 135 and 143 feet, the largest collection of J Class boats in history. The always-competitive Velsheda did well in the windward-leeward races, and only had to keep Jim Clark's Hanuman from winning the final two 'coastal races' to take honors. But with Ken Read driving and the Bay Area's all-world navigator Stan Honey calling the shots, Hanuman pulled off the needed two bullets to win the tie-breaker.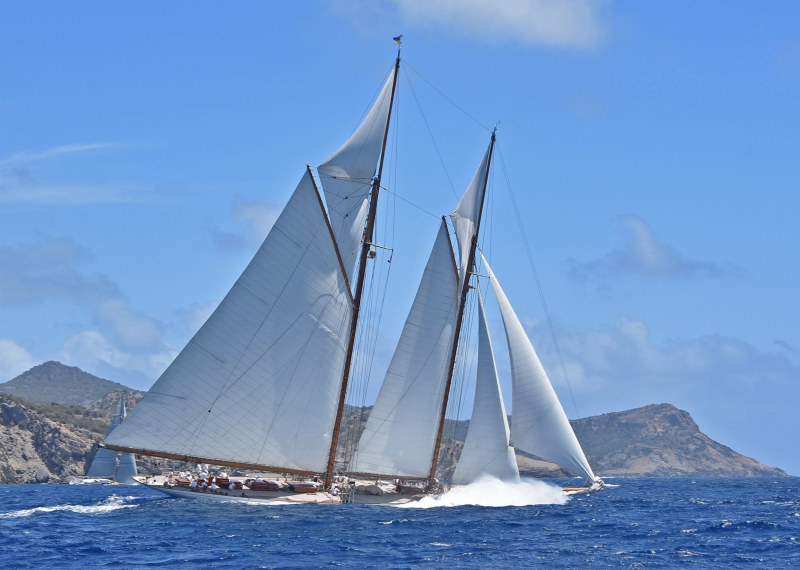 The rest of the fleet was broken up into five divisions, depending on the size and type of boat. You're probably not familiar with any of them, as they mostly sail between the Med and the Caribbean, but they were all spectacular. Some are more racy, such as the Farr 100 Leopard of London and the Baltic 145 Visione. But even the bigger and more lumbering Perini-Navis went at it with a will. One of them, Perseus 3, flew the biggest spinnaker in the world, well over half an acre! That's 37 times the size of a spinnaker on an Olson 30.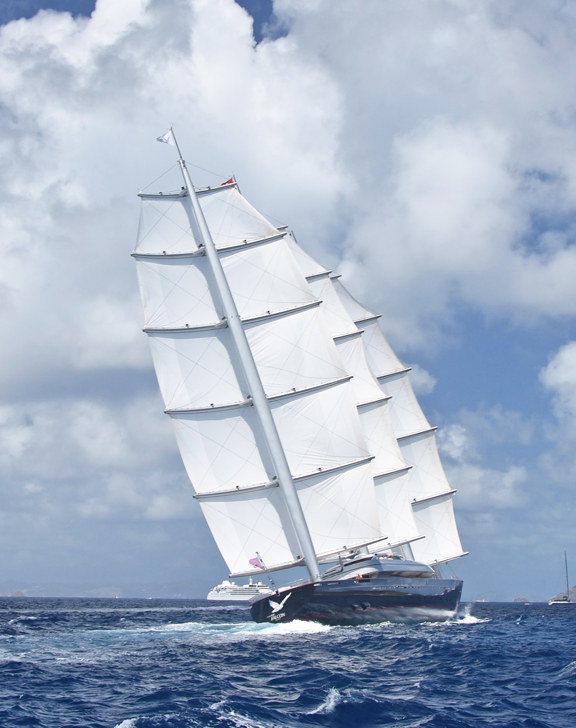 If the truth be told, we think the Bucket is one of the rare occasions when we'd rather spectate than sail. The boats and sails are just that fantastic. And they were all very well sailed. As Mike and Robin Stout of the Redondo Beach-based Aleutian 51 Mermaid said, "You just can't appreciate how huge these boats are until you see them in person." They meant to stay for one day, but stayed for the entire event. They are now thinking of moving up to a 185-footer and competing in next year's Bucket. (Just kidding.)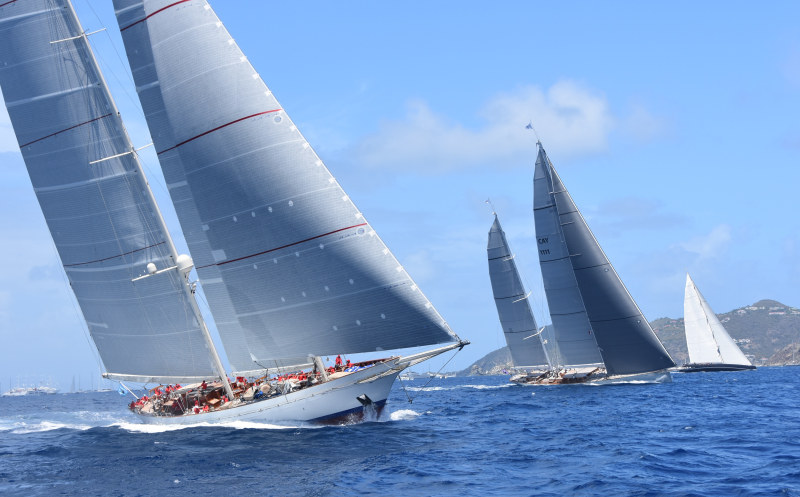 Also enjoying the event from the Wanderer's 45-ft catamaran, 'ti Profligate, was Jim 'Twinger' Tantillo and extended family and friends. Twinger, who had done the 1999 Ha-Ha aboard Profligate, and who is as healthy and agile an 84-year-old as you can find, had long had the Bucket on his 'Bucket List' and had a great time. Twinger and friends had chartered a boat in St. Martin and come over for the Bucket. That's something you might think about doing next year.
Regardless of how you feel about the Trump administration's ongoing shake-up of government agencies, you may take exception — as we do — to the proposed 14% cut in the US Coast Guard's budget.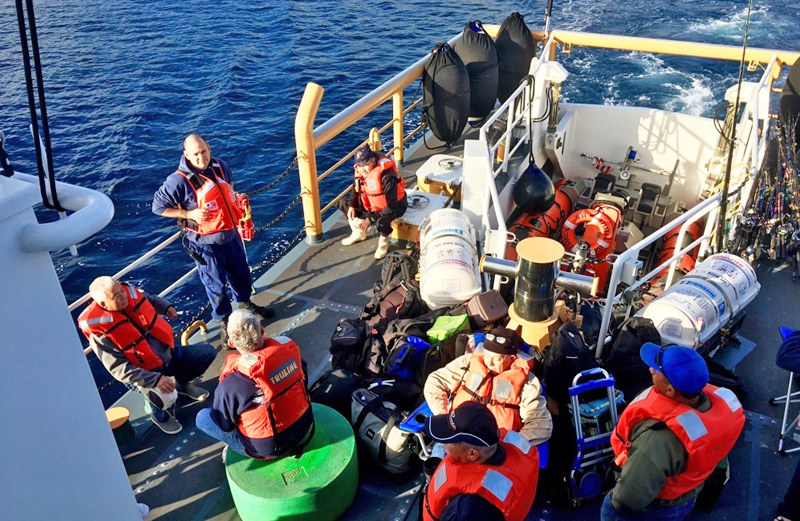 As reader Steve Edwards points out, "Because the basic costs of maintaining bases and facilities is largely fixed, the decrease comes out of readiness training and actual operations. How would sailors be affected by a 28% decrease in USCG readiness and operations?"
That question is particularly relevant here in California, which ranks third in the nation for its number of registered boats. Due to the often-rough conditions within the Coast Guard's 11th District — which includes San Francisco Bay and offshore waters — more rescues are performed here than in any other CG district.
Here are a couple of examples of the Coast Guard's recent work:
On Friday, the Coast Guard received a distress call from the 33-ft sailboat Fascination somewhere off the Santa Barbara coast, which had lost its engine, had no GPS and was stuck in foggy, windless conditions.
The Coast Guard ordered the Fascination to drop its anchor, while the owner (accompanied only by his dog) activated his Personal Locating Beacon, and set off flares at dawn. A Coast Guard helicopter located the sailboat at 8 a.m.
A 45-ft "response boat-medium" from Coast Guard Station Channel Islands towed the Fascination to Santa Barbara Harbor, where "operator and dog were reported to be in good condition."
On Sunday, 25 passengers and crew were rescued from a charter fishing boat off San Clemente Island, after the vessel began taking on water. The 63-ft Truline reported hitting a submerged object, and radioed the Coast Guard around 3 a.m.
A helicopter, a 45-ft response boat-medium and the Cutter Sockeye were immediately dispatched (as well as a US Navy vessel). The Sockeye's crew stayed ahead of the flooding, and at 7 a.m., began to escort the Truline to Newport Beach.
Twenty passengers were eventually taken on board the Sockeye, and transported to San Pedro, while the Truline made it safely to Newport Beach shipyard.
Given the theoretical safety net that the CG provides to boaters of all stripes, we have a hard time believing there aren't more appropriate places for government belt-tightening. If you have a strong opinion either way, we'd love to hear from you.
Receive emails when 'Lectronic Latitude is updated.
SUBSCRIBE