The brutally active sailboat racing season in the Northeast Caribbean — which we take to be between the British Virgins and Antigua — is not over, but the end is nigh. Thank God, because we and everybody else are pretty darned exhausted.
We counted nine major regattas or races in an 80-mile radius of St. Barth between the last week in February and the first week in May. No matter if you had a Melges 24, Beneteau 40 charter boat, Carriacou work boat, or the most the luxurious megayacht in the world, there was more racing than you could probably stand. And if you were a weekend racer who didn't have a boat, you could get a spot on a boat in almost every event. Here's a list, but keep in mind this is in just one part of the mostly English-speaking Caribbean, and only includes the biggest events. There are also countless smaller events in the sail-crazy Caribbean.
Feb 27, The Caribbean 600 open ocean middle-distance race for hardcore sailors on top racing boats: Sixty yachts and 680 skilled sailors sailed their brains out for 48 to 80 hours in every kind of tradewind condition known to man. Matt Brooks of Fremont took Division D with Dorade, his S&S 52 that was launched in 1929. Brooks is a member of the St. Francis YC, but was recently named 'Yachtsman of the Year' by his other club, the New York YC. "The 600 was much tougher than expected," said Brooks. Nine of the 60 starters didn't finish.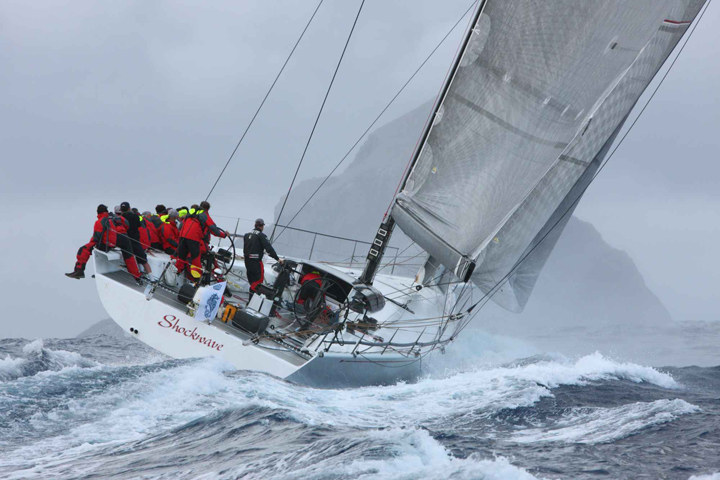 March 7-9, The St, Martin Heineken Regatta: The 34th 'Heinie' is truly a 'people regatta,' which this year attracted over 200 entries, 100 of them aboard charter boats. It took approximately 2,500 sailors to get the boats around courses during three days of racing — and to guzzle untold amounts of Heineken. The racing is as serious as the partying at the Heineken, which is really saying something. Former San Francisco YC member Rick Wesslund sailed his J/122 El Ocaso to 'Most Worthy Boat of the Regatta' honors. It wasn't the first time that Wesslund, now a resident of Florida, received the accolade.
March 19-22, The Lora Piana Caribbean Superyacht Regatta: The newest of the significant regattas in the Caribbean, this one is for superyachts, and was based out of the luxurious Costa Smeralda YC at North Sound in the British Virgins. It attracted a decent fleet of 20 boats, most of which quickly took off afterward for the St. Barth Bucket, which is twice as big and prestigious.
March 27-20, St. Barth Bucket: The original and big daddy of megayacht events in the Caribbean, the Bucket drew a spectacular fleet of 38 boats for three days of racing in most breezy conditions off St. Barth. "Superyacht racing is," according to Kenny Keefe of KKMI, "the fastest growing segment of the yacht racing market." Paul Cayard called tactics on the 218-ft Hetairos. "I really like this island," he told Latitude. "Maybe I should move here." Latitude tip: mid-February to early May is actually the best time in the Caribbean, both for the weather and sailing activities. Winter is windy as heck; summer is hot and relatively dead.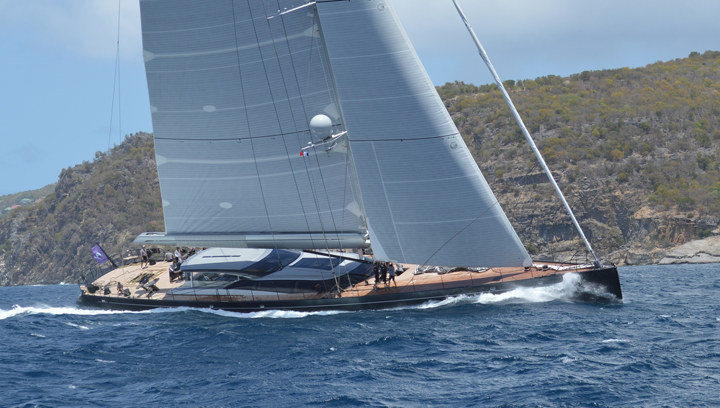 March 31 – April 6, The BVI Sailing Festival and Spring Regatta: This is another mostly 'regular sailors regatta', one that features more flat-water sailing than most. This year the event attracted 81 boats of every type and size, including many chartered monohulls and cats, several from California.
April 14-19, The Voiles de St. Barth is yet another 'peoples' regatta', albeit one that attracted everything from a one-design class of Melges 24s to the Swan 118 Highland Fling. It also has a distinctly exuberant French flair, although one of the bands that rocked the dock was from San Francisco. There were two days of light winds and two days of winds in the mid-20s with big seas. The latter allowed former Northern Californian Steve Schmidt to hit 22 knots under white sails with his SC70 Hotel California, Too. San Franciscan Peter Ashenbrenner's Iren's 60 trimaran Paradox was even faster.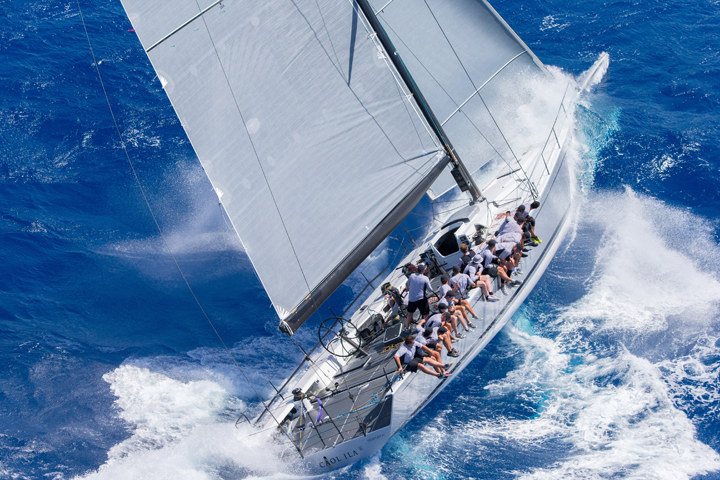 April 17-22, the 37th annual Panerai Antigua Classic Regatta, perhaps the best classic regatta in the world, drew 60 great classic and spirit of tradition yachts this year. Ira Epstein of Bolinas, the owner of the Clark 65 Lone Fox, which has twice taken overall honors in the event, reports that it blew in the high 20s and low 30s. That's two years in a row of very breezy conditions. A team of female dinghy sailors raced Dorade, but didn't do quite as well as hoped.
April 25, the La Transat AG2R La Mondiale. Fifteen doublehanded teams competed in the 3,800-mile doublehanded event from France to St. Barth via the Canary Islands aboard Beneteau 34 Figaro 2s. The French are stark raving nuts about this event, and had a spanking-new 70-ft motorcat, overflowing with media, follow the fleet for 3,800 miles. Even the tail-end boats are given a massive welcome at St. Barth, and there are live morning television broadcasts back to France each day.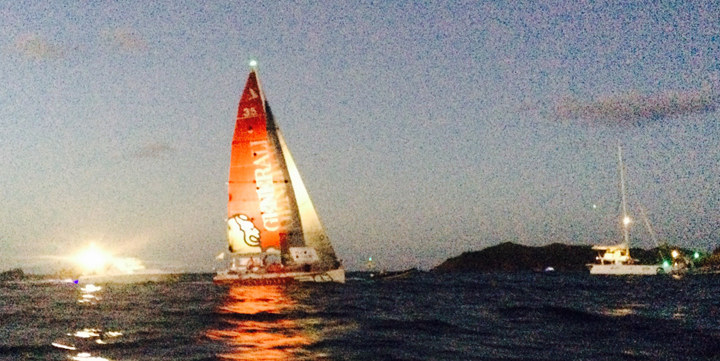 April 26, May 2, Antigua Sailing Week. More than 100 boats are currently competing in the oldest of the big Caribbean regattas. No matter if you have a charter boat or a Farr 100, this is a great regatta for you.
May 1-4, St. Barth West Indies Regatta. The Northeast Caribbean season ends relatively quietly — thank goodness for that — with a regatta for about a dozen mostly rough-hewn boats that were built on beaches in the Caribbean for commercial use. What the boats lack in polish, the crews make up for in spirit.
As we said, these are just the big races, as there are many others. Tomorrow, for instance, we'll be racing our Olson 30 La Gamelle around St. Barth in some kind of race with the Figaro boats, beach cats, Sunfish, and lord-knows-what-else.
The bottom line is that if you're looking for a total immersion in every kind of sailboat racing there is, from half-assed to full-on, there is no better place to be in the late spring than the Northeast Caribbean.
Receive emails when 'Lectronic Latitude is updated.
SUBSCRIBE