On Monday we challenged readers to explain the photo below: 1) Why do these sailors have so many dinghies piled on their decks? 2) Where are they? 3) What is their profession? The first correct answer came in just a few minutes after we posted the story.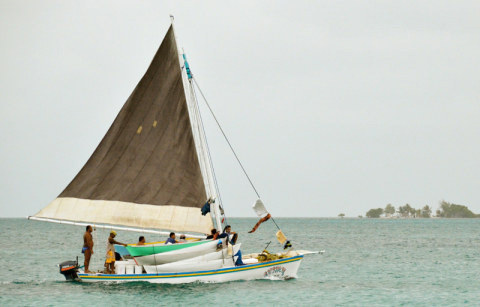 As Cliff Wilson explained, the little boats are seen aboard their mother ship, and are used to go fishing for fish, conch or lobster. "Each cayuga (not 'dinghy') is operated by one fisherman who ties it to his waist while fishing. They get dropped off in the morning, then picked up in the afternoon." But wait a minute, we know Cliff. He runs a sweet charter cat in Belize. So he's disqualified on that technicality. (But we'll be happy to give him some Latitude swag anyway.)
With that ruling by our judges, the contest honors go to DJ Mac who was the next to answer correctly — he could live in Belize, too, as far as we know, but what the heck. What's your mailing address and your shirt size, DJ? A whole slew of other contestants sent in correct answers, and we'd guess many of them have chartered in those waters with The Moorings or TMM. If you'd like to read what that experience is like, check out Lynn Ringseis' article on Belize chartering in the World of Chartering section of our August issue, which will be hot off the presses on Friday — and as always, available as a free download from our website later that day.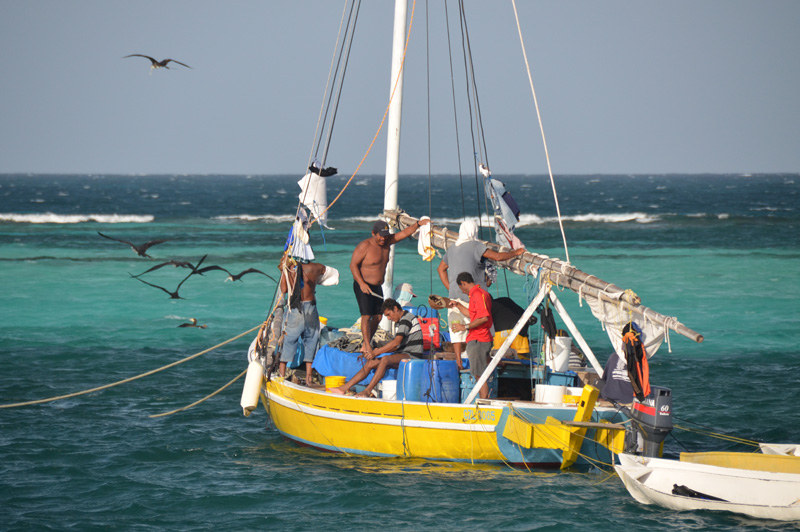 As you might imagine, our challenge inspired some 'creative' responses also: Guy Johnson is sure it's a shot of a local "Yacht Club's junior program ferrying the dinghies to a neighboring village for a weekend Jr. Fleet Regatta. Probably Cuna indians in the San Blas Islands of Panama." Dave Johnson guesses: "The boat is a water taxi, and the dinghies are stacked on deck when the number of passengers is low. When they have a lot of passengers, the dinghies are towed" (with passengers inside, we assume). Chris McKay thinks they are pearl divers in Japan. Richard Shoemaker is convinced they are part of Dinkwise, Inc., a spinoff company of Dockwise Yacht Transport, doing "trans-bay dinghy deliveries" in Marin County's Richardson Bay. David Hume figures they are San Francisco Bay sailors "complying with the new Coast Guard ruling that requires at least one emergency life raft for each and every passenger on the boat." (Really?) Mike Smith thinks it's a "designated dinghy delivery from a local tropical pub" for sailors who become too incapacitated to get home on their own. And last but not least, Jim Griffin thinks "they are dinghy theives in Bequia, West Indies, on their way to the 'chop shop' where they will file off the HIN and add a stolen outboard. They will then sell them back to the previous owners and split the profits with the St. Vincent Police." Owww! And we thought we were cynical!
Receive emails when 'Lectronic Latitude is updated.
SUBSCRIBE