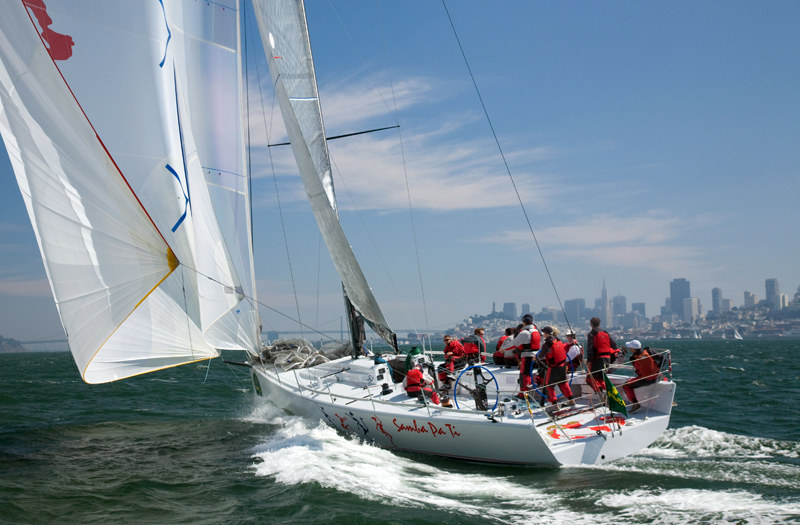 It's mid-September, and that means it's time again for one of the West Coast's premier regattas — the St. Francis YC's Rolex Big Boat Series. If we've counted right, there are currently 97 entries: 29 in the IRC Division, eight J/120s, six Melges 32s, nine Express 37s, seven 1D35s, 26 J/105s, six Benteau 36.7s and six Cal 40s. The IRC boats will be sailing for their National Championships, which has turned out to be a largely local affair. Perhaps no other Bay Area event provides such awesome spectating opportunities as the finish of each day's last race usually takes place right in front of the club.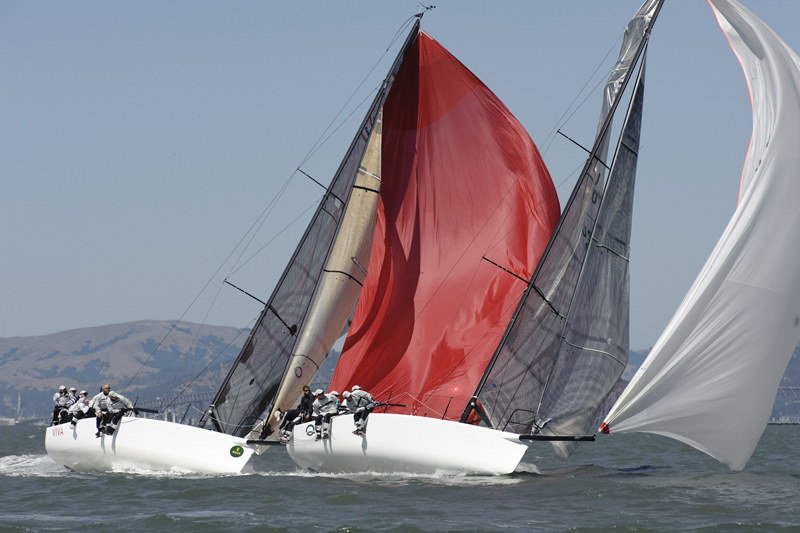 Whether you were going point-to-point or around the buoys, there was plenty of racing action on the water this weekend. The 2009 Melges 32 North Americans wrapped up yesterday at Sausalito YC. Despite being the only boat without at least one pro aboard, Viva — sailed by Mill Valley's Don Jesberg and an all-corinthian crew — ended up atop the seven-boat fleet after the eight-race, one-throwout series. Jesberg was joined by Zarko Draganic, Andrew Holdsworth, Thomas Iseler, Eric Baumhoff, Steve Marsh, Jeff Wayne and Kristin Loewenthal.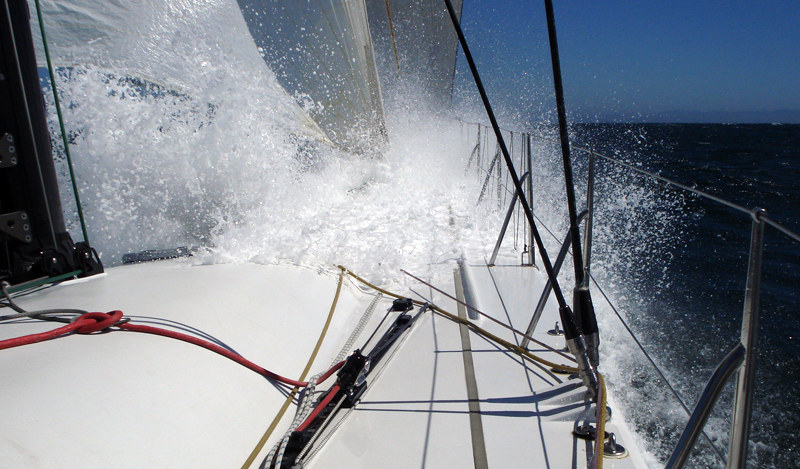 Friday's Windjammers Race from the Bay down the coast to Santa Cruz, was plenty breezy — boats were seeing upwards of 35 knots below Año Nuevo. But the big north-northwesterly shut off late in the afternoon, giving way to an easterly that trapped much of the 37-boat fleet in little breeze. Bill Turpin's R/P 78 Akela tore down the coast in only 6h, 10m, 35s, but was pipped at the post for overall honors by Shepard Kett's SC 50 Octavia by a mere 6.5 minutes.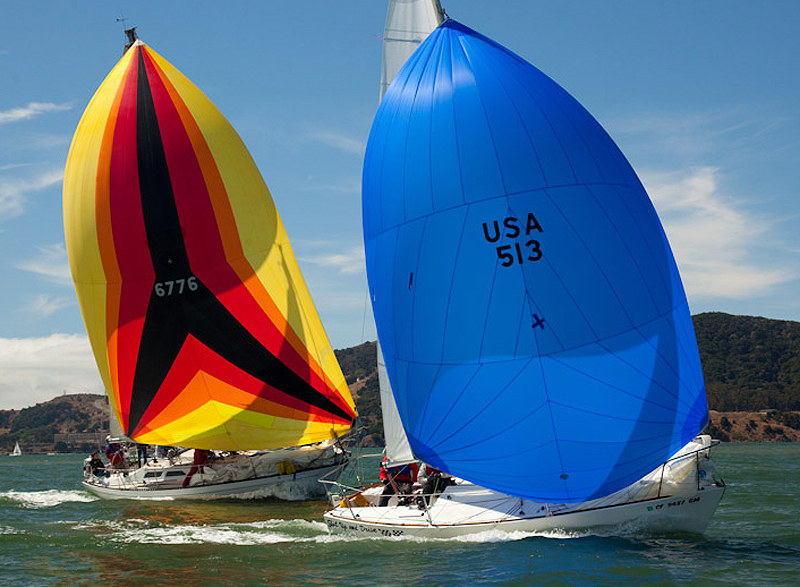 The South Beach and Benicia YC's Jazz Cup drew over 100 boats for the downwinder between the two clubs last Saturday. Using the 20-knot breeze and 1.5-knot flood to its advantage, Roger Barnett's ProSail 40 Tuki took the overall honors in the 27-miler — finishing in just over two hours and correcting out over Ross Stein's F-24 Origami by almost 5.5 minutes.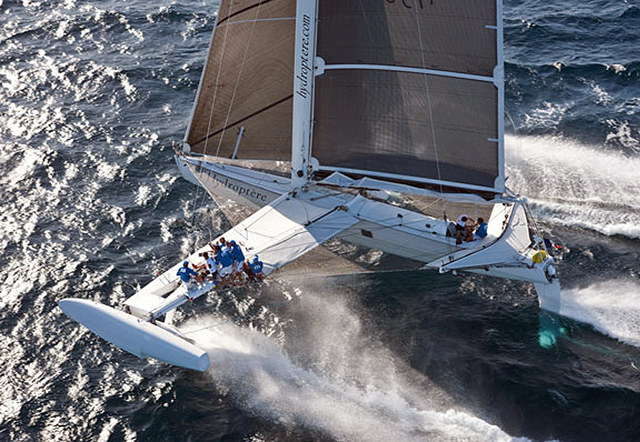 On Friday in Hyères Harbor, France, Alain Thébault's l'Hydroptère became the fastest sailboat on the planet over both 500 meters and one nautical mile, when she completed a run at 51.36 knots for the former and 48.72 knots for the latter. In a 28-knot westerly, skipper Alain Thébault and his crew sailed the flying trimaran to a top speed of 55.5 knots and a place in sailing history. The team claimed the 500 meter record from Frenchman Alexandre Caizergues who set the bar at 50.57 knots on a kiteboard last year. After an attempt in 2008 that saw the boat hit 61-knots before crashing and requiring a rebuild, the l'Hydroptère team needed only one day for Thébault and his crew to set the records — they had twice previously set the one-mile record — that'll be ratified by the World Speed Sailing Record Council in the coming days.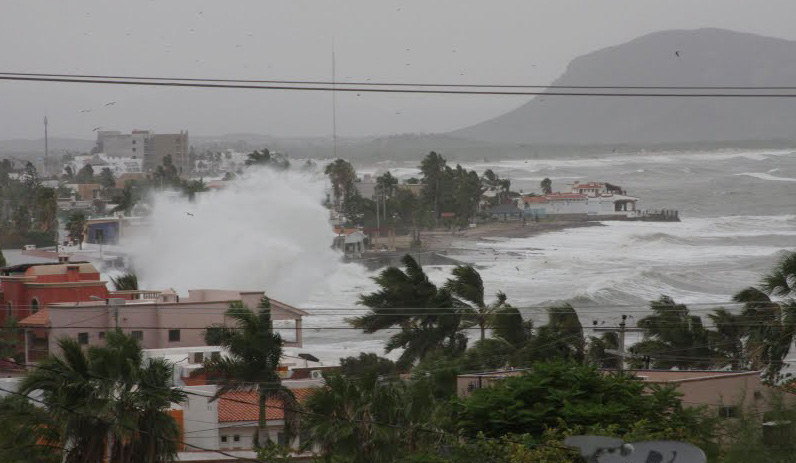 As reports trickle in from boating centers along the Baja Peninsula and Mexican mainland, it's become apparent that the San Carlos area — roughly midway down the eastern rim of the Sea of Cortez — suffered some of the worst damage, although most boats were spared. "Yes, we took a direct hit from Jimena," reports Leta McKinley, who keeps her Island Packet 440 Gigi at Marina San Carlos, "but it was a tropical storm by the time it got to us. Unfortunately, the eye decided to stay 30 to 50 nm due west of Guaymas/San Carlos for 40 hours. The rain caused massive flooding, took out homes, roads, electricity and beaches. Unbelievable damage for a tropical storm — there were rivers of mud taking everything in their paths."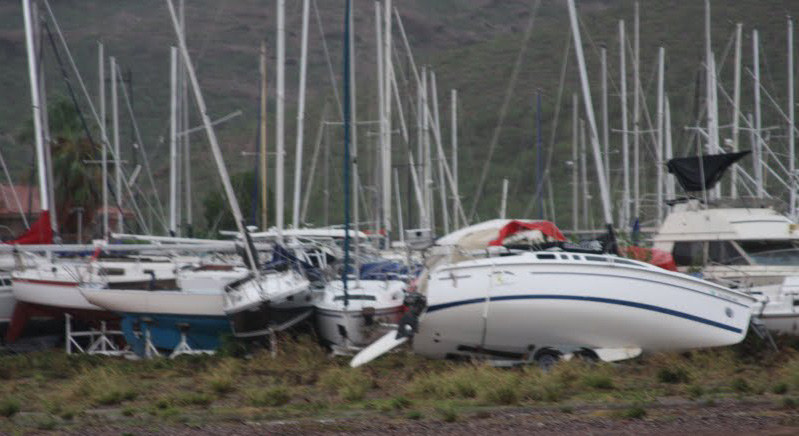 McKinley reports that 13 to 16 boats were either beached or sunk in San Carlos Bay, while boats inside the Marina suffered little or no damage. However, the adjacent Marina Seca dry storage yard is not a pretty site. The potent combination of wind, water and mud wreaked havoc on the office, work yard and roads, leaving some cars buried in mud up to their windshields. Reports of actual damage to boats vary, but most indicate that only a couple of boats on stands tipped over in the yard, causing minor damage.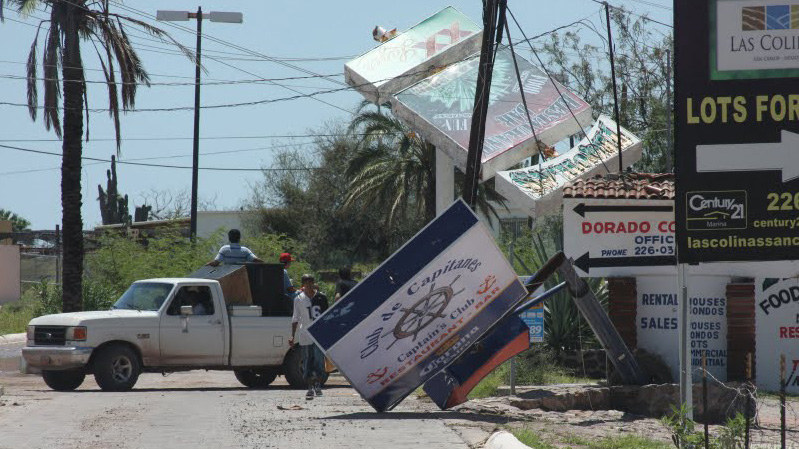 From nearby Marina Real, Frank Osborne of the Washington-based Discovery reports "slight damage to boats" there, "but nothing major."
As of last night, electrical power had been re-established in the area, but San Carlos currently has no running water. Government agencies are busy making repairs and are actively distributing free potable water. Osborne reports, "There is still a lot of damage to communities in Guaymas and San Carlos, but the basic services, except for water, are all restored. Major roads throughout San Carlos, Guaymas and Hermosillo are all passable with few delays." Look for a complete report on Jimena's wrath in the October edition of Latitude 38.
Australian Jessica Watson, 16, left Mooloolaba aboard her S&S 34 Ella's Pink Lady yesterday morning bound for Sydney. The 10-day trip was to be her final shakedown cruise before leaving on her quest for the title of youngest solo circumnavigator. Around 2 a.m. this morning, Watson encountered the Japanese cargo ship Silver Yang. According to news reports, she tried contacting the ship on VHF but no one aboard appears to have spoken English. Watson's father, Roger, claims that she tried several times to change course to avoid a collision but, for whatever reason, failed. Pink Lady was dismasted and otherwise damaged in the accident, though Watson wasn't injured. She limped into Southport today to meet her family and begin effecting repairs.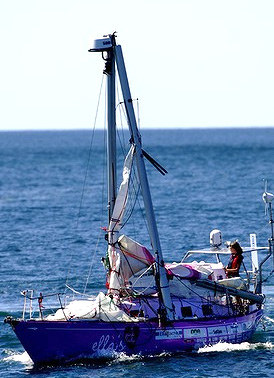 Disturbingly, Silver Yang not only failed to stop after the incident, but, according to Roger Watson, also turned off their AIS transponder immediately following the collision. Pink Lady was equipped with an AIS transponder — apparently in working order at the time of the accident — and a radar reflector. The incident is under investigation.
Meanwhile, halfway around the world, Dutch 13-year-old Laura Dekker was prevented from leaving September 1 in her bid for the title by the Dutch government. A judge placed Dekker, who had been in her father's custody after her parents' divorce, in the custody of the state to determine if she would be able to handle such a voyage. Initially, both parents claimed to support their daughter's goals but yesterday her mother admitted that she thought Dekker was too young for the trip and only said otherwise because Dekker threatened to never speak to her again if she didn't. "I would rather have a living daughter whom I do not see than a dead daughter," she told a Dutch paper.
A little closer to home, 15-year-old Abby Sunderland — little sister to Marina del Rey teen Zac Sunderland, who held the title for a little over a month this summer — is actively searching for an Open 40 in which to make her own assault on the record. The Wanderer recently ran into Stephen Mann of the 39-ft Tawodi, who with Kathleen Torres just completed the same circumnavigation the younger Sunderland is proposing — via the Great Capes. Mann says he would be "most happy to speak with Abby about exactly what's involved with the trip."
Newly anointed "Youngest Solo Circumnavigator" Mike Perham, 17, who snatched the title from Zac last month, isn't about to take it easy after his speedy nine-month trip around. Yesterday Perham announced that he will join Australian adventurer Don McIntyre on the 2010 Bounty Expedition, a 4,000-mile re-enactment of Captain Bligh's famous open-boat voyage after being forced off the HMS Bounty. The expedition — which will also raise money for charity — needs two more crewmembers. Do we smell an all-teen crew?
Receive emails when 'Lectronic Latitude is updated.
SUBSCRIBE