Australian Jessica Watson, 16, left Mooloolaba aboard her S&S 34 Ella's Pink Lady yesterday morning bound for Sydney. The 10-day trip was to be her final shakedown cruise before leaving on her quest for the title of youngest solo circumnavigator. Around 2 a.m. this morning, Watson encountered the Japanese cargo ship Silver Yang. According to news reports, she tried contacting the ship on VHF but no one aboard appears to have spoken English. Watson's father, Roger, claims that she tried several times to change course to avoid a collision but, for whatever reason, failed. Pink Lady was dismasted and otherwise damaged in the accident, though Watson wasn't injured. She limped into Southport today to meet her family and begin effecting repairs.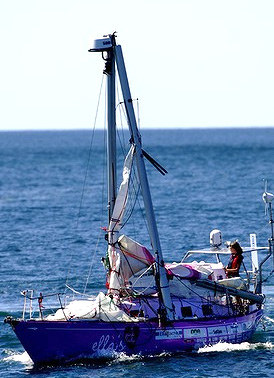 Disturbingly, Silver Yang not only failed to stop after the incident, but, according to Roger Watson, also turned off their AIS transponder immediately following the collision. Pink Lady was equipped with an AIS transponder — apparently in working order at the time of the accident — and a radar reflector. The incident is under investigation.
Meanwhile, halfway around the world, Dutch 13-year-old Laura Dekker was prevented from leaving September 1 in her bid for the title by the Dutch government. A judge placed Dekker, who had been in her father's custody after her parents' divorce, in the custody of the state to determine if she would be able to handle such a voyage. Initially, both parents claimed to support their daughter's goals but yesterday her mother admitted that she thought Dekker was too young for the trip and only said otherwise because Dekker threatened to never speak to her again if she didn't. "I would rather have a living daughter whom I do not see than a dead daughter," she told a Dutch paper.
A little closer to home, 15-year-old Abby Sunderland — little sister to Marina del Rey teen Zac Sunderland, who held the title for a little over a month this summer — is actively searching for an Open 40 in which to make her own assault on the record. The Wanderer recently ran into Stephen Mann of the 39-ft Tawodi, who with Kathleen Torres just completed the same circumnavigation the younger Sunderland is proposing — via the Great Capes. Mann says he would be "most happy to speak with Abby about exactly what's involved with the trip."
Newly anointed "Youngest Solo Circumnavigator" Mike Perham, 17, who snatched the title from Zac last month, isn't about to take it easy after his speedy nine-month trip around. Yesterday Perham announced that he will join Australian adventurer Don McIntyre on the 2010 Bounty Expedition, a 4,000-mile re-enactment of Captain Bligh's famous open-boat voyage after being forced off the HMS Bounty. The expedition — which will also raise money for charity — needs two more crewmembers. Do we smell an all-teen crew?
Receive emails when 'Lectronic Latitude is updated.
SUBSCRIBE