Wingsail Collapse Mars SailGP Saint-Tropez Event
It was a wild weekend on the water for SailGP, where the lead story was the dramatic, almost catastrophic collapse of the New Zealand Team's wingsail after the first day of racing.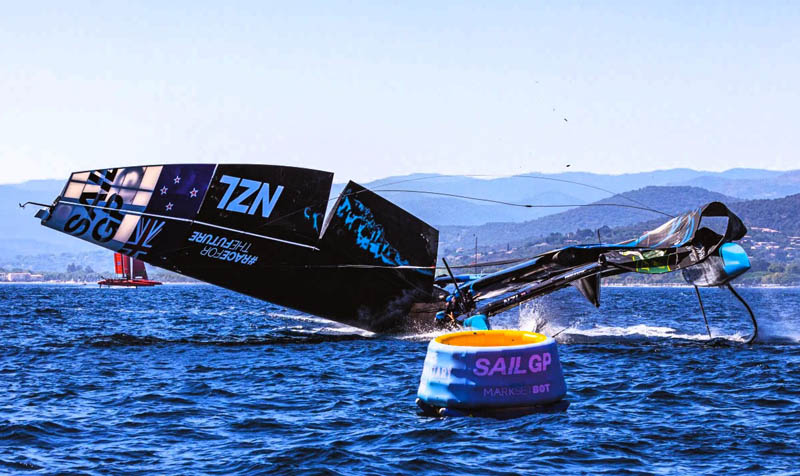 Thankfully no one was hurt in what could have been a tragic calamity, leaving questions on the safety of the F50 catamarans, many of which could be aging out with older parts, pieces and components that have seen better days.
The Kiwis were not able to compete on Race Day 2, and there are questions on whether a replacement wingsail, which is in New Zealand at SailGP's build facility, will be ready in time for the next SailGP event in Taranto, Italy, in two weeks' time.
"Thankfully everyone on board is safe; it could have so easily fallen at a different angle, and we were all on the starboard side of the F50, just touching down, something we've done 30-40 times today. We just heard an almighty bang and watched it all unravel," said Team New Zealand helmsman and Co-CEO Peter Burling.
Weather was not a factor. The winds were light and shifty.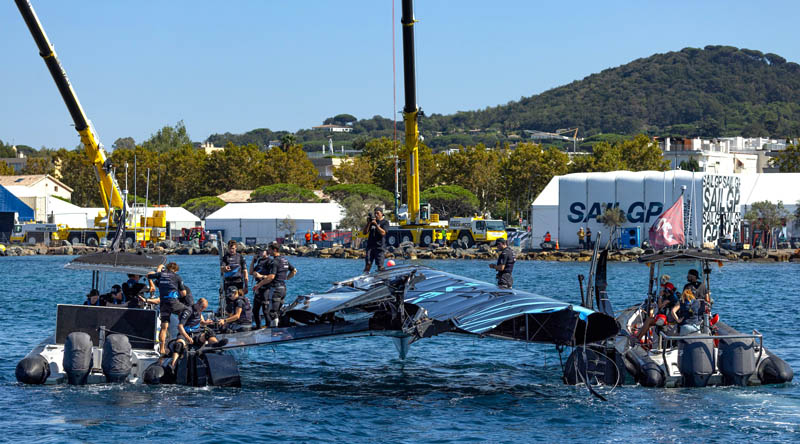 Kiwi strategist Jo Aleh said she had been driving and had handed the wheel back to Burling shortly before the incident. "It just happened so quickly; we just saw the mast and sail coming down. There was nothing we could have done.
"We've sailed the big wing in a little more breeze than that," she said. "For us, we felt that we were in range and sailing it pretty normally."
"The safety of everyone involved in SailGP is our top priority," SailGP said in a league-issued statement. "A thorough investigation is underway as to why the wing came out of alignment which caused the structural failure to happen."
"We only have one spare wing, which is currently located in New Zealand," SailGP CEO Russell Coutts said. "The lack of spares is due to a backlog of damage: First we had the lightning strike to New Zealand's wing in Singapore, and then the weather event in Sydney, Australia, destroyed another wing."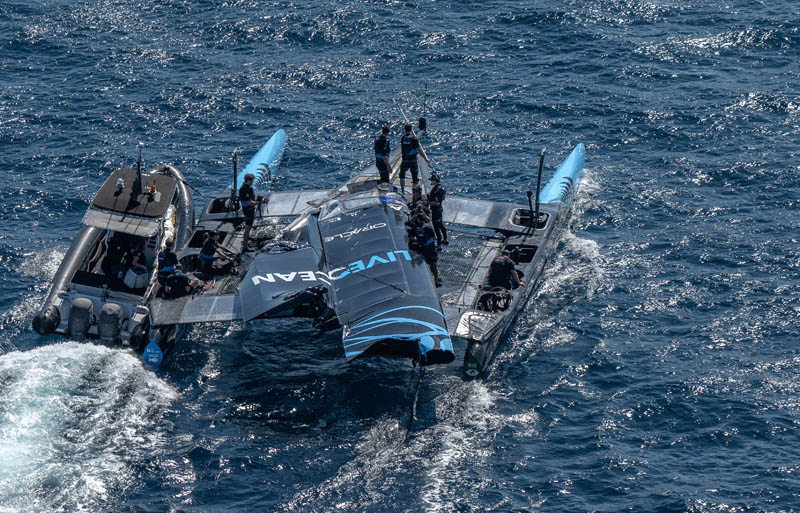 Unfortunately, all the carnage from the previous day overshadowed a dramatic Podium Final. The race between Emirates Team GBR, Tom Slingsby's vaunted Australian juggernaut, and a rejuvenated Spanish Team was packed with racing action with plenty of lead changes. A last-minute pass on the last leg by Ben Ainslie's GBR crew, fighting tooth and nail to minimize maneuvers and maximize fly time, gave them massive gains to ultimately overtake the Aussies by a scant 0.27 seconds at the finish.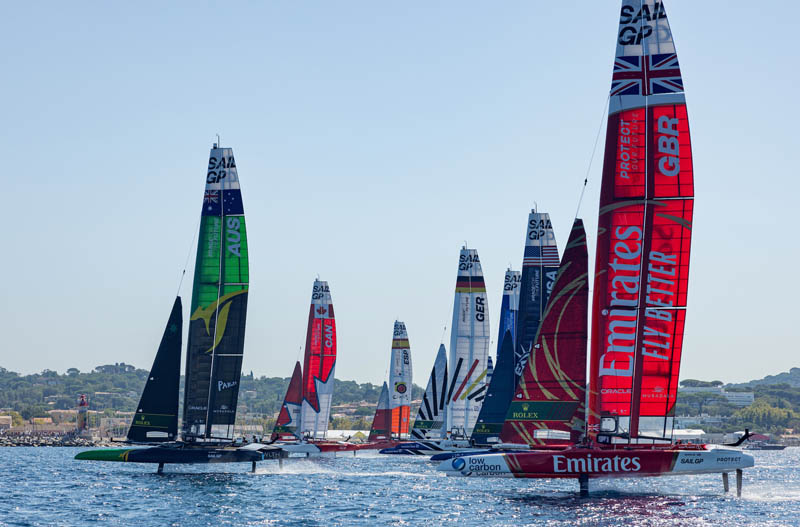 Canada and Spain were involved in a dramatic collision, resulting in Canada's third penalty of the race. The team picked up a devastating eight-point event penalty and four-point deduction to their season score.
Soon after rounding the mark in Race 1 on Day 1, the Canadians had jibed and were on starboard, yet on a collision course with Spain. It was only at the last minute that the Spanish altered course, despite being on port.
The umpires ruled, however, that Canada did not react to avoid collision. Canadian driver Phil Robertson challenged the umpires' allocation of penalty points. The appeal was heard, but denied.
"Unfortunately, we lost a lot of points on Day 1. They (ESP) didn't even bother to turn out of the way. We made a mistake just turning a bit late and slid into the side of them. I am still a bit puzzled as to why we were penalized so heavily," Robertson commented.
SailGP Chief Umpire Craig Mitchell gave this explanation on Team Canada's penalty. "The penalty on water was for Canada breaking Rule 16; as the right of way boat changing course and not giving Spain room to keep clear."
Though many observers felt that Spain did not do enough to keep clear. The penalty seems excessive given that many other serious collisions have taken place over SailGP's three seasons, with little or no consequence. Remember, rubbing is racing!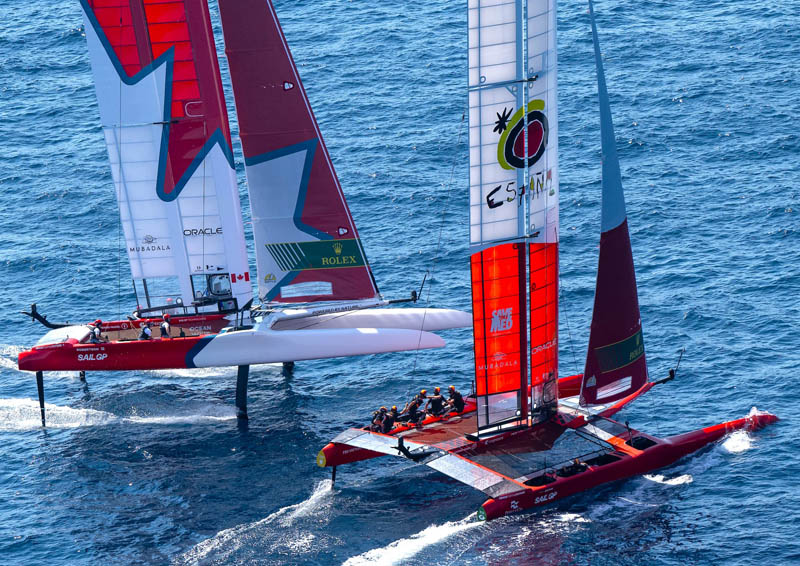 It was a tough weekend for the Americans as well, as they got off to a rough start with the team capsizing on a practice day.
US SailGP Team driver and CEO Jimmy Spithill acknowledged disappointment. "Definitely a tough day, coming into it one point off the lead and then missing out on the final, but we were unable to capitalize in races 4 and 5," Spithill said. Though all was not lost, as the team picked up a much-needed win in the third race of the first day.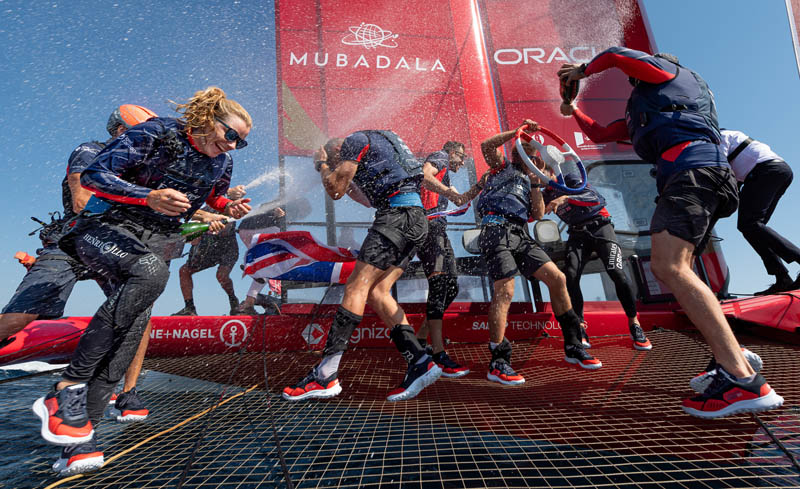 Have some of the SailGP assets and equipment aged out? What are the exact ages of the boats, wingsails, parts, pieces and components? Most of what SailGP has spends months at a time housed in containers, which are subject to elements like heat, travel, moisture, etc. … Could fatigue be a factor?
Also, on the horizon is the America's Cup. How concerned are the teams and the owners of that event for the potential health and safety of its stars, who are "shared" between the two marquee sailing series?
SailGP is lucky this wasn't a tragic catastrophe.
You can watch the collapse in this video posted on New Zealand SailGP Team's Facebook page.
Receive emails when 'Lectronic Latitude is updated.
SUBSCRIBE