Winds of Change at the Boat Show
Will there be a new age of sail? In the April issue of Latitude 38, we take a look at the modest but promising proliferation of wind-assisted commercial ships around the world. This weekend, two advocates of "windships" will be speaking at the Pacific Sail & Power Boat Show. We'll give you the details at the end of this article.
Here in the Bay Area, Wind+Wing Technologies (WWT) has been pushing for wind-assisted ferries for over a decade. Founded by Adventure Cat Sailing Charters president Jay Gardner, WWT is also working on modular container wings that can be placed on large commercial vessels.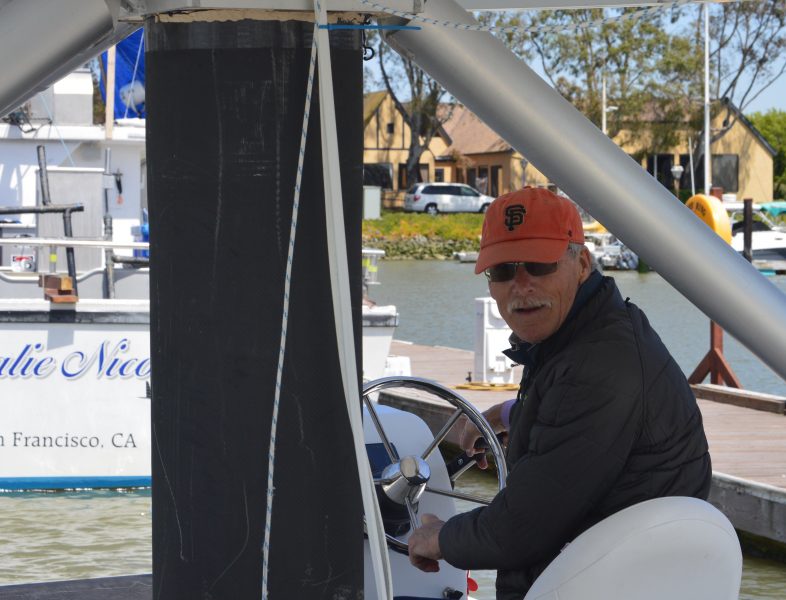 In 2008, Adventure Cat partnered with the State of California and Morrelli & Melvin Design for a study called Feasibility for a Wind-Assisted Ferry for San Francisco Bay. The study — which led to the creation of two "demonstrators" — found that ferries could realize a 40% decrease in fuel consumption and an annual savings of $100,000 per vessel. When combined with electric-hybrid motors, WWT says that wind assist can be a perfect fit for certain Bay Area ferry routes.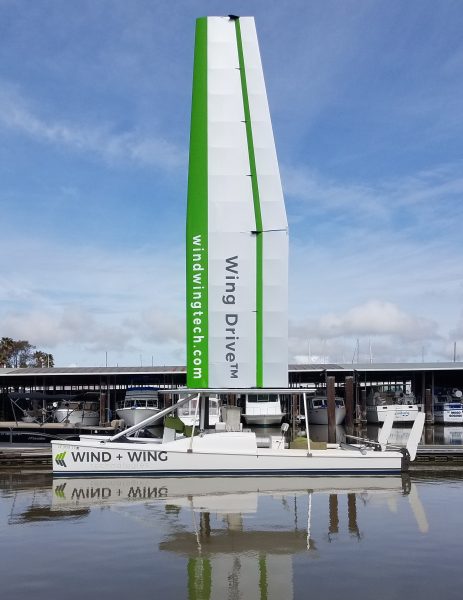 "What if we built vessels that were route specific and engineered for a specific purpose?" asked Charlie Bogue, the director of market development and strategy for WWT, who will be speaking at the Boat Show. "Depending on the route, it's entirely possible to develop a zero-emmission catamaran ferry that holds the same amount of passengers [as a ferry currently in use] and goes the necessary speeds — right now."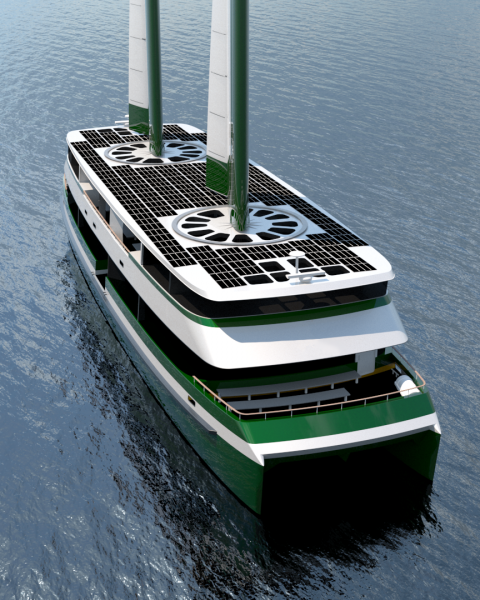 Great, right? So, where are all of the wind-assisted ferries on the Bay? WWT says that they're hoping to deliver such a vessel in the next year.
The story of windships is also a story of will. It takes a will to believe that humankind needs to make changes in the energy we use. Embracing technological innovations involves some degree of bold risk taking — and moving away from cheap fuel. It also takes a will and desire for mariners to use new technologies once they're installed.
A company called SkySails designed a kite that was flown off the bow of ships. In 2008, six SkySail kite systems were installed on large freighters, but none of those systems are currently in operation — due in part to a lack of money in the shipping industry for forward-thinking technologies.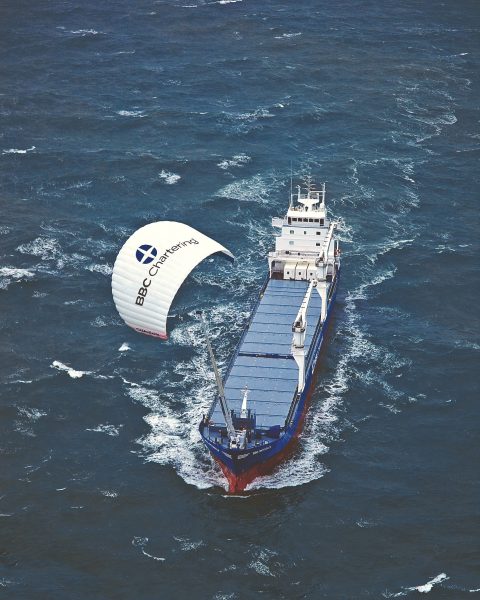 But there's another factor, according to Sven Klingenberg, the co-founder and head of sales and marketing at SkySails Yachts GmbH. "When using the kites, you had to consider the mindset of the captain and the shipping company. They needed to be sailors or environmentally minded. The human factor was a decisive thing. If they are strictly like a truck driver bringing freight from A to B and have no passion for sailing or kiting, that was the number one blocking factor. There was no time to play around with these things." (Click here to see video of the kites in action.)
Klingenberg also said that not long ago, an IT company developed a system to monitor fuel consumption on commercial freighters, much of which hinged on the "trim" of the vessel, or the distribution of fuel and load through the ships. "With the 'system' monitoring proper trim, we can already save 10% on fuel consumption and a few million dollars a year."
But Klingenberg said that the innovation was not well received by mariners, some of whom felt that detailed analysis of a ship's performance was highlighting flaws in their seafaring decisions. "Some of the captains said, 'You're telling me that I'm doing my job wrong;' they just hated it. They don't want to be controlled."
At present, only a tiny handful of ships have some kind of wind-assist options, which include the nearly 100-year-old Flettner rotor technology, wings and foils, and other innovations.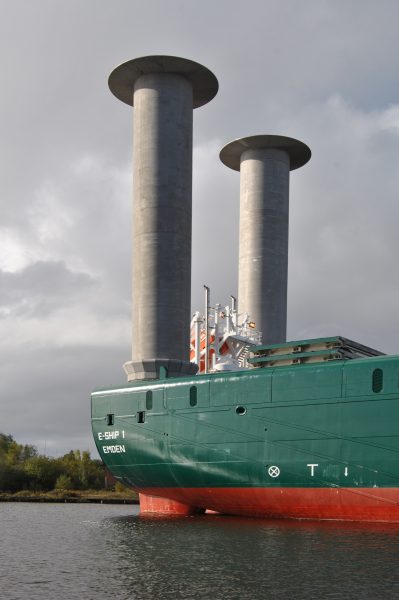 "It's an exciting time," said Gavin Allwright, the secretary for the International Windship Association, who will also be speaking at the Boat Show. "We're hoping to appeal to young mariners to come into the shipping industry, which needs to make some changes."
On Saturday, April 6, from 4:45 to 5:45 p.m., Charlie Bogue will be presenting the seminar, "Wind-Assist Technology for Zero-Emmision Ferry Transportation" at the Craneway Seminar Pavillion. And on Sunday, April 7, from 2:15 to 3:15 p.m., Gavin Allwright will be presenting "Winds of Change — The Growing Wind Propulsion Tech Trend in the Commercial Shipping Sector," also at the Craneway Seminar Pavillion.
We'd like to know what you think about windships, especially if you're a professional mariner. Please comment below, or email us here, and please be sure to include your Boat Name, Make, and Port of Call.
Receive emails when 'Lectronic Latitude is updated.
SUBSCRIBE