Vote for Paralympians Nick Scandone and Maureen McKinnon
The gold medal-winning 2008 Paralympic sailing team of Nick Scandone and Maureen McKinnon has been named as 2022 finalist inductees to the United States Olympic and Paralympic Hall of Fame in the Paralympic Team category.
Sailing fans can cast their vote once a day through May 16 to help determine the Class of 2022, which will mark the first class inducted into the Olympic and Paralympic Hall of Fame since 2019. The Class of 2022 will be announced on Wednesday, June 1, and inducted on Friday, June 24, during a ceremony at the US Olympic and Paralympic Museum in Colorado Springs, Colorado.
Vote here. Paralympic Teams is the fourth category; it's the only category that includes sailors. You can vote once a day from now through May 16.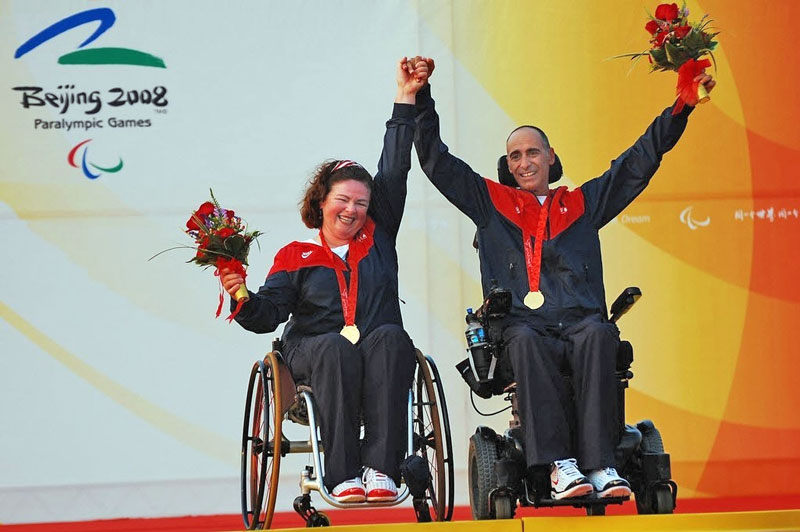 About Nick Scandone
Nick Scandone started sailing Sabots at Balboa Yacht Club in Corona del Mar, Newport Beach. He sailed in college for UC Irvine, where he was an All-American. After college, Nick campaigned in the 470, narrowly missing Olympic team selection in 1992. In 2002, Nick was diagnosed with ALS, and he quit his job to pursue a medal in the Paralympics. He began in the 2.4-meter keelboat, winning the 2005 Open World Championship. He was named US Sailing's Rolex Yachtsman of the Year in 2005, making him the only male Paralympic sailor ever to achieve the honor.
By the end of 2006, his condition had advanced to the point where he was physically unable to compete in the 2.4-meter. Scandone moved to the SKUD 18 and went on to win a gold medal at the US Paralympic Trials in 2007. In 2008, he went to the Paralympic Games and was honored as the US flag bearer. There in Beijing, he won a gold medal with sailing partner Maureen McKinnon. Nick passed away shortly thereafter, in January 2009.
About Maureen McKinnon
Maureen McKinnon learned to sail when she was 20. In 1995, she fell 13 feet off a seawall while on vacation in Maine, becoming paralyzed. After her accident, she tried racing again, but the J/24s she once sailed were too challenging. The Freedom 20s designed for individuals with disabilities were too tame. She gave up sailing for a while, until a chance meeting with Paralympic skipper Rick Doerr, who invited her aboard his triplehanded Sonar as crew. McKinnon made the 2008 US Paralympic Team with Nick in the SKUD 18. She found success again in 2016 with a new skipper, Ryan Porteous. Maureen was the first woman to be a member of the US Paralympic Sailing Team and the first woman to represent the USA and win gold in Paralympic sailing. She also served on the US Sailing Board of Directors for five years.
Receive emails when 'Lectronic Latitude is updated.
SUBSCRIBE