The Pros and Cons of a New Ferry Line at Berkeley Marina, Part 1
As ferry service in the Bay Area continues to expand, Berkeley Marina is considering a new ferry terminal located on the now-shuttered University Avenue Pier to service a route to San Francisco. The potential project, which will soon go to a yearlong public-engagement process, is part of Berkeley Marina's wider, long-term plan to create a financially self-sustaining, publicly owned marina. As we've reported, much of the Marina's infrastructure has "aged out," and the price tag to replace docks, roads and the 83-year-old pier — which closed in 2015 due to structural safety issues — far exceeds the self-sustaining financial model, or Marina Fund, leaving the City to seek out money where it can.
"The Marina Fund is designed to support all aspects of the waterfront; the financial feasibility of this fund supporting these elements with its current revenues is unrealistic," a recent City of Berkeley memo read. Grants and loans have helped finance a few new infrastructure projects at the Marina, but there's still plenty of work to be done. The question of how to renovate the once-popular pier, which has a price tag of between $17 million and $55 million, remains open.
The City of Berkeley has been working on a study with the Water Emergency Transportation Authority, or WETA — the Bay Area's largest public-commuter ferry service — to determine the feasibility of a joint project to rebuild the pier and open a new line. While the specifics of who would pay for what will be worked out in the coming year, the City of Berkeley is looking for partners to inject cash into building a new pier and breakwaters and for dredging, as well as for renovations to existing parking lots, walkways and restrooms.
Opponents of the ferry point out that while the partnership with WETA might help finance a new pier, a Berkeley ferry line would not provide regular taxable revenue to the Marina Fund in the way that restaurants, hotels and other businesses do. A city official told us that the city believes the ferry project "could be a catalyst for revenue associated with the Marina Fund, as the percentage rent from existing or new restaurants and hotels in the Marina could increase from additional foot traffic. Over the next year, the city will study the financial opportunities of the ferry/pier project in both planning studies."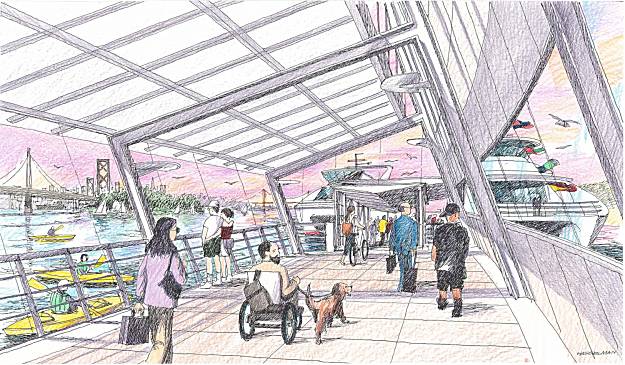 The new Berkeley terminal was first proposed in 2009, but was ultimately rejected. At the time, the project was criticized because the city was expected to be saddled with at least part of the operational costs of running the line. (It's not uncommon for cities to partner with WETA as a means of investing in their public transit.) The project was also unpopular with recreational advocates, who said that the design of the terminal would cut into waters used by windsurfers, kayakers, swimmers, and the occasional dinghy. Recent design proposals for a pier terminal are relatively unchanged.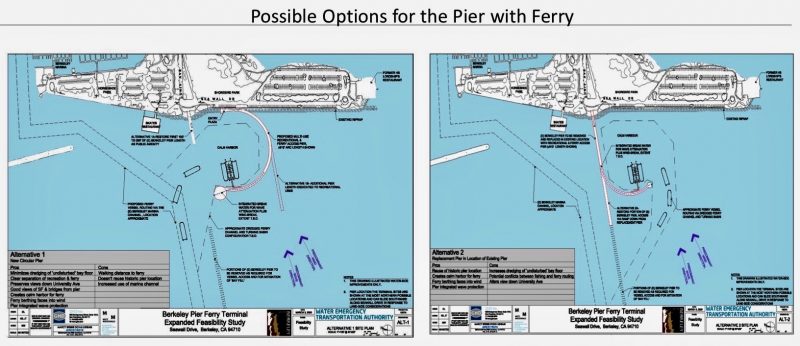 The financial landscape has changed since 2009. In 2018, Bay Area voters approved Regional Measure 3, and WETA "is expected to receive up to $300 million for one-time capital construction projects, and up to $35 million per year to operate an expanded region-wide ferry system," the City of Berkeley wrote, adding that pre-COVID Bay Area ferry ridership was up 94% since 2012. WETA plans to widely expand its services, with seven locations around the Bay, and a "robust 16-terminal regional network" under consideration. (The money from Regional Measure 3 is currently tied up in a lawsuit, but the funds should eventually become available.)
Given the potential for an expanded fleet, there's a sense of urgency to move away from diesel ferries to low- or zero-emission vessels. While there are numerous prototypes around the world, there has yet to be a "breakthrough boat" to hit Bay Area waters, which would presumably open the door for a green fleet. New boats on the Bay are as low-emission as they've ever been, but ferries still have a large carbon footprint, and are among the most inefficient modes of transportation in terms of fuel used per passenger-mile (though single-occupancy cars are by far the most inefficient).
The pandemic has decimated public-transportation usage. According to a WETA spokesperson, ridership is down about 90%. It's not clear what lasting impacts the pandemic will have on overall ridership — will part of the workforce permanently shift to remote employment, or will there be pent-up demand to get back to the office? Regardless, it's fair to say that there's an abundance of public interest, political will and hard cash ready to be invested into Bay Area ferries.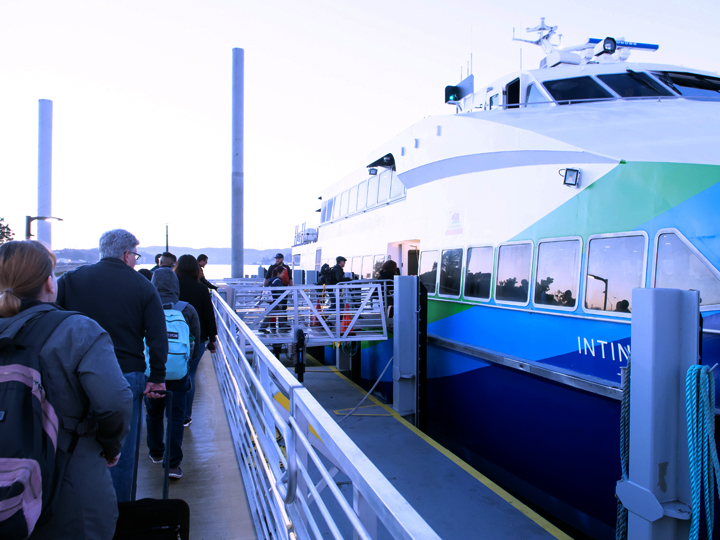 The Bay Area Ferry Landscape
WETA is one of two Bay Area public ferry lines. There are numerous "tourist fleets," as well as several smaller-scale private operators (two of which operate out of Berkeley Marina). As implied by their name, part of WETA's mission is to coordinate "water transit response to regional emergencies." WETA, which also operates under the brand San Francisco Bay Ferry, has a fleet of 15 high-speed, passenger-only ferry vessels. (We did not obtain employment figures for this story, but needless to say, a number of professional mariners are employed by ferry lines.)
Taking the ferry is awesome. They're timely, relatively affordable (though definitely a tad on the expensive side), and easy to catch. The coffee is hot in the morning, the beers cold in the evening. The views of the waterfront are always stunning, and for sailors and non-sailors alike, it's just fun to zoom around on the Bay.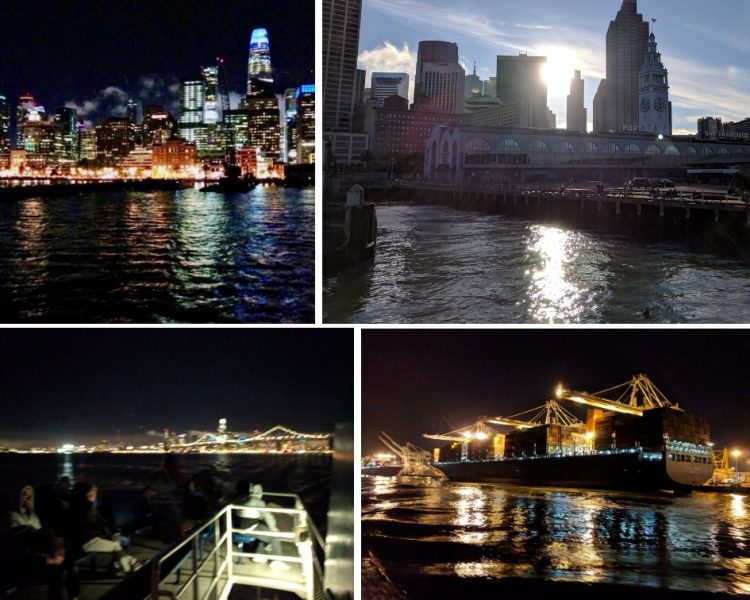 But while standing on the top deck of a ferry a few years ago, we were reminded of one of the "costs" of the ride. The smoke from the stacks occasionally wafted and stalled over the boat as it turned and maneuvered.
During the public-debate phase of the Berkeley ferry terminal in 2009, one comment included an analysis of fuel efficiency of transit vehicles, which was compiled by Paul Kamen. Using BTU/passenger-miles, which is based on the chemical energy of the fuel burned for each vehicle, a single-occupancy car uses 7,000 BTU per passenger-mile (assuming the car gets 20 miles to the gallon), a carpool 2,300 (also assuming 20 mpg), a bus 660, light rail, 91, and the BART train 68. (Most of these modes of transportation use about double the BTUs per passenger-mile when they're not fully loaded; fewer passengers equal less efficiency per mile.)
The Peralta — a 331-passenger, 25-knot service-speed WETA boat (which is "two generations older than our core vessels," according to the spokesperson) — uses between 4,560 BTU/passenger-miles when half full, and 2,280 at capacity. "Fifty percent capacity is about the best you can expect for a commuter service, considering the reverse-commute direction, while a carpool can operate at near 100% both ways," Kamen said.
"We've reformed our fleet over the last few years to meet California's air-quality standards, which are the strictest emission standards in the country," a WETA spokesperson told us. WETA's Hydrus and Pyxis classes — which include seven 400-plus-passenger, 27- to 35-knot service-speed boats — are equipped with "Tier 4" engines. "[These vessels] were the first of their kind in the country; it's the cleanest you can have for a diesel engine," the spokesperson said of Tier 4, which is an emission standard established by the Environmental Protection Agency and the California Air Resources Board. (The Hydrus class, which debuted in 2017, technically has "Tier 3" engines with "additional pollution control systems," to meet Tier 4 standards, the WETA spokesperson said.)
Despite increasing cleanliness, ferries are still thirsty animals; some estimates say they use up to 300 gallons of diesel per hour.
What About a Zero-Emmission Vessel?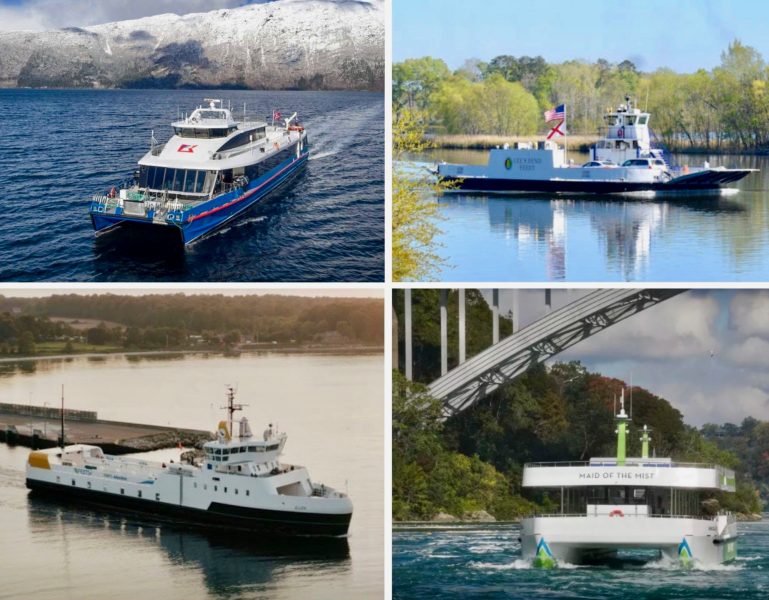 Earlier this year, WETA received a grant from the California State Transportation Agency to build their first battery-electric zero-emission ferry. "It would serve the future connector route to the Mission Bay neighborhood of San Francisco," the spokesperson told us. "We are eager to begin that project and deliver a zero-emission passenger ferry that will move us and the maritime industry forward. It's a huge learning opportunity. Building the required infrastructure, building a vessel, and putting it into service will teach us a lot, push the industry forward, and let us make smart decisions for the future of the fleet going forward." The spokesperson added that WETA is seeking grants to fund the creation of a comprehensive green-fleet blueprint for the ferry system.
Are electric ferries a "magic bullet" for transportation? An electric-powered anything is, of course, only as clean as the energy that it plugs into. There are also skeptics of the hybrid concept's being used in a maritime setting. "Hybrid power makes no sense for an application that requires steady, continuous power output," Paul Kamen said. "The low-carbon output from demo projects is a consequence of lower speed, not hybrid power. Hybrid is great for cars because they require frequent power surges. But that's not the case for boats and ships. It's no accident that the venerable Atomic Four engine block was originally for a tractor motor."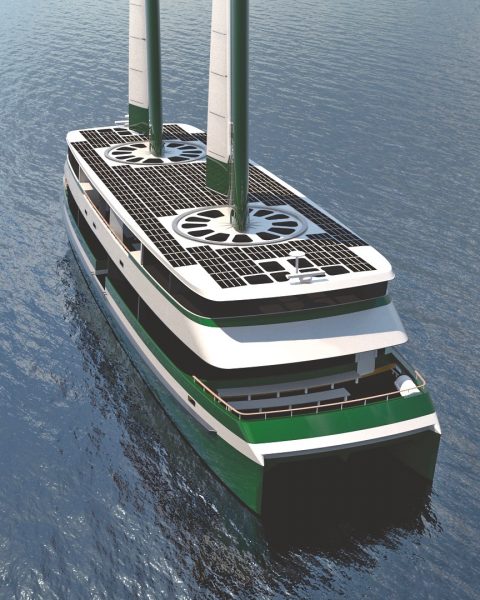 Back to the Berkeley Ferry Question
"Since WETA and the City of Berkeley are early in the planning phase of this project, all options for vessel propulsion technology will be considered," the WETA spokesperson told us.
It's not clear, however, how much say individual municipalities ultimately have in what type of vessels will service their line. Richmond mayor Tom Butt told us that his administration was strongly behind an electric ferry for the city's WETA-run line, which opened in early 2019. But the line is currently serviced by a diesel ferry. "We had very little say; we weren't part of the decision-making apparatus." The WETA spokesperson told us that vessel considerations are made not just for individual lines, but for the needs of the entire fleet.
Exactly what types of boats may or may not service a Berkeley line — if there is to be a ferry there — remain up in the air. Discussion of the pros and cons of a Berkeley ferry line might hint at debates that will play out in other parts of the Bay Area. With Treasure Island, Mission Bay, Redwood City, Seaplane Lagoon in Alameda, and cities in the the South Bay and Carquinez Strait all considering new ferry lines, the discussion will revolve around each each municipality's unique financial situation, waterfront geography and environmental-policy goals.
Receive emails when 'Lectronic Latitude is updated.
SUBSCRIBE