The Proposed Relocation and Expansion of San Francisco's East Harbor
For several years now, the City of San Francisco has been considering relocating East Harbor — the Cityfront marina near Fort Mason that is also called Gashouse Cove — by expanding West Harbor, which is adjacent to St. Francis and Golden Gate Yacht Clubs. This expansion/relocation would also represent a "reimagining" of Marina Green Park, the long, rectangular swath of grass lining the shore near West Harbor, and has created some tension, at least in the always-reasonable groupthink of social media circles, between park goers and boat owners.
"East Harbor's south end is soon to be too shallow to remain as a marina," San Francisco Recreation and Parks said. Although some dredging was recently done in East Harbor, we've heard several anecdotes of boats going aground, including three six-foot-draft J/105s in April.
In the early 2000s, San Francisco sued PG&E, California's utility monopoly, over chemicals in the soil of East Harbor; in 2021, PG&E agreed to "fund the cleanup and reconstruction of the Marina Small Craft Harbor," according to the S.F. city sttorney. "The cleanup of the site will allow the San Francisco Recreation and Park Department to design and implement a project to improve the Marina Small Craft Harbor, including replacing failing docks in the East Harbor and increasing recreational access to the waterfront for all."
The current plan, which calls for a boat and parking swap as well as slip improvements, would extend the breakwater, as well as a "wave attenuator," around West Harbor, essentially expanding the marina the entire length of Marina Green Park. Boats and a fuel dock from East Harbor (where existing slips would "be improved") would be relocated to the larger West Harbor.
The ultimate fate of the innermost portion of East Harbor is unclear. The Recreation and Parks Department said that the marina could be turned into a shallow-water basin with "new and expanded recreational amenities" offering "engagement with the Bay."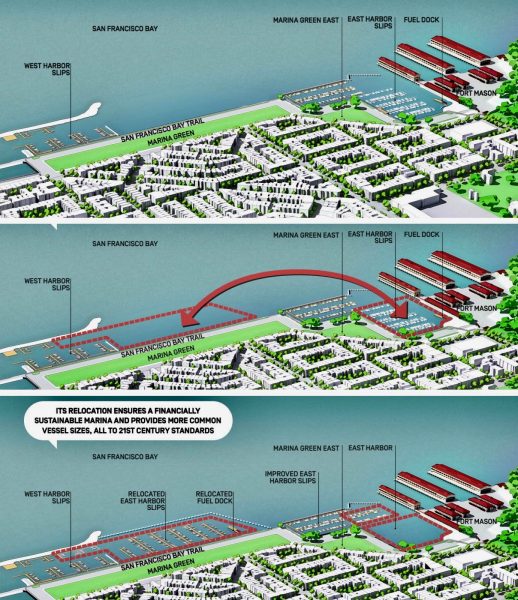 For sailors, this all sounds kind of great, right?
"The proposed [new] breakwater will be terrible for junior sailing, Race Committee operations, and J/22s, Knarrs, and Folkboats which then must tack back and forth a much longer distance upwind to return to their slips," said one St. Francis member familiar with the project. "[The parks department] told us they are willing to relocate such boats to slips near the new harbor entrance, but that makes a longer walk to the clubs."
So that's one sailing opinion. What about non-sailors?
"SF Parks & Rec is fully behind a plan to build a larger harbor for nearly 200 additional boats in front of the now unobstructed waterfront of the Marina Green," said someone on Nextdoor, an online neighborhood forum.
Several users pointed out that the expansion/relocation of the current East Harbor is not the only option; East Harbor could also be renovated. "The renovate option necessitates a zoning change as East Harbor, or Gashouse Cove, was specifically zoned as a small-craft recreational harbor for the everyman," said another Nextdoor user. "They'd do away with those slips and the gas pump from Gashouse Cove and build a larger harbor for larger boats in what they're now referring to as Outer East Harbor."
Latitude will be digging into this issue in the coming weeks and have a summary for you in the July issue. In the meantime, the full proposal can be viewed at San Francisco Marina Park Community Presentation. The deadline for public comments is June 9, this coming Friday.
Receive emails when 'Lectronic Latitude is updated.
SUBSCRIBE