Sailor Rescued in Southern Ocean Claims Collision With Sunfish
A 22-year-old sailor was on a circumnavigation of his home country, Australia, when he triggered his emergency beacon in the Great Australian Bight, approximately 630km from Kangaroo Island. (Yes, those are real geographical names.) Setting off from Queensland's Gold Coast, Xavier Doerr was attempting to complete the circumnavigation in less than 50 days. At the time of his rescue he had been at sea for 64 days. The news reports are a little confusing, with one source saying his boat was struck by severe weather, and another writing that he had struck a sunfish.
The Australian news site 7news.com.au reported Doerr as saying, "I collided with what I believe was a sunfish underwater, which caused me to capsize and subsequently have a strong impact (to) my head."
The sailor reported that he had sustained injuries and that his boat was damaged and taking on water, according to The Guardian.
Doerr reportedly spent almost 24 hours in what he describes as "extremely treacherous conditions." Apparently a cargo ship made multiple attempts to bring him on board, and almost aborted the mission due to the 10m waves and 100km-per-hour winds. He did eventually board the ship, and from there was airlifted to the Royal Adelaide Hospital, where he was assessed for injuries.
The sailboat, described only as a "6.5-metre sailing yacht," was recovered and towed to Port Lincoln, South Australia, where it was secured by locals.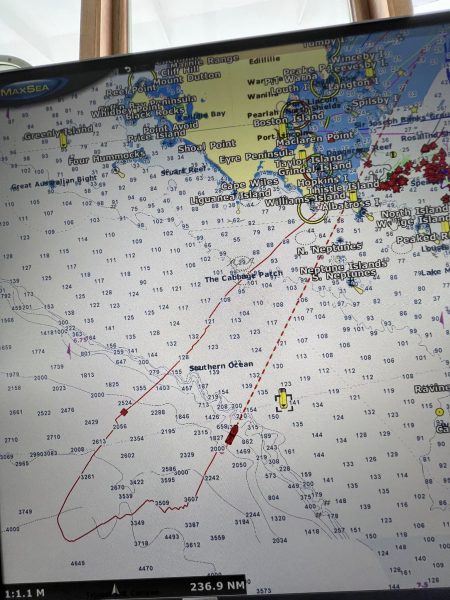 The story leaves us with questions. One is related to the rumor that this was his second attempt at breaking the record of 58 days set by Lisa Blair in 2018, the first one also ending with a rescue. Is this true? We've not found the exact report to substantiate or refute the rumor. The second question is about the sunfish. Sunfish have been blamed for collisions in the past, as reported by Perth Now. But how can Doerr be sure? And was it the sunfish or the "extremely treacherous conditions" that caused the boat to be abandonded? Or perhaps both occurred simultaneously?
Doerr told 7news.com.au that "he will attempt the route again at some point in the future." Let's hope this time things go well and he makes it back to shore, with his boat. You can watch news clip video here.
Regardless of our confusion as to the facts of the story, we are of course thankful that the sailor is safely ashore and in good shape.
Receive emails when 'Lectronic Latitude is updated.
SUBSCRIBE