Sailing-Art Mystery Solved by 'Latitude 38' Readers!
The greatest mysteries in life are often solved by sailors. It never ceases to amaze us just how knowledgeable our readers are. (Note, we did not say "surprise.") After all, they're into everything about sailing, and most sailors love to learn about and solve sailing mysteries. In this case, the mystery was in the form of an artwork owned by Chris Juhasz.
Below is a photo Chris sent us of the picture he'd owned since the mid-'70s, but knew nothing about. Enter the Latitude readers who came up with the answer.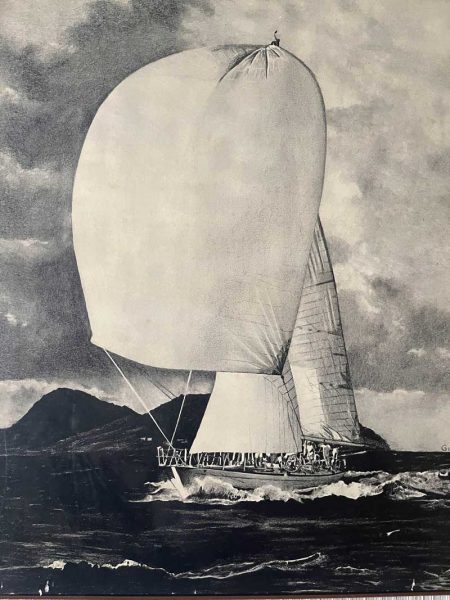 Readers commented that the location was Diamond Head or Molokai Channel, and that the boat was Blackfin, Stormvogel or Windward Passage competing in a Transpac race, many decades ago. And they were right, in part.
Tom Patterson joined the conversation with this: "Windward Passage (when she was ketch rigged and had a bowsprit) off Diamond Head, setting new elapsed time record and winning the Barn Door Trophy in Los Angeles to Honolulu Transpac, July 13, 1971, in the time of 9 days, 9 hours, 6 minutes. Passage also won the race overall."
Tom wrote that the picture is a charcoal rendering by artist William C. Gilpin (1917-1988) of Newport Beach, CA. (Most known for his portraits of Hollywood stars.) Tom then added that the rendering was based on a photo taken by Fotoboat, Santa Barbara, and was the cover shot for the 1973 Transpac program.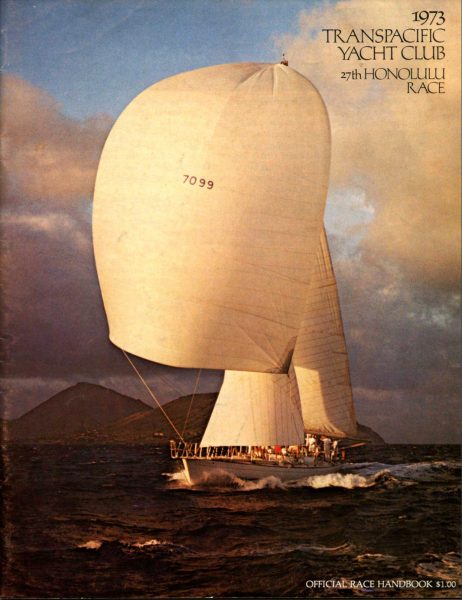 Skip Allan then chimed in, concurring that the rendering was created from a photo taken by Dick Clevel, owner of Fotoboat, which specialized in Transpac finish photos. In this race, Windward Passage won the Barn Door. (The Barn Door is a trophy awarded each race for the Fastest Monohull Elapsed Time in the race. Originally the "First to Finish" Trophy.)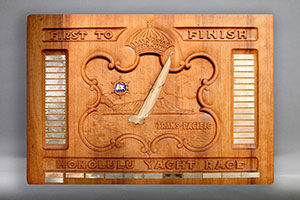 Skip added, "The reason the mainsail panels are narrow is we'd just taken delivery of a Hood main, whose sail cloth was woven on looms intended to weave cloth for pillow cases. If you look closely at the '73 Transpac handbook photo, I'm the kid in red shorts up by the mast."
Chris Juhasz was delighted to learn at last about his mystery sailing art and wrote to thank Latitude 38 readers. "Thank you again. A near lifelong mystery is solved. Windward Passage will remain hanging proudly in my office in Idaho."
Well done, everyone. You can all stand down and go sailing, until the next mystery arises.
Receive emails when 'Lectronic Latitude is updated.
SUBSCRIBE