The Rescue of 'Green Dragon' off Mexico, Part 2
Readers — On Friday, Jessica Lockfeld began recounting the rescue of the crew of Green Dragon 2. At the beginning of January, Jessica and her husband Jim were transiting from La Paz to Mazatlan aboard their Tartan 38 Hajime when they got a mayday call, and were told the Mexican Navy was on the way. "Jim and I exchanged worried glances," Jessica wrote. "How in creation were we going to find a dark boat in the middle of this stormy night?"  
The wind turned to the north, so we were fighting eight-foot seas with a five- to eight-second period, and everything inside the boat was shaken, not stirred. Nothing stayed put. However, we've been in worse seas, and we know our boat is tough. We were 'walking' the boat, standing behind the wheel and moving from foot to foot as the waves threw the boat from side to side, and holding on to whatever handholds we could use as we motored on, through lightning storms on either side of us, and looked anxiously for a boat. Any boat. Where the hell was the navy?
Very close to midnight on the 1st of the year, we approached our target. We could finally see her, still blessedly lit up with her running lights and masthead. We had been in intermittent radio contact with Green Dragon 2, who reported water still rising. They could not figure out where the water was coming in, and they were prepared to abandon ship.
The scene became surreal. We approached the boat and turned on our deck lights, to give us some idea of what was going on. We had been asking ourselves how we intended to do this, and we knew that in these seas we could not come alongside. There was too much movement, and if we banged into them we could both need rescue. We circled once, assessing the scene, the seas, the situation. The boat itself was low in the water, down at the nose, like a dejected donkey. They had the liferaft deployed behind the boat, and it was a terrifying thing. It is essentially an igloo, inflated rubber in the bottom and a fabric tent roof over it, and it made me want to puke just looking at it moving in the water. It was an orange and black bubble of hope and horror.
They weren't in the liferaft yet. We circled again. We had agreed, by radio, that they would get into the liferaft and stay tethered to Green Dragon while moving away from the mother ship and hopefully toward us. This is more easily said than done. The waves and water were moving, foam-flecked; the wind was howling at 20 knots; and the lightning was occasionally illuminating everything like a flashbulb. Water birds were strafing something just beyond the reach of our brilliant deck lights, looking like restless and relentless ghosts as they flickered into shadow.
Jim was piloting the boat, while I was scampering around on deck trying to get good visuals and ready to catch a throw line. I was clipped onto the jacklines, in my lifevest, and swearing at how restrictive the bloody tether was. Somewhere around the fifth pass, they were in the liferaft and heading our way. I cannot imagine what courage it took to actually step into that thing. I'm not sure I could do it.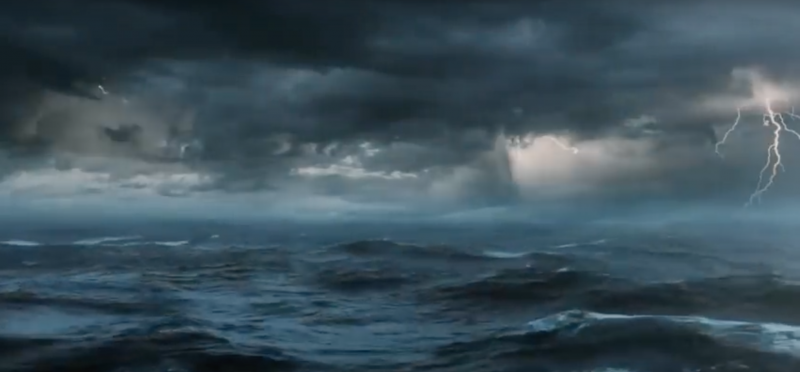 The first toss of the throw line fell short. We were moving past them, as we had to keep the engine moving to keep some way on in order to have a hope of piloting rather than drifting. We circled back around and tried again. I tried to catch the next toss, and damn near went overboard. Jim's voice came from the cockpit. "Jessica! Don't go off the boat!" We are not all very smart about coaching when stressed. I believe I swore a lot while ignoring him and getting the boat hook and trying to get the line. A third throw of the line went across the foredeck, and then we had some control.
Ever tried to winch someone from the water, with a multi-ton vessel on one side and your bare hands on the other? Cleating them off, pulling, swearing, cajoling the gods, till Gary Green, one of the owners of Green Dragon 2, got a hand up, couldn't get around, got pulled off, pulled back on, and finally heaved himself heavily up the ladder, "Welcome aboard," I said formally. He moved aside and his wife Rosalie handed up a bag, and then tried to get onto the ladder. Both hands made the grip, then slipped, and she fell back into the liferaft, and started to drift away.
"We'll come for you!" yelled Jim, and we did, and he grabbed something, some sort of handle on the liferaft tent roof, which ripped away. Losing her. Losing the raft. It was a moment of quivering fear. "Line, throw a line," he told me. There was one he had prepared at hand, the heavy nylon rode of our spare anchor.
I don't have good aim. I tossed the line left-handed because of the lay and the situation, and because I don't aim well on either side. It somehow landed where it needed to go, and she grabbed it. We started pulling it in. "I can't hang on," she said breathlessly. "Just hold on a moment," I said, and she did. We got her alongside, and she reached, one-handed. I had elbowed her husband aside for space, for my agility, and I'd be damned if I'd see her slip again. I caught her wrist. Reached down, other hand grabbed a handful of jacket and life vest and hauled up. "I'm caught, my ankle is caught!" she cried. I decided that whatever in the life raft was holding onto her could just come with her.
I changed grip down to her trousers at the base of the spine and hauled. Thank heaven she had on foulies that wouldn't rip. Jim abandoned his post to grab something, and we rolled her aboard, with some part of the sleeve of her jacket snared on the ladder pin. A fuss for a knife. A screech of metal as Hajime's bow hit the aft end of the sinking vessel. Jim says he saw their dinghy engine, which had been clipped to the aft rail, flip up through the air as we pried it off with our prow like someone popping the cap off a bottle. He backed us off and took control of Hajime, I cut the sleeve to free her, and we spent a moment or two collecting ourselves back into the cockpit.
That was when the engine overheated. We turned it off and let the boat drift. It was almost peaceful, the wind pushing us away from catastrophe, nothing of urgency for the moment. Two dripping castaways on our deck.
We'll bring you the final installment of the Rescue of the Green Dragon on Wednesday.
Receive emails when 'Lectronic Latitude is updated.
SUBSCRIBE