A Preview of October Regattas Aplenty
Bridging the Calendar Pages
The first weekend in October actually starts in September. It will be a busy one for yacht racers in California.
Lots More San Francisco Bay Regattas
Most Midwinter series don't begin until November, but a notable exception is the Berkeley Chowder Races. Run almost every Sunday October-March, these resemble BYC's Friday Night Races — like beer cans during the day.
The Singlehanded Sailing Society's Vallejo 1-2 will sail from the Berkeley Circle to Vallejo YC singlehanded on October 7, and then from VYC to RYC on Sunday doublehanded, with hospitality at VYC in between. Inverness YC will host the Vanguard 15 Championship on Tomales Bay the same weekend. El Toros will Stampede at Richmond YC on October 8.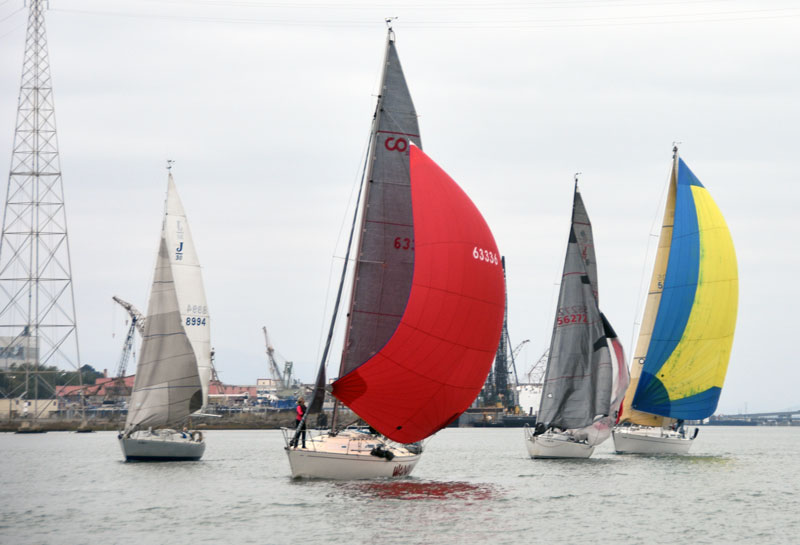 The Express 37 fleet is preparing for their Nationals on October 13-15. "Each boat needs 8-10 crew, and if we get 10 boats to show, we start to see some pretty good numbers!" writes fleet captain Jens Jensen of Snowy Owl. "Our regatta is hosted by San Francisco YC this year in conjunction with the Express 27 Nationals at the same time."
Looking forward to the ILCA Masters Nationals at Alameda Community Sailing Center on October 13-15? Save $20 if you register by October 1.
RYC will host a Fall One Design Invitational on October 13-15. The event will include the Olson 25 Nationals. "This three-day regatta will have a distance race on Friday and a planned total of seven buoy races Saturday and Sunday," writes David Scott of the Berkeley-based O'Mar. The regatta will also serve as the Wylie Wabbit Nationals and the J/24 District Championship.
On October 14, the new Classics Season Championship will conclude with the Jessica Cup, hosted by StFYC. The regatta is open to all Classic boats of traditional design and construction with a minimum of 30 feet on deck, the Bird class, and boats in the Spirit of Tradition class. StFYC's Fall Invitational invites Knarr, Folkboat, J/24 and Alerion 28 classes to race on October 14-15, then it will be the dinghies' turn the following weekend (5O5, I14, 29er, C420, I420, Laser, FJ, RS Tera, RS Feva and Opti classes).
SFYC will host the Mercury Nationals on October 20-21 (yes, that's a Friday-Saturday).
The Yacht Racing Association is introducing "a new, short, fun, race with a big, fun, raft-up!" on October 21. "We'll race from north of Treasure Island around Alcatraz and back, then drop sails and raft up in Clipper Cove for some relaxed fun. Bring some extra snacks and drinks, come in for a couple hours and celebrate the end of the summer season–and the start of the Midwinters. Or… stay overnight! Bring some dinner and breakfast and be part of the after-party. What happens in Clipper Cove… is easily seen from the Bay Bridge. But we won't tell."
A skippers' meeting will be held via Zoom on Tuesday, October 17 at 7 p.m. "We will be providing a chart to aid boats entering/leaving the raft-up area," says the YRA. "We anticipate boats entering and/or leaving 1 p.m. and 8 p.m. will have a minimum of 9 feet of navigable depth." Learn more and sign up on Jibeset.
Tiburon YC's Joan Storer Memorial Women's Regatta on October 21 will be a pursuit race. A woman must be at the helm. "Join us at the clubhouse after the race for hosted bar, appetizers and live music, with special guests John Storer and family. Register for the regatta here on Jibeset." On that same Saturday, El Toros will sail their Corkscrew Slough Regatta in Redwood City, courtesy of Sequoia YC. And, Oakland YC will host an Oktoberfest race and party, with a South Bay start and a down-the-Estuary finish.
TYC will host the Red Rock Regatta on October 28, the last race in their Round the Rocks Race Series.
RYC's Great Pumpkin Regatta will race around the buoys on Saturday, October 28, and around Angel Island and Alcatraz on Sunday the 29th. Saturday night's costume-party theme will be Monster Mash, with dancing to the tunes of Shark Sandwich.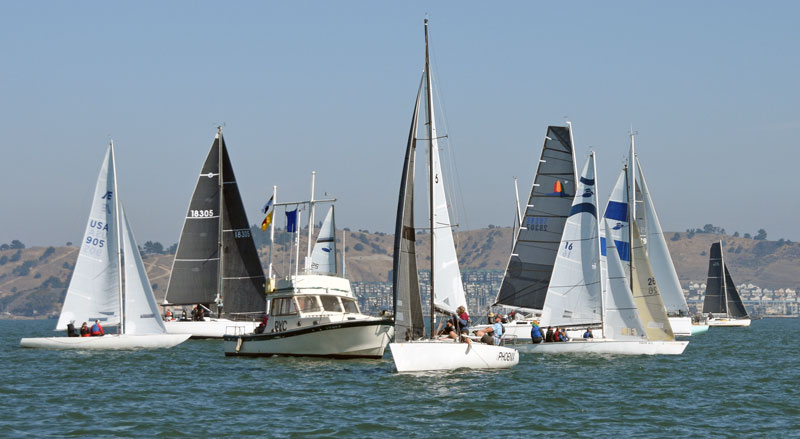 Meanwhile, in San Diego
San Diego YC will host the International Masters Regatta on October 20-22. The club will follow that up with the San Diego Lipton Cup on October 27-29. Both regattas will use J/105s.
Not Races, but Racing-Related
Pacific Cup YC is in full-on prep mode for next July's race from San Francisco to Kaneohe Bay on the island of Oahu. On October's calendar is a Pac Cup Aloha Social co-hosted by Treasure Island YC at the historic Treasure Island Administration Building 1, this Sunday, October 1, 2-4:30 p.m. The agenda will feature presentations by PC veterans, networking with ocean sailors and potential crew, and the opportunity to purchase pupus and special cocktails. See https://pacificcup.org/fall/2023. (Sadly, the Pacific Cup will be the only race from the West Coast to Hawaii next year; the 2024 Vic-Maui Race has been canceled. More on that in November's Racing Sheet in Latitude 38.)
US Sailing will host an online Basic Race Management Seminar for Women Only. The seminar will be taught by Regional Race Officers Mary Ellen DeFrias and Cynthia Parthemos. The seminar comprises three live 2.5-hour Zoom sessions on Monday, October 16; Wednesday, October 18; and Friday, October 20. All sessions will be 3-5:30 pm Pacific Time. US Sailing course registration fee is $40.
But Wait — There's More
Lots more. You'd think the racing schedule would thin out in October — au contraire, mon frère. Look for many more worthy events in the Calendar section of Latitude 38. The next issue will come out this Friday, September 30. Also check the 2023 Northern California Sailing Calendar and YRA Schedule. And, as always, feel free to mention regattas you're planning or looking forward to in the Comments below.
Receive emails when 'Lectronic Latitude is updated.
SUBSCRIBE