Outlook for the Atlantic Hurricane Season
Alex Avalos, meteorologist for Weather Routing Inc., writes: "Hurricane season officially begins in the Atlantic Basin on June 1, peaking around September 10, before ending on November 30. On average, the Atlantic experiences 11 named tropical systems and six hurricanes, with two major hurricanes of Category 3 strength or higher.
"For tropical development to occur, it is important to understand some of the atmospheric and oceanic parameters which must first come together:
Warm sea-surface temperatures of at least 26.5º C (80º F)
Light winds aloft
An atmosphere rich in moisture
"The El Niño Southern Oscillation, also known as ENSO, is a primary driver of climate across our world's oceans, and especially ocean temperatures in the Eastern Pacific. ENSO also plays a significant role in tropical development across the Atlantic Basin. When ENSO yields a warming phase in Eastern Pacific sea-surface temperatures, El Niño develops. A cooling phase will result in a developing La Niña. The effects of ENSO on the Atlantic Tropical Season are shown in the below table:
| | | |
| --- | --- | --- |
| | El Niño | La Niña |
| Trade Winds | Stronger than average | Weaker than average |
| Sea Surface Temperatures | Cooler than average | Warmer than average |
| Squalls | Less frequent | More widespread |
| Tropical Cyclone Development Frequency | Below normal | Above normal |
"Looking ahead, we expect that ENSO will remain neutral into the summer and autumn months. A weak La Niña is more likely to develop closer to the peak of Hurricane Season. Sea surface temperatures are currently averaging between 1-2 degrees Celsius above average across the Western Tropical Atlantic through much of the Gulf of Mexico, coupled with weaker winds aloft. If a more notable La Niña develops, then expect an increase of tropical activity in the Atlantic basin.
"For these reasons, WRI predicts an above average season in the Atlantic Basin, with 16-19 named tropical systems."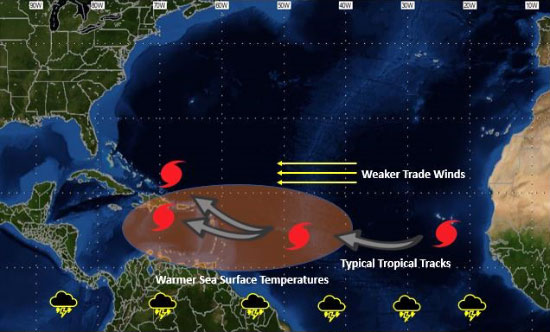 WRI will host a free Tropical Webinar on Thursday, June 4. Senior meteorologist Jeremy Davis will talk about the 2019 Atlantic Hurricane Season. "We will also discuss the numerous tools we offer to keep you aware and safe during the upcoming season." The webinar will start at 9 a.m. PDT. Go to www.crowdcast.io/e/atlanticoutlook2020 to sign up.
For WRI's tropical storm outlook for the Eastern Pacific, see 'Lectronic Latitude on April 17.
Receive emails when 'Lectronic Latitude is updated.
SUBSCRIBE