It's National Safe Boating Week
Safe Boating Week May 21-27
The National Safe Boating Council reminds us that, just ahead of the boating-busy Memorial Day Weekend, there's a thing called National Safe Boating Week. US Coast Guard statistics show that drowning was the reported cause of death in four out of every five recreational boating fatalities in 2020, and that 86% of those who drowned were not wearing lifejackets.
CA Boater ID Card
Here in California, a Boater Card is phasing in by age groups. (In 2022, people 45 years old and younger must have the card.) It's not hard to get one. A one-day boating course and test, in person or online, is sufficient. Many nonprofit groups, including the Coast Guard Auxiliary, offer courses. The card costs $10 and never expires. Once you're in, you're in for life! Find courses here: https://californiaboatercard.com/courses.
The card is required to operate a motorized vessel. That would include sailboats with auxiliary engines, but, presumably, not El Toros, Lasers or kayaks!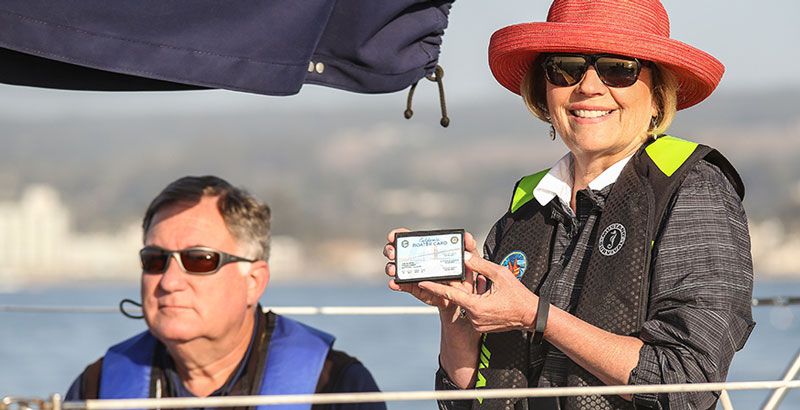 Safety at Sea Education
Did you know that US Sailing offers their series of Coastal and Offshore Safety at Sea seminars online? And this is not just a COVID thing. See https://shop.ussailing.org/education/safety-at-sea.
For the International Hands-on Training, you'll still have to show up in person (you know, because they're "hands-on"). Find a course near you here: www.ussailing.org/education/adult/find-a-course-near-you.
Various offshore races require various levels of Safety at Sea training for the skipper and a percentage of the crew aboard. For instance, for the OYRA Series out of San Francisco Bay, "At least 30% of those aboard the boat, but not fewer than two members of the crew … including the person in charge, shall have a valid Coastal, Offshore, or International Offshore Certificate from US Sailing or the equivalent from another national authority."
For the Pacific Cup, starting in the first week of July, "At least 60% of the persons on board shall have a certificate showing completion of Safety at Sea courses as follows: At least 30% of the crew, and not less than two, including the Person In Charge, shall have completed a US Sailing Sanctioned International Offshore with Hands On (aka ISAF or Two-Day) course within six years of the start of the race, and the remainder of the 60% shall have completed the course referenced in (a) or shall have completed, in person or online, a US Sailing Sanctioned Offshore Safety at Sea course within five years of the start of the race. A person from outside the US may petition the Technical Committee to approve an equivalent course sanctioned by their national governing body."
Find some West Coast trainings here: https://sailaweigh.org/events.php. There's one coming up in San Diego at Southwestern Yacht Club on June 18-19.
These Safety at Sea courses also qualify Californians for the Boater Card.
Your Indispensable Safety Tools
In almost all the episodes of our Good Jibes podcast series, we've asked our guests, "Besides a lifejacket, what's the most important safety item?" The most popular answers are a knife or a radio, but also a liferaft for offshore sailing. What's your most important safety tool, other than a PFD? Please comment below.
Receive emails when 'Lectronic Latitude is updated.
SUBSCRIBE