'Matthew Turner' Passes Final COI Test
Good News! Last Friday Matthew Turner passed the test!
No, this time it's not the COVID-19 test (thank heaven), but rather the final test for a Certificate of Inspection (COI) from the US Coast Guard. The final 'test' was the Man Overboard (MOB) drill, and thanks to lots of practice, drilling and efficient crew, Matthew Turner passed with flying colors, and is now officially a Coast Guard "Inspected Vessel" — able to carry passengers for hire.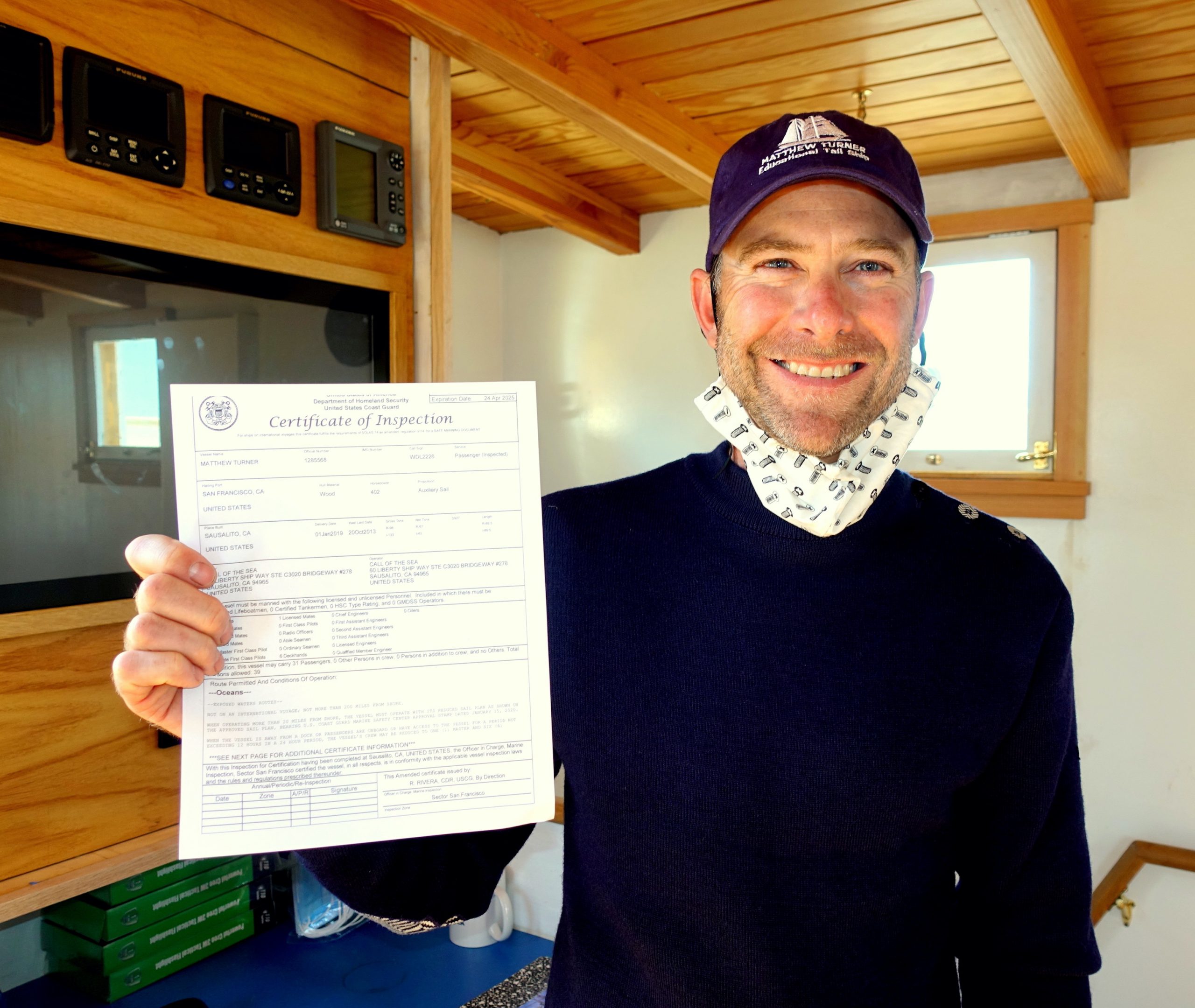 It's been a long journey from November 2013 when Sausalito nonprofit Call of the Sea held a ceremony to bless Matthew Turner's wooden keel in a big tent at Marina Plaza, Sausalito. Many Latitude readers will remember it well.
Then followed what can arguably be called the greatest-ever volunteer building project on the Sausalito waterfront, with talented carpenters, contractors, doctors, bakers, a psychologist, tech workers, secretaries, flight attendants, and more. Both male and female, and both young and old — they all came as time allowed, and worked thousands of hours. They fashioned a veritable forest of trees (all sustainably grown and all donated) into frames, planks, deck, cabin, spars, bunks, tables, and more. The volunteers turned reels of wire and rope into rigging, fabricated metal blocks and fittings, and sewed sail covers, cushions, and curtains. Electricians and mechanics helped install state-of-the-art electrical propulsion, wire the ship, and install plumbing systems and state-of-the-art electronics for navigation. And every step of the way the Coast Guard was there to inspect, from frames to planks to deck, to rig, to sails.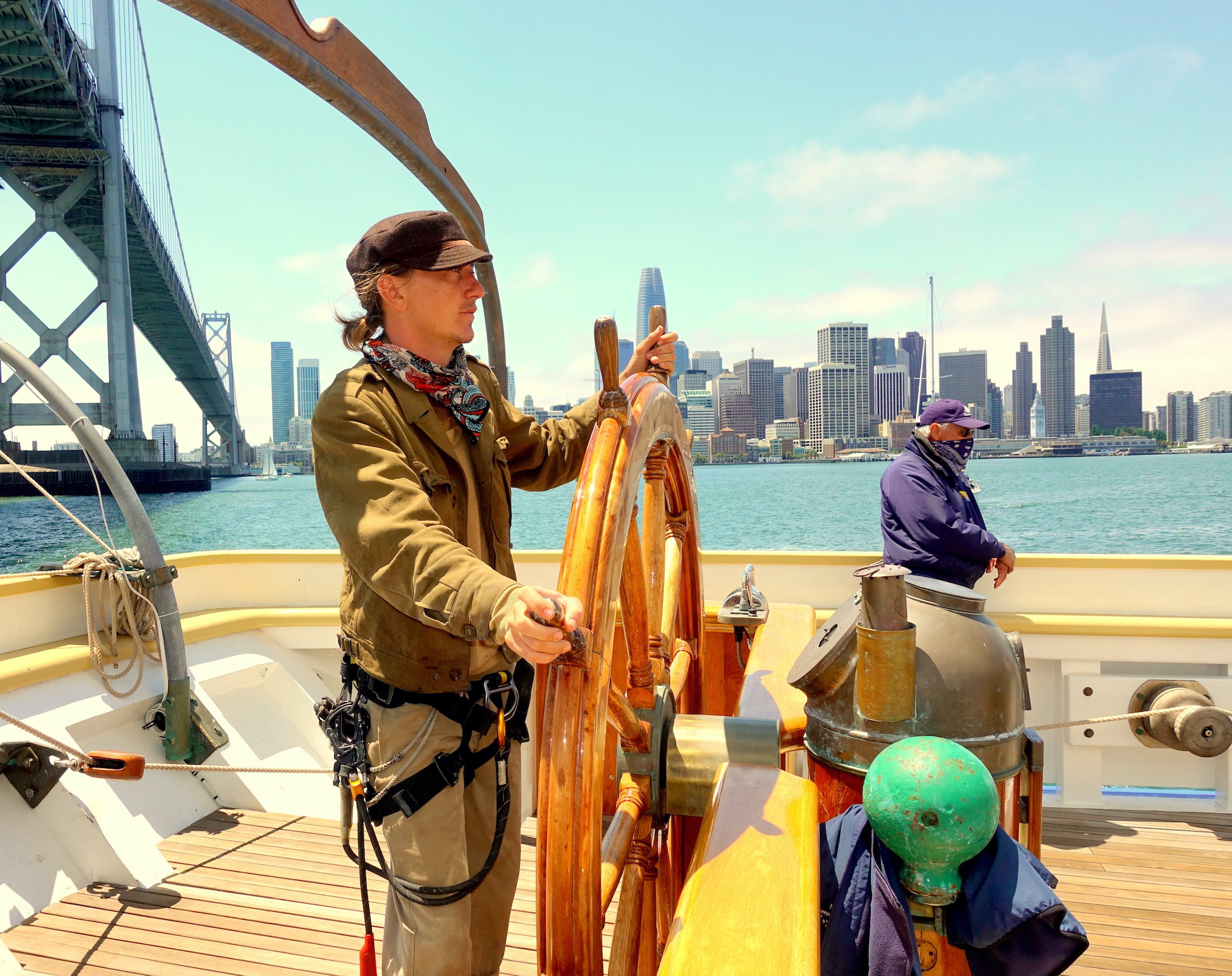 Year by year, project by project, the Coast Guard came to inspect fire suppression and electrical systems, and last year, stability — placing weights on deck to test the heel of the hull. Matthew Turner passed them all with flying colors. After more than six years of building, launch, rigging, fitting out, and installing final systems, Matthew Turner was ready to do her inaugural sail on April 16, 2020. One more test — the MOB — was scheduled. That was the final 'exam,' as it were, for Matthew Turner. Both the ship and the crew were ready. But then COVID-19 hit.
Like many other organizations across the USA and around the world, Call of the Sea was forced to suspend the project and furlough employees, including crew — all of Matthew Turner's as well as those working aboard their existing schooner, Seaward. The organization was forced to give up the lease on its office and then shelter at home. Only very limited projects, performed by one or two persons under strict COVID-19 prevention protocols with social distancing and masks, were allowed. Like many others who followed California's guidelines, everyone else stayed at home. Matthew Turner's final Coast Guard test for MOB was now delayed until California state and US Coast Guard protocols permitted.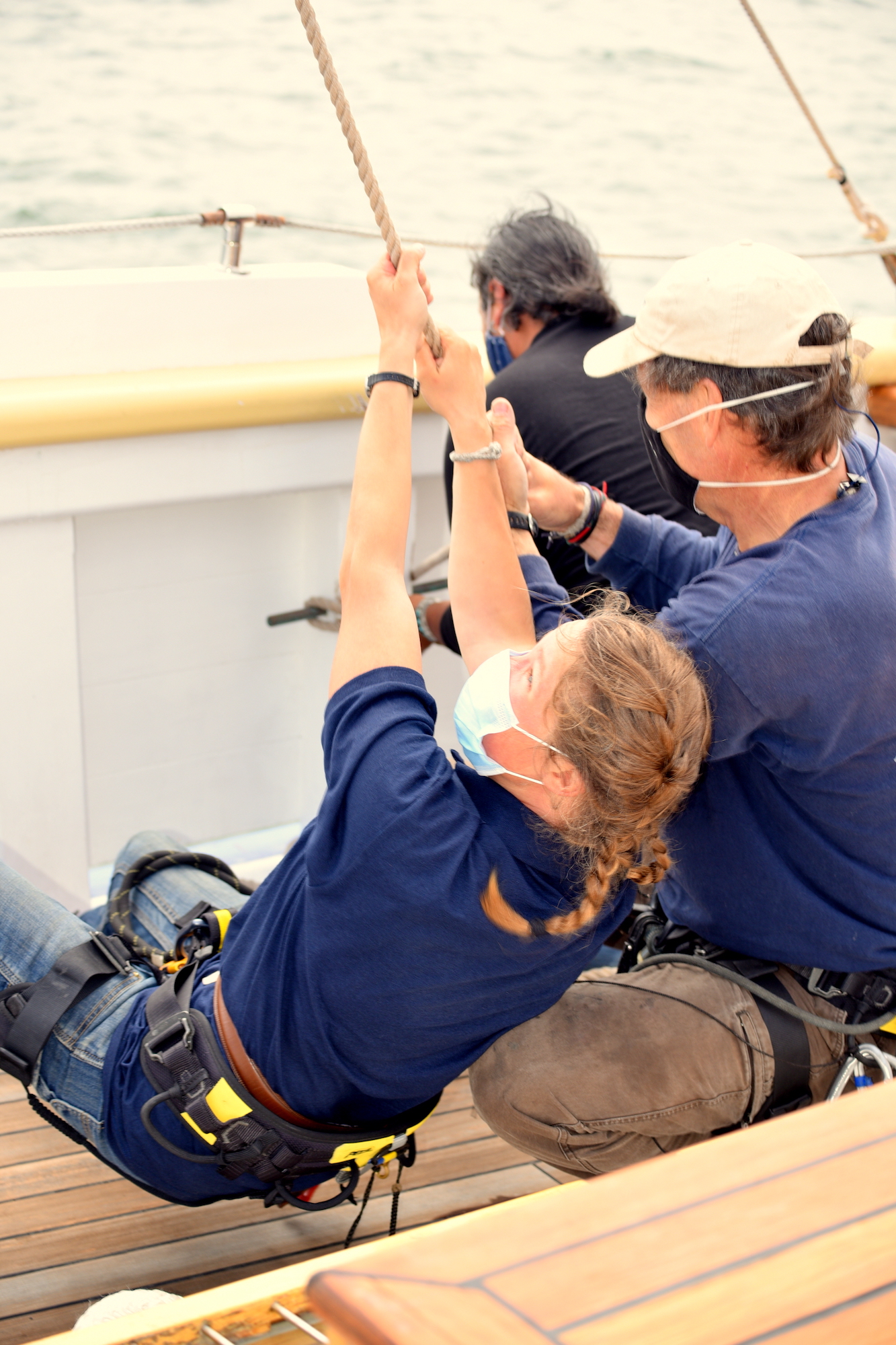 After months of sheltering, compliance, staying safe and observing protocols, passenger vessels were finally able to do limited charters, and Call of the Sea was able to schedule the MOB drill for Matthew Turner. Thanks to Matthew Turner captain Adrian McCullough's extensive contacts in the tall-ship world, several new crew members were hired to fill the complement of six crew. Man-overboard recovery under sail training sessions were held over several weeks, and finally last Friday, July 17, Matthew Turner's final 'test' was performed flawlessly — picking up a weighted dummy under FULL SAIL (this is a 132-ft-long tall ship, mind you). Captain McCullough had drilled the crew well, assisted by his tall-ship 'dream team,' which included First Mate Cassie Sleeper, long-time Matthew Turner crew and rigger extraordinaire Noah Limbach, long-time volunteer and tall-ship sailor Virginia "Dinnie" Jay, and long-time Matthew Turner volunteer Randall Landaisch, a computer programmer by day and profession, but who loves to be aloft.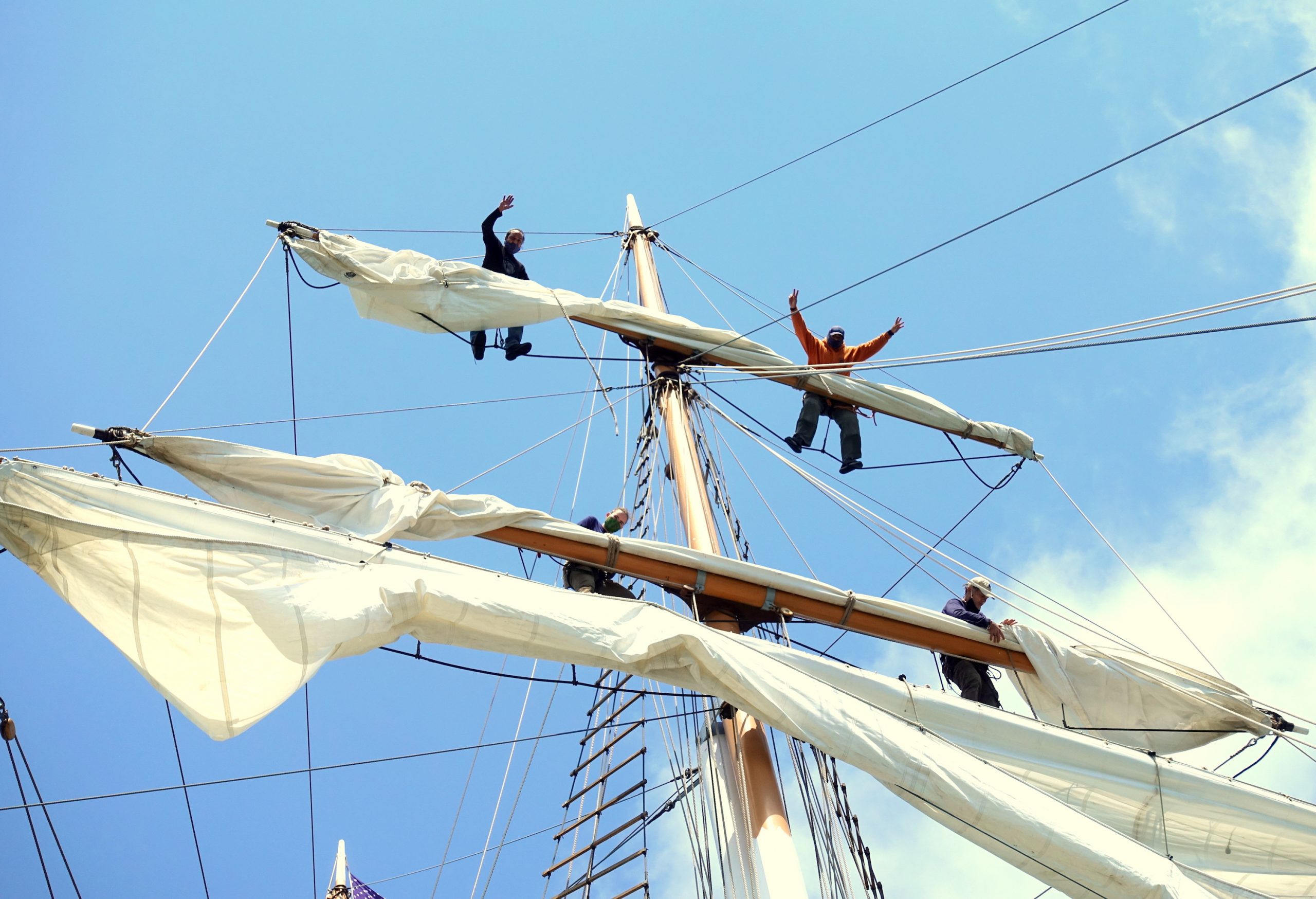 The rest of the 'dream team' was rounded out by tall-ship sailor Aida Morgan Russell and Reno Cambridge, tall-ship sailor and rigger for San Francisco Maritime National Historical Park. And last but not least, local tall-ship sailor, rigger, technician, and one of the best crew members any boat could ask for, Jimmie Marquez. The 'dream' crew were able to retrieve the 'man overboard' successfully, and were awarded the coveted and long-awaited Certificate of Inspection.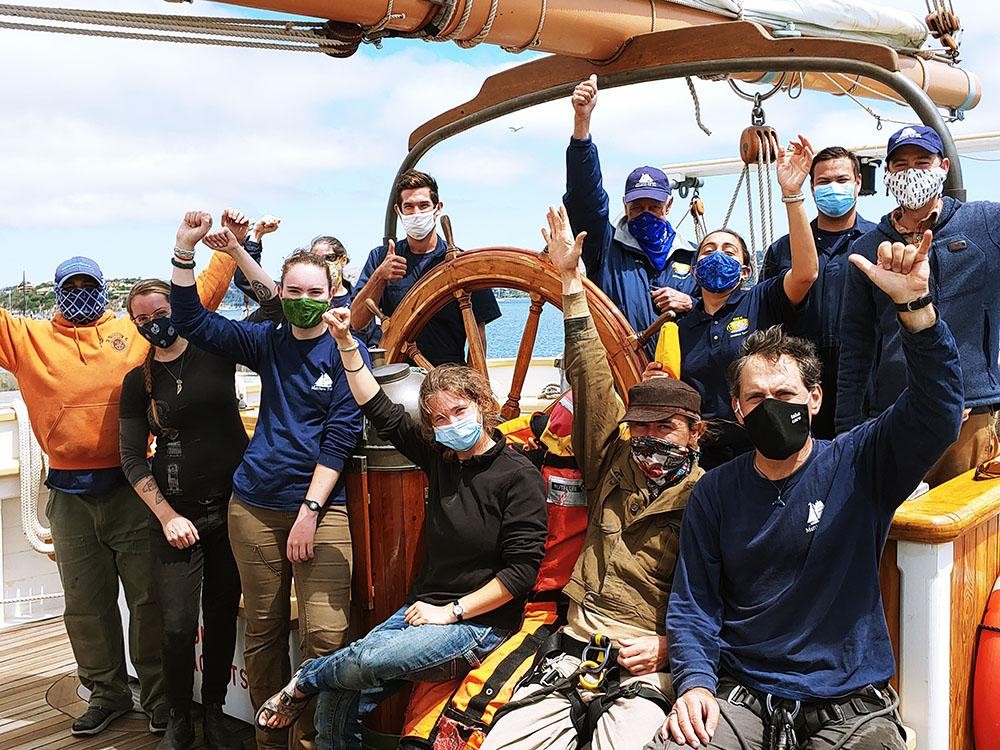 Now that Matthew Turner has her COI, plans are to schedule educational voyages with a limited number of participants from local schools, colleges, and other nonprofit organizations when deemed safe by county, state and federal authorities, and with strict guidelines observed. Call of the Sea invites schools, their students, and adults who want to participate in seminars and educational voyages to experience and explore our bays and oceans, as only a sailing ship can do. Matthew Turner and the crew are waiting for you.
If any of our readers would like to know more about the history and construction of Matthew Turner please visit www.callofhesea.org.
Receive emails when 'Lectronic Latitude is updated.
SUBSCRIBE