'Maserati' Takes Line Honors and Record In RORC Transatlantic Race
The first major ocean race to take place in 2023 lived up to the pre-race hype and more, with Giovanni Soldini's turbo MOD 70 Maserati claiming line honors in the RORC Transatlantic Race and setting an incredible new course record along the way. With a weather forecast that allowed fast sailing from start to finish, all three participating MOD 70s finished well inside the existing course record. Maserati posted a new mark of 5 days 5 hours 46 minutes and 26 seconds for the 2,995-nautical-mile course from the island of Lanzarote in the Canary Islands to Grenada in the Caribbean. In fact, Maserati's new course record is an incredible 17 hours under the previous mark, further illustrating just how fast the sailing conditions were in this year's race. This was Maserati's fourth participation in the annual transatlantic race.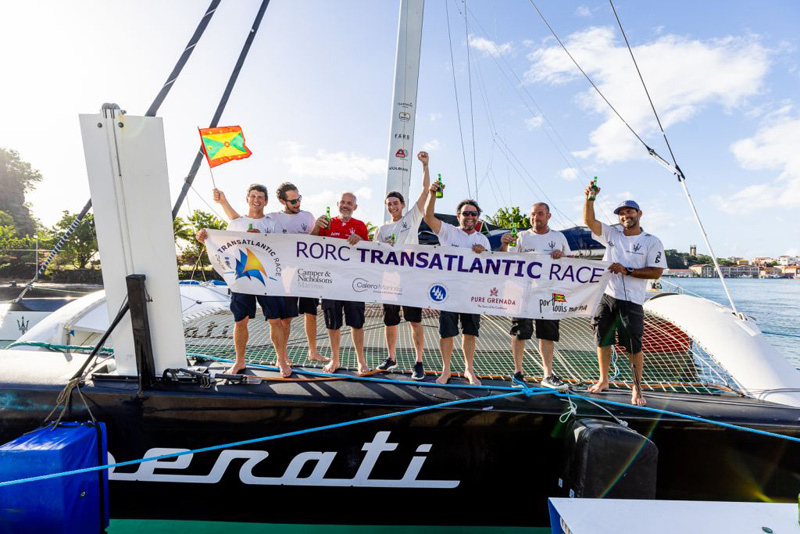 The second boat to cross the finish line was Bay Area sailor Frank Slootman's newly acquired, and equally highly modified, MOD 70 Snowflake, with renowned sailors such as Gavin Brady and Brian Thompson onboard. Sporting a taller mast, longer bowsprit and T-foil rudders onboard the boat formerly known as Beau Geste and Phaedo 3, the record-setting trimaran is certainly a performance upgrade for Slootman, who has owned everything from J Boats to the Reichel Pugh 63 Invisible Hand before acquiring his new trimaran. Rounding out the podium was Frenchman Erik Maris and his relatively newly acquired MOD 70 Zoulou with a host of legends onboard, including Loïck Peyron.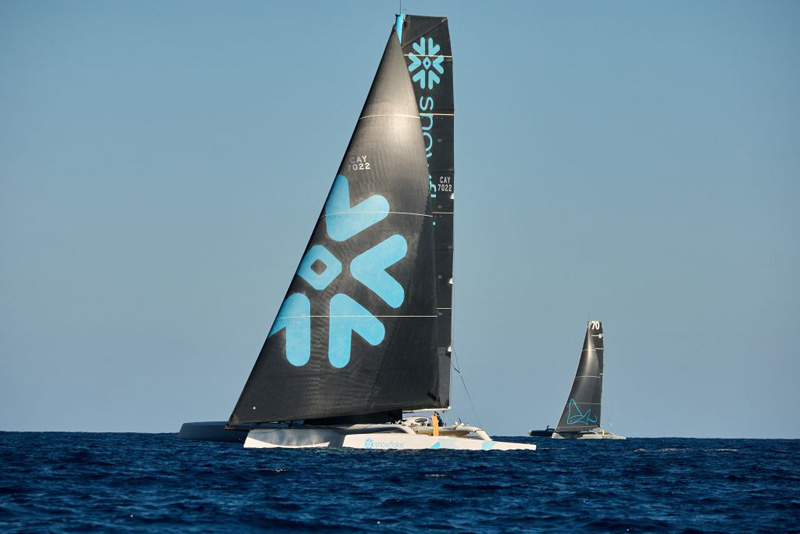 Behind the three trimarans that smashed the course record and crossed the Atlantic in well under a week, there is an equally interesting fleet of 16 monohulls and one more multihull that are vying for divisional and overall honors. The quickest monohull on the water is the Volvo 70 I Love Poland, skippered by Grzegorz Baranowski and including an all-Polish crew. I Love Poland was just under 300 miles from the finish as of this writing. The second-closest monohull to the finish line in Grenada is the IMOCA 60 Canada Ocean Racing, co-skippered by rookie offshore sailor Scott Shawyer and Briton Alan Roberts. Just a few miles behind Canada Ocean Racing is Stefan Jentzsch's Botin 56 Black Pearl. Somewhat unsurprisingly, Eric De Turckheim's NMYD 54 Teasing Machine is romping their way to a convincing overall victory on IRC. A stalwart in many of the bigger European-based offshore classics, Teasing Machine is a threat to win any race that she enters, as evidenced by her overall victory in last year's Rolex Middle Sea Race.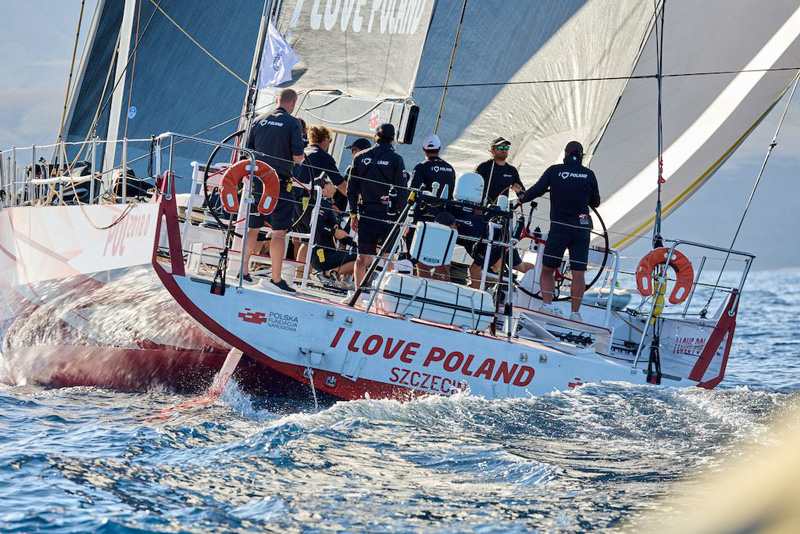 One of the more interesting boats in the fleet is Marie Tabarly's beautifully restored 73-ft aluminum ketch Pen Duick VI, made famous by her father, the legendary Éric Tabarly and originally built to compete in the inaugural Whitbread Round the World Race. Sailing with a full crew, Tabarly is preparing for the inaugural Ocean Globe Race, a throwback to the original Whitbread Race that took place 50 years ago. Make sure to check in with the official event website http://rorctransatlantic.rorc.org for more updates and information, as boats will soon be finishing around the clock.
Receive emails when 'Lectronic Latitude is updated.
SUBSCRIBE