Mark Reid Interviews American Magic's Terry Hutchinson
Magic Moments
The anticipation is over. We're ready to experience some of those magical moments by American Magic, our 'home' team. American Magic represents New York Yacht Club and has pledged to bring the America's Cup back to Newport, Rhode Island, if they're successful.
American Magic skipper Terry Hutchinson has reason to feel optimistic, given Patriot's performance last month in the AC World Series. The downwind flyer was on pace in many respects, as they handed all three of the other teams at least one loss.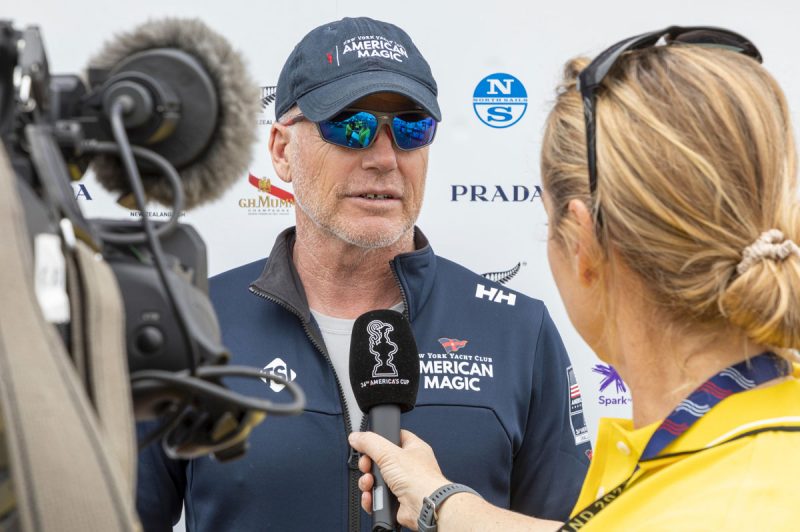 Hutchinson is one of the most respected match racers and tacticians in the world. He's a veteran America's Cup competitor, having competed in five America's Cup cycles. As tactician for Emirates Team New Zealand in 2007, he helped the team reach the America's Cup finals alongside Dean Barker, who is now the helmsman for American Magic. Hutchinson, 52, lives in Harwood, Maryland. He's a two-time US Sailing Rolex Yachtsman of the Year and a 16-time world champion.
Nothing sums up his intensity, and epitomizes his leadership, more than how he described finishing a close second with Barker in the 2018 Congressional Cup: "If you don't win the last race, it isn't a very good regatta. What doesn't kill you makes you stronger."
Terry took a few moments out of his busy schedule to talk with us earlier this week about the progress that American Magic has been making, and to reflect on the challenges that got them to this point.
Can you give your impressions of the recent ACWS?
We learned where Patriot stands against the fleet, which we didn't know before. You look around and there are a lot of other good development ideas on other boats. You are always analyzing and comparing what you have versus the three other teams. It is good to see some of our ideas that are working. We can possibly grab onto some others and then bring them into our own program.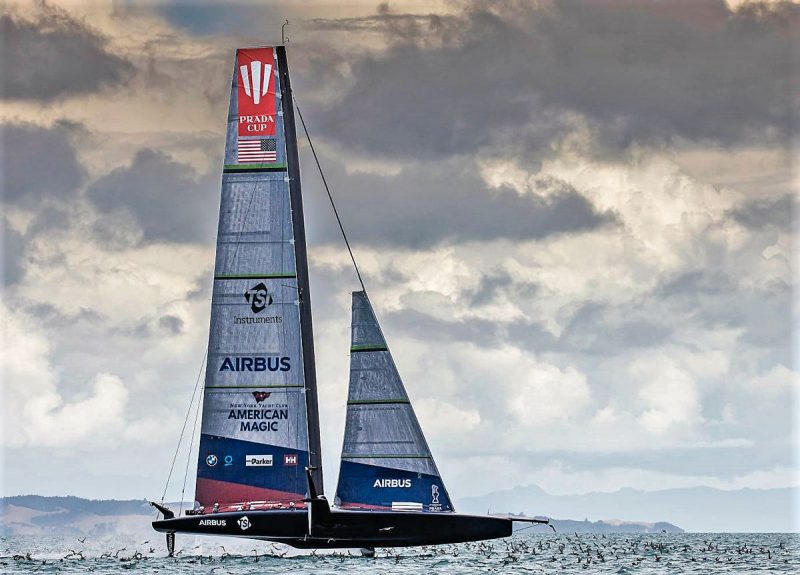 Each team is limited to three sets of foils, and you can only modify them 20%. What can you do between now and the start of the Prada Cup?
Well, at least 20% worth! I can't speak for the others, but we have a set path of development that we are on, and if we chose to change the wings 20% we would; and if we don't, we will leave them as is. 20% over the course of a foil is quite a big part of the section! A pretty big change. The foils themselves are pretty complicated and the systems inside of them are complicated, so you're not going to do a modification or change willingly.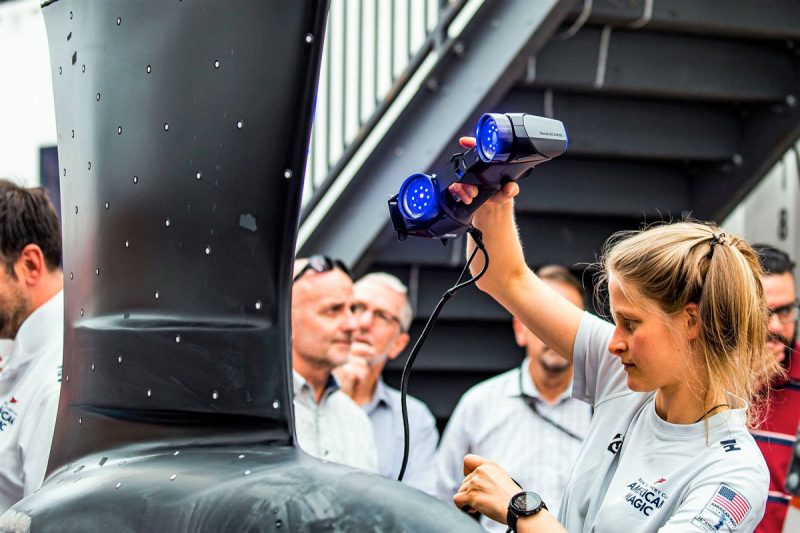 Is there too much technology in these boats?
It's just different, it doesn't mean it's too much or not enough. Once you get your head wrapped around the fact it's just different, then you adapt to what you're doing and what you're using. You're just learning a different skill set. It's a new learning opportunity.
In some capacity, what we're learning here will transfer down to the mainstream of the sport. In some ways you might be able to use a little bit of it here and there in high-end racing. You need to learn what to do because you just don't hop on these boats and go racing. Going out and winning a regatta in a traditional monohull has no comparison to what we're doing.
Once you get it to a spot that you're racing the boat well and sailing the boat hard, then it starts translating into other areas of the sport. But you are still making decisions at closing speeds of 80 mph between two boats! It is quite exciting!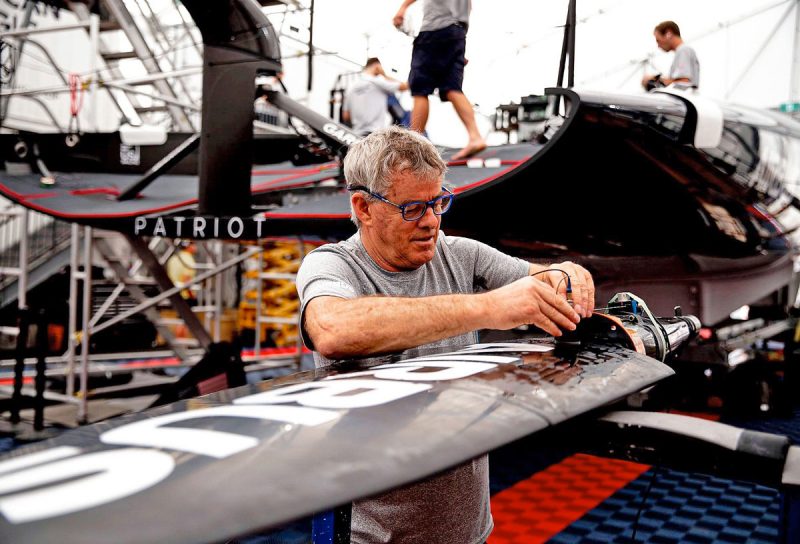 How did your team's training on the Mule (the AM38 test boat) transfer to Defiant and Patriot?
All of the boats have played a part in the development of Patriot. The Mule was about as much as getting our entire team up to speed as it was getting our sailors up to speed, and it was about learning about the foiling monohull. The sailing side of the competition is a very small part of it. There are just 11 guys on the boat, but there are 100 people working behind those 11 guys.
The Mule was worth its weight in gold, in so many ways!
Defiant was designed for one part of the [AC75 box] rule space, and Patriot was designed for another area. When we built Defiant, we had very little time with the class rule, so when Marcelino Botin (the designer) worked around different ideas and concepts, he always knew that there was another boat to come.
You design your boat, but you also use your reconnaissance and your observations of the other teams to develop ideas. The day Defiant's lines and drawings were delivered, Marcelino started working on Patriot, so he had the better part of a year and a half to design that hull.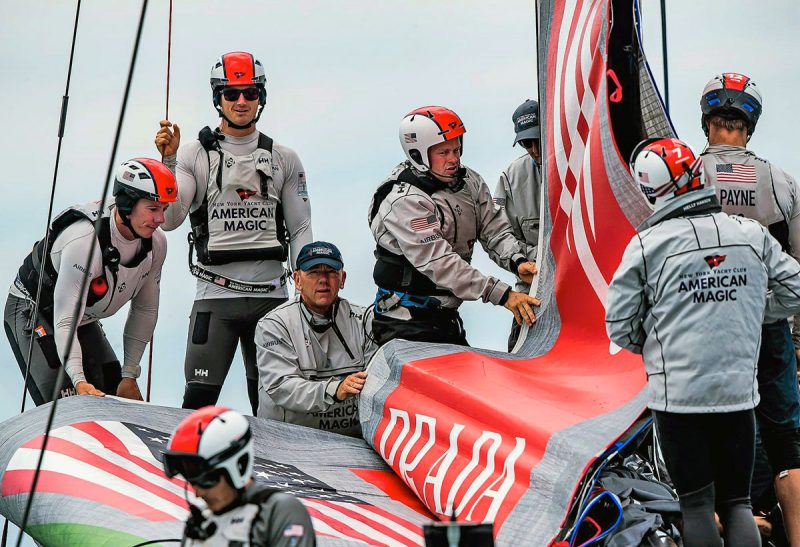 You and your team have faced many challenges in the past year, with COVID-19 and getting your boat into New Zealand. What was the most concerning issue for you and your team?
When we look back to March, when the whole worldwide pandemic started to explode, we had a couple of real hard decisions to make and we had to be aggressive with them.
The first one was whether we put the boat on a ship and send it to Italy with zero certainty. We made the decision not to do that, under the great leadership and input from our principals, Hap Fauth, Doug DeVos and Roger Penske.
We kept Defiant in a position ready to sail for the whole month of April, but we didn't sail out of respect for protecting everybody's health and the safety inside of our team plus the entire Pensacola, Florida, community.
Also, out of respect for what was going on, we just felt it was wrong to be out training and sailing when things were going so pear-shaped. We felt we had a bigger responsibility to the community we were living in.
From there we sent all of our assets and equipment to New Zealand — with absolutely no guarantees we were going to be allowed in the country. Defiant arrived on June 26. After the Avatar (movie) group, we were the next wave of people coming into the country. That was a pretty big sigh of relief, but that wasn't a guarantee as to when we were going to get sailing.
We had always targeted the third week of July to start sailing, which was pretty aggressive pre-COVID-19. But in typical fashion, the team members who were already in New Zealand had unloaded Defiant and in three weeks had literally built the base and got it operational. On the 27th of July we relaunched Defiant and went sailing!
I can assure you before that there was not a lot of sleeping taking place, because everything we had worked on was in jeopardy. We were fortunate that we were able to sail for three months before another challenger hit the water.
And now?
We are happy that we planned well and we executed on the goals that we had set for ourselves. We are all just heads-down and focused on what we need to do. We're all just doing what our principals expect of us and what we all expect of each other.
Receive emails when 'Lectronic Latitude is updated.
SUBSCRIBE