Luna Rossa Prada Pirelli's Hot Start
The opening weekend for the Prada Cup ended with Luna Rossa Prada Pirelli sweeping the first four races in dominant fashion over INEOS Team UK.
The results were a wake-up call for the British, leaving them looking for answers and possibly grasping at straws to find a way to claw back into contention. This against an Italian team that sailed perfectly.
The Italians controlled the start in each race, then conducted a textbook lesson in classic match-racing tactics, leaving Sir Ben Ainslie, CEO and skipper of INEOS Team UK, little more than tactical table scraps to work with and no passing lanes during any of the six legs in each of the four races — or all 24 for that matter. The surprising results left the British with an America's Cup World Series 'Groundhog Day' hangover.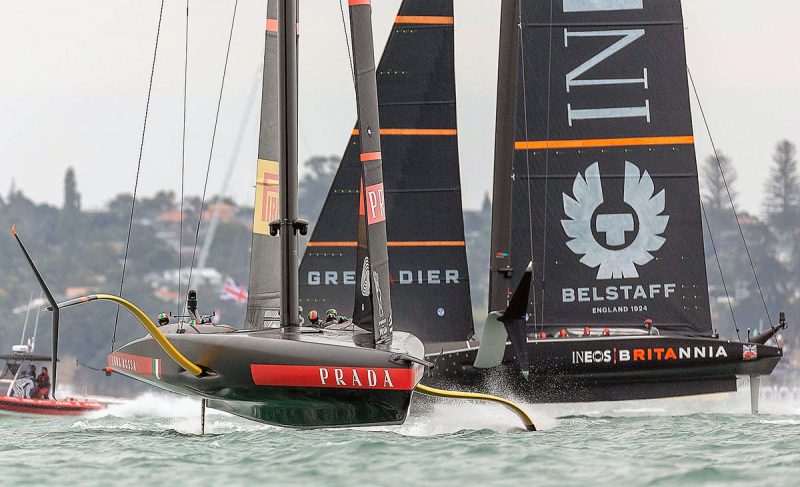 "Obviously we are super-happy," said Francesco Bruni, co-helmsman for Luna Rossa Prada Pirelli. "The British are not easy to beat. Even with the bad starts they had, they were very close and they wouldn't give up. In these situations, tacking on your competitor or giving them space is a very hard decision. But if you want to keep the game very close, and to squeeze the opponent into a corner, you need to keep tacking. This is something the grinders don't like. INEOS was pretty much in phase all the time, and we had to stay with them."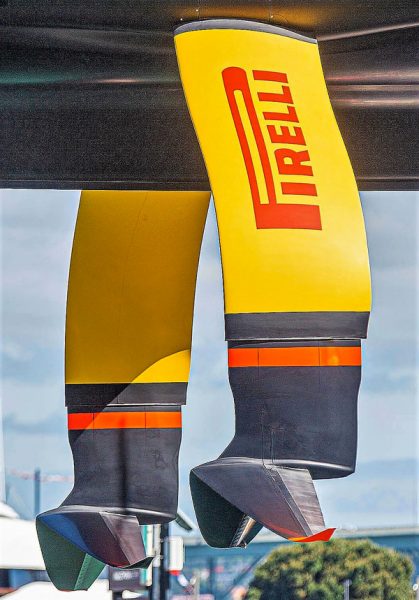 As predicted, the weather to start the Prada Cup Final on Saturday was a bit fickle and notoriously tricky to navigate, thanks to the complex land masses (old volcanoes) that surround the racecourses. "I don't look at weather forecasts anymore. They change every three hours down here," said Luna Rossa's team principal Max Sirena.
But what started out light and shifty in Race 1 turned into a healthy 14-16 knots, for the most part, for the remaining three races, which should have played directly into INEOS's hand.
It was not to be.
From the get-go, things did not go the Brits' way. They fell over their foils at the start and struggled to pop back up. They sat stationary for more than a minute, allowing Luna Rossa to stretch out an early 600-meter advantage on the left side of the course, which showed more pressure.
Even after INEOS finally got going it was over tactically. Luna Rossa was careful to protect her advantage and stretched out gate after gate to finish with a comfortable 1:56-minute lead.
"In the first race we made a mess of the start, but after that we had a good race. They did a great job keeping it tight, two pretty even boats, two great teams," said Ainslie. "We came out of the wrong side. We are not happy about it, although it was a good race. The grinders, with so many tacks (17), are on the limit. They were really pushing hard, but this is what they train for. They do all the hours in gym for this. They say they don't love it, but secretly they probably do."
In the second race, even as the winds favored Britannia, the Italians again controlled the course and played the shifts perfectly to protect their narrow lead and finish 26 seconds in front.
"Tough day. We are not happy with it. We gave away two races to these guys," said Ainslie "At this level you can't afford to make any mistakes, and we made too many. So, we have to go away, regroup, get ready for the next race, and come out swinging."
"We are happy, but the focus must remain high," said Bruni. "We have to keep improving. We can feel the Italians cheering for us. The support we receive is amazing. People think that Italy is all about football, but sailing is having a good fight at the moment."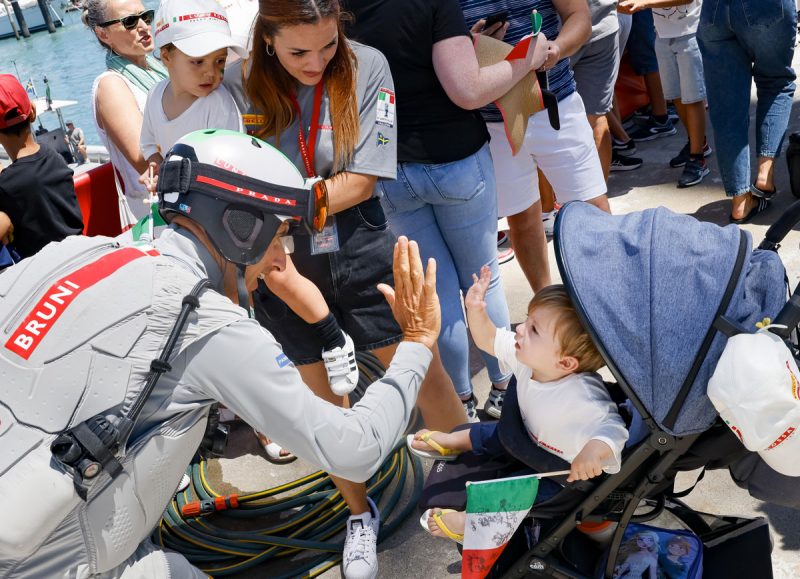 In Race 3 on Sunday, both boats entered the pre-start area at a blistering 46 knots and remained close, as Luna Rossa chased Britannia out toward the right-hand extreme of the pre-start area. As they rocketed back toward the start, INEOS tried to gain an advantage to leeward by getting a hook, but the ploy was late on arrival and their gamble failed. The result was that Luna Rossa controlled the critical start and won the race by 13 seconds.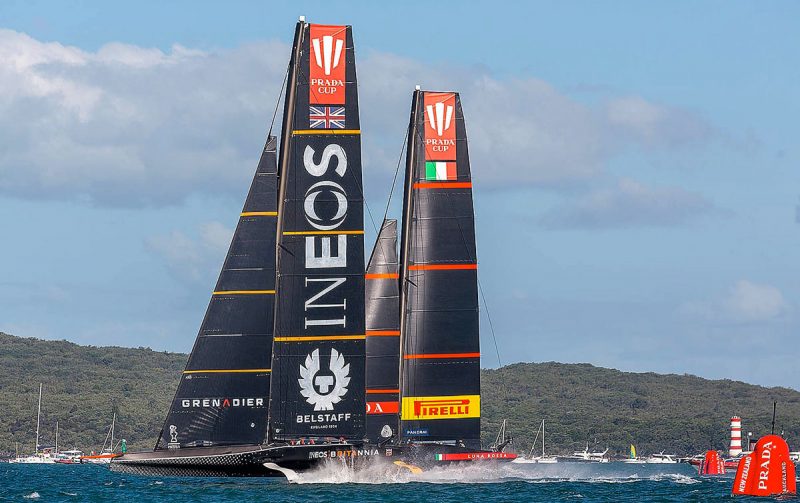 "We just got a bit greedy going for a hook," said Ainslie. "We thought it was on for a split second. With these match-race starts, you can go from hero to zero pretty quickly."
Race 4 was a disaster from the start. Ainslie lost control of Britannia as they crossed Luna Rossa before jibing to leeward and almost pitched her over in a capsize that looked painfully reminiscent of American Magic's demise. But thankfully the British were able to maintain rudder and some foil control, shaking it off. INEOS hit the start line with some momentum, still slightly behind. But the damage had been done, and the Italians were able to control the race, winning by 41 seconds.
"We wanted to be aggressive at the start, but we lost control of the boat, which you can't afford to do," said Ainslie. "Something went wrong with the lifting of the board in the heel of the boat, and we had a wipeout. But don't worry; I'm fine," he added, referring to being pinned leeward of the main.
"We lost control," said Giles Scott, INEOS tactician. "The windward board would be pulling down and breached the surface of water. It absolutely cost us the start."
"It's hard every time you go on the water, because for this class of boats we haven't done a lot of racing," said Jimmy Spithill, Luna Rossa co-helmsman. "The boys have executed great maneuvers. We were able to get around and ahead of them. The score doesn't reflect how close it is. You are a split second away from a mistake which can end it. We take it race by race, day by day."
It was another bad day for INEOS, who have dug themselves into a hole that could be insurmountable. Shortly before the evening press conference, the news took a turn for the worse. It was announced that COVID-19, potentially the British variant, had been discovered in Auckland. Then came word.
"As a result of the government announcement of a Level 3 lockdown in Auckland, initially for 72 hours, the next scheduled race day on Wednesday, February 17, has been postponed, and the event village will not be open to the public during this time," reported the America's Cup Event spokesperson. "We will be working with the authorities and relevant agencies over the next few days to work through the ongoing ramifications."
All concerned were disappointed with the delay in races and practice time, but clearly the safety of the Auckland community was paramount. "We will do whatever the authorities advise us to do," said Ainslie. "Of course, it's more important that people are safe and healthy. It's bad news, a timely reminder of what the world's going through, isn't it? We're very fortunate to be out here doing a yacht race which we all love."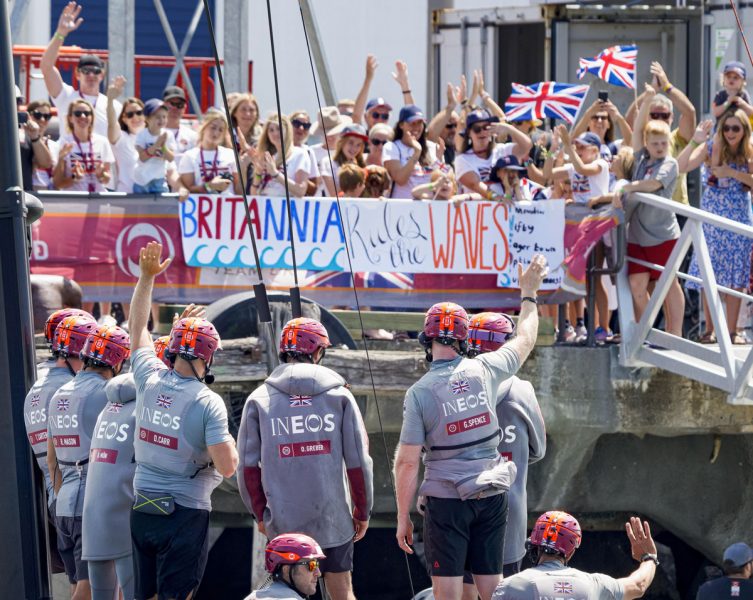 As we sit and ponder the next few days, the teams have been notified that they will be allowed to practice, which is good news for all. But the Italians are the ones who sit in the catbird's seat right now. Clearly the communication onboard Luna Rossa has improved immeasurably in their unique twin-helmsman configuration. "We have [tactician] Pietro Sibello more involved," said Spithill. "He's a fantastic sailor out of Italy. He has stepped up and strengthened the connection that Francesco and I have. He was the missing link and a key piece. I think it's made a big improvement for us."
Where does this leave Ainslie & Co? Who among us thinks Spithill is going to blow a four-race lead? Remember, this is the guy who was in the driver's seat in the 2013 America's Cup Match and won when he was seven races down! The Italians have been passionate about winning the America's Cup from the first foray with Azzurra in 1983. If they succeed this time around, it may be just what the Auld Mug needs to get off the back burner and onto the front pages again.
Receive emails when 'Lectronic Latitude is updated.
SUBSCRIBE