Looking Back at the Very First 'Latitude 38' Women's Issue
While looking at stories for Women's History Month we looked at the back issues of Latitude 38, where we rediscovered that our very first "Women's Issue" was published in February 1979. The intro page started with the title "The Women's Issue (well sort of)." The copy went on to explain:
"This issue, the 'Women's Issue' as we've called it, is a bit of a failure. We have no idea what gave us the preposterous notion that we could 'cover' women in sailing in just one issue — and we rapidly found out how preposterous it was! The fact is that women are everywhere in sailing; women buy boats, sell boats, steal boats, cruise boats, race boats, live aboard boats, sink boats, and build boats. You name it; women do it!"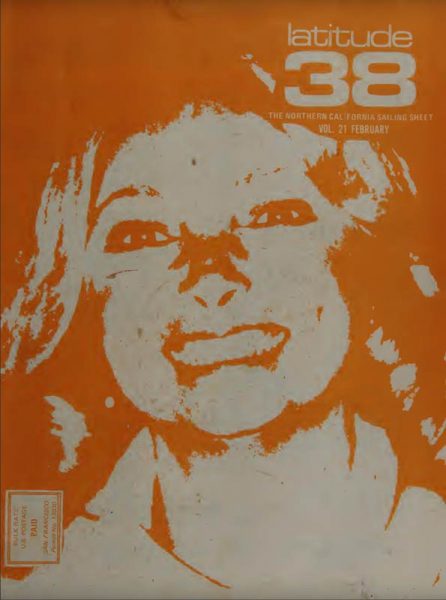 "Given the economics of publishing there was no way [we] could even begin to write about all the women who should be written about or even — and we're going to really catch all hell here — or even the women we promised we would write about. So what we've done is the best we could under the circumstances, using articles about women in a variety of sailing situations in the hope that it will begin to give you some idea of how deeply they are involved in sailing. We specifically decided not to focus on the best in every area, but some who are good at what they do, some who are just getting started, and some are just mediocre — after all, they're all part of it."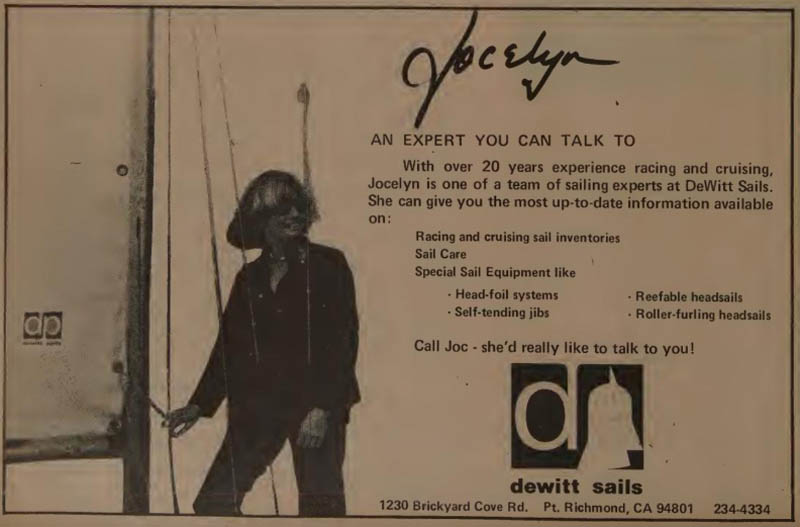 "Next month there will be more, much more, as there will be in the months to come. In the meantime we want to offer our sincerest apologies to those women who should have been in this issue, women like Millie Bratenahl, Susie Klein, Poppy Truman, Marina Park, Pam Poletti, Zona Caesar, Lynn Huntley, Edna Robinson, Diane Beeston, Dianne Chute, Bev Wilson, Kitty James, Chris Kaplan; Carol Jesmore, Suzanne Vaughn, Sally Rowe, Kitty at Mariner Square Yachts, Karen Thompson, Ann Stewart, Jane Rundell, the women of the Island Yacht Club, the Sea Wenches, the Night Crawlers, Josselyn Robertson, Alex Monson, Sally Lind, Mary Jo Foote, Cecily Wilson, Nancy Farnum, Mary Boyce, Marsha Peck, Nancy Rogers, Rosemary Seal, Ln Neale, Harriet Minkowitz, Shelley Stevens, Allison Wohleb, yes and even Elain Sailor who takes the boating ads for the Chronicle and Joan Kiel who used to make boat loans. And, we're certainly not forgetting the Santa Cruz women who are in the next issue for sure: Mary Duffield, Joy Free, Ruth Tara, Jane Ellis, Karen Trap, Cynthia Hubbard, Susie Synder, Becky Walsh, Dianna Mercer, Cindy Philipie, Debbie Gross, Mary Ann Foley, Ranie Bassano, Dana Marsh, Evelyn Drew, Eileen Sundett, and Maurya Malloy."
Since Latitude 38 hadn't yet reached its second birthday in 1979, it's obvious the history of women in sailing started long before the magazine. Though the quality of the scans of our old issues can be a little dark, you can zoom in to read the features in that 1979 issue on Jocelyn Nash, Linda Weber-Rettie (Newland), Jane Pereth, Joan Duffield, Paula Blasier, Lynn Tweedie and Elly Dowd. There are plenty of women in sailing continuing to make history, so we continue to cover endless stories on folks like four-time Rolex Yachtswoman of the Year Daniela Moroz to match-racing champion Nicole Breault to solo circumnavigator Jean Socrates to the captains of the brigantine Matthew Turner. By mentioning just a few names, we know how publisher Richard Spindler felt in 1979. We immediately think of the endless list of names we're not mentioning. The problem that existed in 1979 remains today; there are just too many women doing too many things to cover them all.
Receive emails when 'Lectronic Latitude is updated.
SUBSCRIBE