Local Dine-in Cruising Destinations
Here's a question for our readers: What are your favorite waterfront restaurants that offer space to tie up a boat or are located less than three blocks from a marina?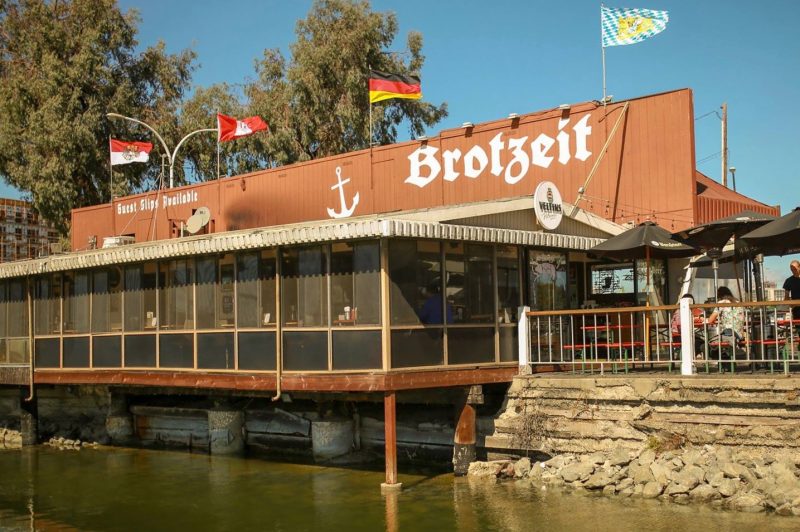 What's Reopening?
If you're like us, you've been landlocked and sheltering at home, with on-the-water activity likewise constrained. We've been doing lots of maintenance on our boats, and many of you have as well. Cruising plans have been scaled back or postponed. Races have been canceled. Meanwhile we've been supporting the local mom-and-pop cafés and ordering lots of takeout food.
Now comes the thaw in our local county shelter-in-place orders, and we're hearing from our friends in marinas and cafés. The waterfront is returning from deepfreeze to some kind of new normal.
We checked in with Tony and Krista Graniere, who sail San Francisco Bay on their Cheoy Lee 38 and own the Brotzeit Lokal German Restaurant and Waterfront Biergarten, located in Oakland and shown above. They're open outdoors and ready to welcome people for drinks and food. Tony mentioned they have a 45-ft guest slip and some smaller berths out front, all available on a first-come, first-served basis.
Grand Marina, located roughly opposite Brotzeit Lokal on the Alameda side of the Oakland Estuary, is also up and operating. "We offer guest slips subject to availability. Mosley's Café is onsite, and they provide outdoor seating and takeout. We have limited space available for the café; guests will need to call in advance. They can call or email for availability," says Cheri Berggren, assistant harbormaster at Grand Marina.
Those are just a couple of examples, and that's why we need your help. We're interested in sharing your favorite destinations for dine-in cruising, located in your favorite haunts on San Francisco Bay, the Delta and Monterey Bay. We'll add your suggestions to our online Boat-in Dining Guide that we're now updating, and publish the best ones in the August edition of our Latitude 38 magazine. We'll send free stuff, Latitude 38 shirts or hats, to the folks who send in the best answers. Please send us your favorites via email.
Receive emails when 'Lectronic Latitude is updated.
SUBSCRIBE