Latitude 38 February Issue Out Now
Welcome to the February issue of Latitude 38! The year is already one month in and we've been busy compiling a bunch of fun and interesting sailing stories to fill the pages of your favorite sailing magazine. Here's a preview.
The Day a Sailboat Changed Our Lives
"Admiral," my high-tech IT son-in-law, grinned broadly as his FaceTime image materialized on the iPad, "I need your advice!"
I could see he was in his office, a high-rise overlooking Puget Sound. When a younger man asks an elder for advice, it is a huge honor, and one needs to give it his full attention.
"John, I'm all ears; what's up?"
"My wife, the Admiral's daughter, wants to buy a boat."
I couldn't suppress my smile. I must have raised my daughter well.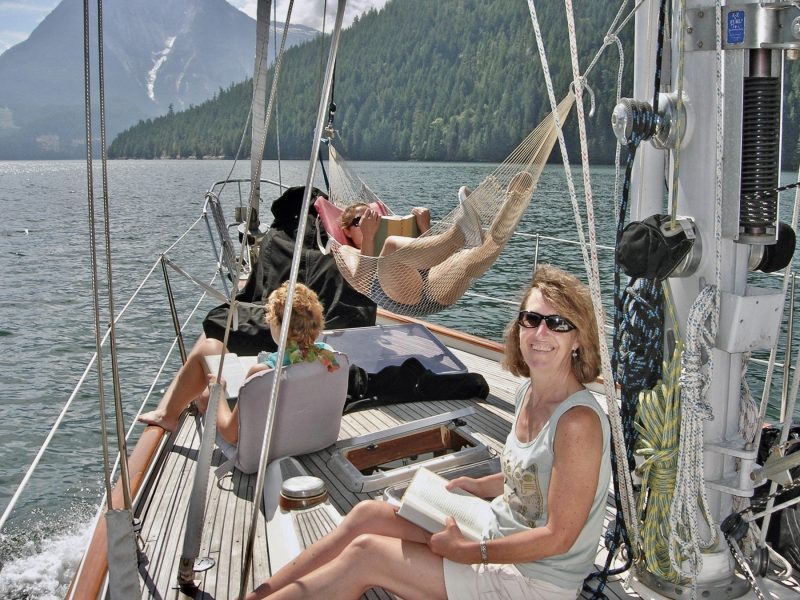 La Diana — An Almost 40-year Love Affair
In 1974, Marina del Rey yachtsman Paul Berger purchased a Contessa 35 sailboat from Jeremy Rogers, the renowned builder of fine sailing yachts in England. The boat was shipped to MdR and Paul proceeded to actively race his new boat, Decision, in race venues all over Southern California, with winning results everywhere. During the years Paul owned Decision, he maintained her in yacht condition, and he continually made enhancements to make his boat sail faster and better. Paul's good friend, the notable Bay Area designer Carl Schumacher, reshaped and added depth to the keel. Paul had Seatek, the fine Southern California mast builder, build a new, bendy three-spreader mast, one and a half feet taller, to replace the original mast, which was, as was normal on boats in those days, stiff as a wharf's piling.
Season Champions, Part III — The SSS and Small Boats
On the afternoon of Saturday, December 17, we attended an actual in-person meeting of the Singlehanded Sailing Society at Encinal Yacht Club in Alameda. Beginning with the initial COVID lockdown, almost all SSS meetings have been on Zoom. Going forward, the SSS is considering how many meetings to have, and the ratio of virtual versus actual. The weeknight rush-hour traffic is definitely a factor that makes Zoom meetings more accessible and practical. But the sense of community and camaraderie afforded by in-person contact increases cohesion and team spirit in any organization.
The top agenda item on December 17 was the awarding of the 2022 season championships in four divisions. We lead off these profiles with those SSS winners, and wrap up with a few small-boat one-design champs.
Also in the February issue:
Letters: Andy Turpin, Pacific Puddle Jump Rallies, Email Lists and Facebook Groups; The Suspiciously "Wild" Crocs Conveniently Found on a "Jungle Tour;" A Question About Spinnakers, Symmetry and Ratings; and more.
Sightings: A Growing Crisis in the Oakland Estuary; The Ocean Race; Mas Despacio — Taking It Slow to Baja; and other stories.
Max Ebb: Cast off Your Chains
Changes in Latitudes: With reports this month from Sonrisa's rare encounter with a milky sea; Geja heading to new cruising grounds after 14 years in Croatia; the sixth installment of Taliesin Rose's guide to off-the-beaten-track post-Ha-Ha destinations — and a footlocker full of Cruise Notes.
Racing Sheet: Sailors welcomed 2023 with New Year's Day races north and south and sat out races on two stormy Saturdays, but found success in Sunday midwinters hosted by Sausalito YC, Island YC, Richmond YC, Berkeley YC, and the YRA. A savvy tipster clues us in to tricks for dealing with tricky winter currents on S.F. Bay, DRYC's Malibu Race faces sea swell, and we end with a pair of Race Notes.
Loose Lips: Check out the January Caption Contest(!) winner and top 10 comments.
The sailboat owners and buyers' bible, Classy Classifieds.
If you've subscribed to Latitude 38, you should receive your issue shortly. If you haven't subscribed you're missing out, but you can still pick up your copy from your favorite distributor.
Receive emails when 'Lectronic Latitude is updated.
SUBSCRIBE