Larry Pardey Sets Sail on Final Voyage
Legendary bluewater cruiser Larry Pardey sailed away to his final resting place last Sunday after living the past 11 years on the island of Kawau in New Zealand.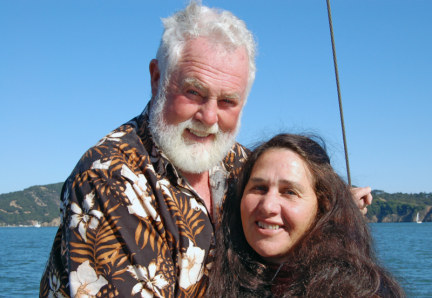 Larry started his sailing career as a teenager in North Vancouver, British Columbia, but really made his mark on the sailing world after moving to Southern California in the mid-'60s, where he met his wife and lifetime cruising partner, Lin Pardey. Together they built Seraffyn, the 24-ft wood Lyle Hess-designed sloop, which was the start of a 200,000-mile engineless cruising career. A career that in turn became the foundation of a dozen cruising books, as well as the inspiration for thousands of cruisers who followed in their wake.
Often referred to as "America's first couple of cruising," the Pardeys lived the simple life they preached. When it was time to build a bigger boat they moved up from the 24-ft Seraffyn by building the 30-ft Lyle Hess-designed Taleisin in Bull Canyon, CA. Their message of exploration, adventure and simplicity has resonated with sailors for 50 years and may be even more powerful today.
Larry, who was 81, had been suffering from Parkinson's and Parkinsonian dementia before suffering a stroke that had him living in a nursing home in New Zealand for the past year.
Lin said on her Facebook page, "I will think of Larry every day of my life and feel extremely privileged to have been part of his life."
We feel a part of the thousands of sailors who were privileged to learn from the the thousands of miles of experience the Pardeys shared through their books, seminars and videos.
You can help keep Larry's memory alive by contributing to the Larry Pardey Memorial Observatory at Camp Bentzon on Kawau Island.
Receive emails when 'Lectronic Latitude is updated.
SUBSCRIBE