Kidnapped Trailer Recovered
On Monday, we issued a BOLO for Velvet Hammer's equipment trailer, stolen in the dead of night out of Richmond Yacht Club's (gated and locked) parking lot. On Tuesday, Will Paxton reported that he'd recovered the trailer. "Good news — our trailer was found!" he wrote to us. "Extra thanks to you guys and Latitude 38 for the extra coverage. The community came together strong to put pressure on the thieves, as it looks like they hastily dumped our goods. Below is my update from Facebook."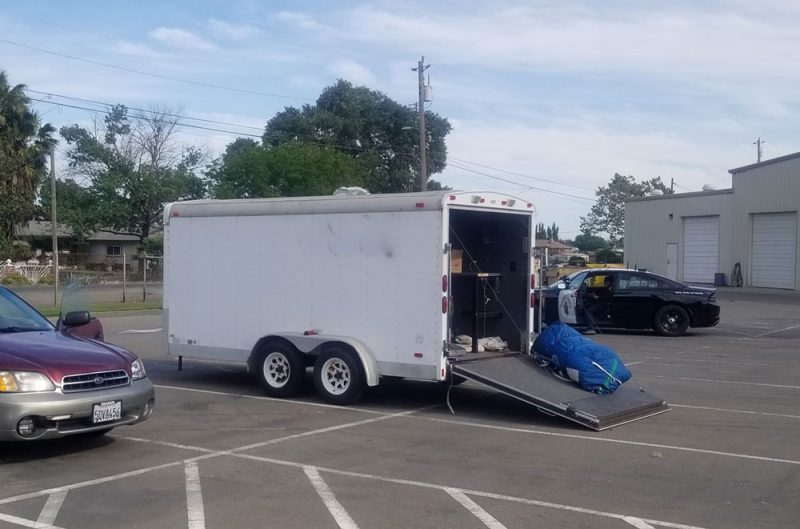 "The trailer for Velvet Hammer has been recovered," Paxton posted on Facebook. "As we suspected, everything of easy street value was stripped, but thankfully most of the hard-to-replace custom gear was still in there.
"Many thanks to all who kept up the social media pressure to drive the outcome. First of all I could not have done any of this without the support of the amazing and beautiful Jeane Marie Rodgers who worked tirelessly to create posters and push the social media outreach. I am humbled by the community sharing and contribution to the search, as there are too many to name. I personally traveled many roads outside our community to post fliers and plead for help and found great sympathy and willingness to help outside our sailing family. Officers of the Richmond PD, Contra Costa Sheriff's Dept. and CHP all were very professional and responsive in our quest to recover the stolen gear.
"The insurance claim and investigation are ongoing, but rest assured we are still after these a-holes who targeted our community. We have some leads to follow."
RYC, in the meantime, has continued to step up security and plans to update the key-fob gate entry system.
Receive emails when 'Lectronic Latitude is updated.
SUBSCRIBE