Jean-Luc VDH around the Horn
When last we checked in on the solo Golden Globe Race (in 'Lectronic Latitude on November 5), Jean-Luc Van Den Heede had suffered a knockdown in a Southern Ocean storm. The 73-year-old professional sailor had done a horizon job on the rest of the fleet. Dozens of horizons, actually. His Rustler 36, Matmut, suffered damage to the bolt attachment that holds all four lower shrouds. He thought he would have to drop out of the nonstop attempt and put into Valparaiso, Chile, to make repairs. This would relegate him to the 'Chichester Class', named for Sir Francis Chichester, who circumnavigated via the Great Capes with just one stop in 1966-67, before the first Golden Globe nonstop solo race in 1968-69.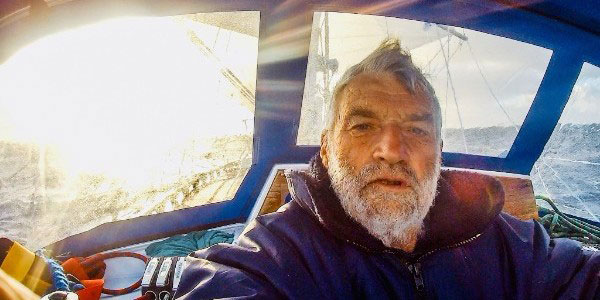 But after three days of deliberation, VDH alerted race chairman Don McIntyre that he had decided to make the best repair he could at sea and continue sailing. "The worst that can happen is that I lose my rig, and I have my jury rig at the ready." That was three weeks ago, and Matmut is not only still sailing but still leading the race.
Van Den Heede applied for a time penalty after he called his wife twice on his satellite phone following the knockdown. The rules only allow sat-phone use as a safety measure to call race headquarters. All other communications must be made via HF, VHF or Ham radio net. Noting that VDH received "no material assistance through use of his GGR sat phone," organizers penalized him 18 hours.
On November 13, VDH detailed his knockdown — actually a pitchpole. "He had already prepared for the worst, having screwed down floorboards, stowed loose items securely, and closed the companionway hatch," reported McIntyre. "He was in his bunk, and his storm tactic was to allow the boat to run freely downwind with 6 square meters of headsail set and no warps trailing astern, steered by his Hydrovane windvane self-steering. Suddenly, the boat was picked up by a huge wave and surfed down the forward face. The bow dug in and the boat went end-for-end before rolling out on her side. Jean-Luc says that he was thrown out of his bunk and finished up on the ceiling surrounded by all manner of gear. Some water got into the cabin, and everything got thrown around. It was a complete mess, and a week on, he is still searching for some things."
The French skipper climbed his mast four times to inspect and repair the damage. The damage is centered around the bolts securing the hounds of the lower shrouds to the mast just below the lower spreader bracket. He climbed up to the second spreaders to check for any damage there and found none. He managed to tighten the lower rigging.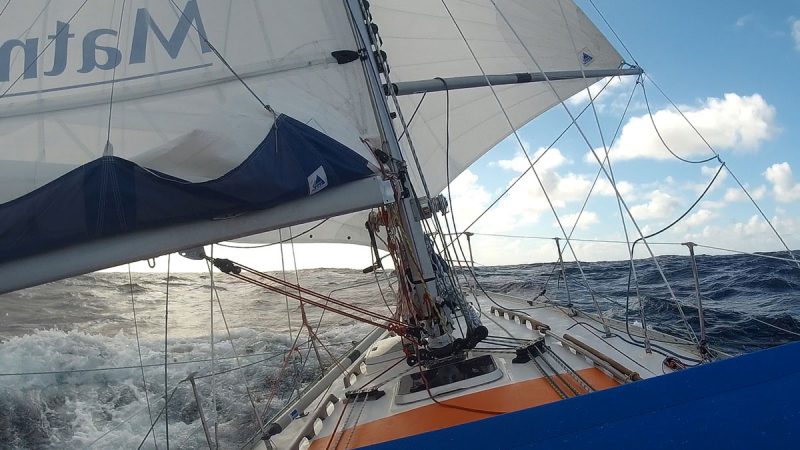 As noted briefly in Monday's 'Lectronic, Matmut safely rounded Cape Horn on Friday the 23rd. VDH extended his lead over all but second-place Mark Slats' The Ohpen Maverick, another Rustler 36 masthead sloop. Though this event features old-school boats and technology, one modern advantage for race fans is the GPS trackers. This morning, 150 days into the race, the trackers show Matmut in the lead by 1,249 miles, with 6,354 miles remaining until the finish in Les Sables-d'Olonne, France.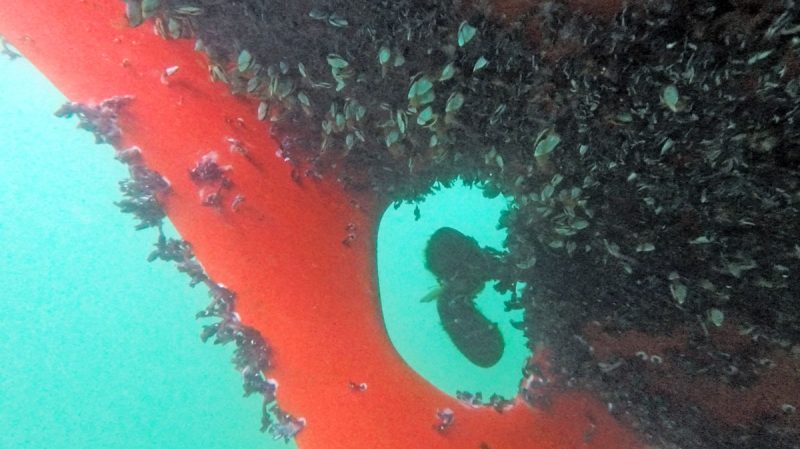 Among the eight skippers who remain in the race (18 started), others have had their own problems. Some boat hulls have offered an enticing habitat for barnacles. Mark Sinclair and Igor Zaretskiy diverted to ports in Australia to clean off barnacles and make repairs. Sinclair, who is also running perilously short of drinking water, is heading for Adelaide, his hometown. The Australian twice dove on his Lello 34, Coconut, to scrape the hull — but sharks thwarted his attempts. The Hungarian-American Istvan Kopar has reported major problems with the pedestal steering system on his Tradewind 35 Puffin.
Receive emails when 'Lectronic Latitude is updated.
SUBSCRIBE