Well, We Got That Wrong! What Was That Boat, Really?
In the February issue of Latitude 38, we shared several letters from readers in response to a 'Lectronic story from last December, "A Question About Spinnakers, Symmetry and Ratings." In the printing of the letters in the February issue, we attributed the wrong boat type to a certain reader. The question had been raised by Jim Morgan, who races his Oceanside-based Ericson 35 MkIII Green Flash. He wrote, "I have an Ericson 35 MkIII that is raced with a bow-tacked asymmetric kite. The rating PHRF (in SoCal) assigns is based on a poled-out symmetrical kite, which offers a significant advantage on deep downwind runs, particularly windward/leewards.
"They either do not understand, or just don't care, about the difference. (And they question why their membership is on a death spiral!)
"The sailmakers (Ullman, Quantum, etc.) tell me there should be a correction due to the inability to square back the kite. Have you guys ever covered this topic? Max Ebb?"
We invited our readers to respond, and many did. But in the process of transferring their replies to the printed pages of the magazine, we messed up. We wrote that Jeffry Matzdorff's Between The Sheets is a Hallberg-Rassy 62. That is incorrect; she is actually a Jeanneau 52.2. Sorry, Jeffry, and thanks for setting us straight and for sending the photo below.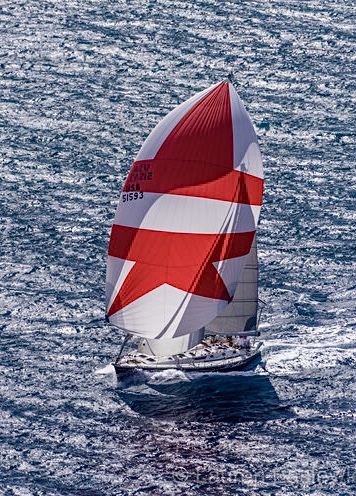 Jeffry's response to the spinnaker question was, "Ditto on the pole. Fly the asymmetrical off a conventional pole, with the outboard end of the pole down and forward when reaching, then take the outboard end of the pole up and back to your shrouds for deeper sailing. Lots of people are doing that. I was involved with racing and delivering a Jeanneau 52.2 out of Marina del Rey, and she won her class in the '03, '05 and '07 Transpacs. Between The Sheets was a very early adopter of flying an asymmetrical this way, if you didn't have a sprit. They won double-digit Mexico races with the same setup, and every race was a podium finish with no hit on their rating. All Santa Cruz 70s fly asymmetricals off conventional poles. (There is a certain Andrews 68 that's being optimized, and they are putting a TP 52 sprit on her for Transpac.)"
We received other responses to the question from readers including Jay Sorensen of Infinity, a Sydney 41 out of San Diego; Pat Shoemaker, who is the spin trimmer aboard the Cal 40 No Parlay; and Jib Martens of the Worth 40 Freedom out of San Francisco.
Jib also sent along a photo of Freedom flying her symmetrical spinnaker during the Half Moon Bay Race.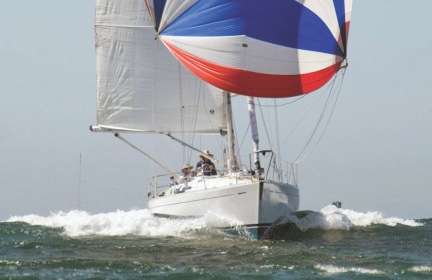 You can read all the comments regarding "A Question About Spinnakers, Symmetry and Ratings" starting on page 30, in February's Letters at Latitude38.com.
Receive emails when 'Lectronic Latitude is updated.
SUBSCRIBE