Good News and Bad News for Yacht Racers
Northern California
First the Good News
Island, Encinal and Oakland Yacht Clubs, all based in Alameda, have banded together to introduce the Estuary Extravaganza to be sailed in three races on Sunday, September 13. Divisions will be offered for Singlehanded, Doublehanded, One-Design fleets of five or more and Crewed (same household or social bubble) classes. Register before September 8 for the discounted price of $25. Find the Notice of Race and enter at www.jibeset.net/EYC000.php?RG=T006666229.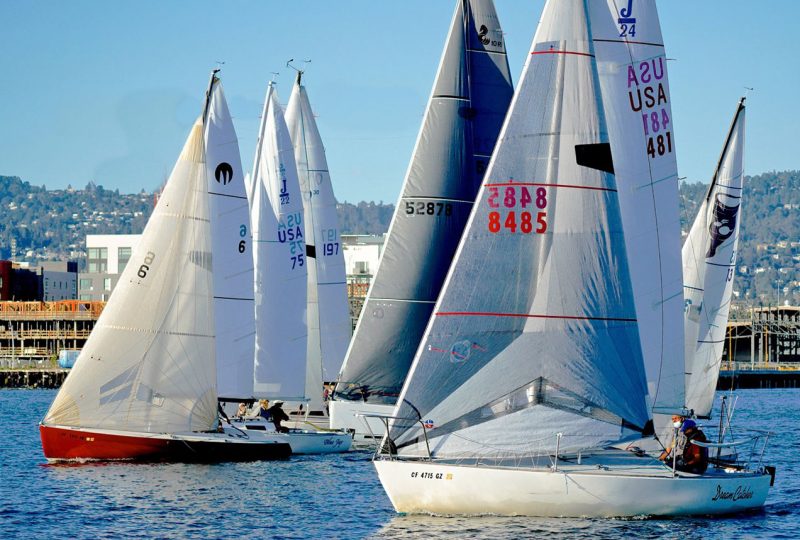 We'll preview more September regattas in 'Lectronic Latitude on Monday.
Express 37 Nationals
"We canceled our Nationals for this year," says Express 37 fleet president Dave Fullerton of MudShark. "What a year. Most owners are doing family sailing. We do have five Express 37s signed up for the Doublehanded Farallones in September, so we are still finding ways to race as a fleet. Hopefully we will have more come race day."
San Francisco Yacht Club
SFYC has canceled the Multihull Regatta scheduled for September 12-13. They've postponed the Perkins Challenge from October 17 and the Leukemia Cup Regatta from October 18 to March 2021. Leukemia Cup participants who want to get started now on fundraising can sign up by emailing campaign development manager Alexa Adams.
Treasure Island Vanguard 15 Fleet
"With late August upon us and the originally scheduled conclusion of our Thursday Night Series only a couple weeks away, it's unfortunately time to accept that we will not have anything remotely resembling a regular season this year," writes Sam Wheeler, fleet captain of Vanguard 15 Fleet 53. "This email therefore serves as notice of cancellation of the 2020 Thursday Night Series. (Tuesday night team racing also remains suspended.)" Fleet 53 normally sails out of Treasure Island Sailing Center and is subject to San Francisco County health orders.
Southern California
5O5 North Americans
"This isn't exciting news, so I'm just going to get to the point," writes information officer Brendan Heussler on behalf of the 5O5 American Section. "The 2020 North Americans have been canceled. The officers voted unanimously in favor of canceling the event, citing health concerns due to the ongoing COVID-19 pandemic." Alamitos Bay YC in Long Beach had planned to host the 5O5 NAs on September 24-27.
Little Ensenada Race
Southwestern Yacht Club has canceled the Little Ensenada International Yacht Race on October 2-3. The 59-mile Little Ensenada starts in San Diego.
San Diego Yacht Club
Rescheduled from May, SDYC's Yachting Cup is still on for October 10-11, but the club has canceled the International Masters Regatta (October 16-18) and Lipton Cup (October 10-11).
The good news for the Finns is that their Pacific Coast Championship is on for September 12-13 at SDYC.
Beyond
Finn Gold Cup
The bad news for the Finns is that the International Finn Association has canceled the 2020 Finn Gold Cup, which was to have been held on October 2-10. They had postponed the regatta from its original dates of May 8-16 in Mallorca, Spain.
US Team Racing Championship
Following months of collaboration and teamwork, US Sailing and the Bristol Yacht Club in Rhode Island decided not to hold the 2020 US Team Racing Championship this year due to ongoing circumstances caused by the COVID19 pandemic. The championship was originally planned for September 11-13. Bristol YC has agreed to host the 2021 US Team Racing Championship for the George R. Hinman Trophy next summer or fall. US Sailing will announce specific dates later. In the spring, Qualifiers for the championship were canceled and the event transitioned to invitation by résumé.
New York Yacht Club
NYYC's plan to restart the 2020 sailing season on August 28-30 with the 166th edition of the Annual Regatta was stymied by an uptick of COVID-19 cases in Rhode Island. Uncertainty followed regarding possible quarantine restrictions imposed by neighboring states upon anyone spending more than 24 hours in the Ocean State. But, determined to exhaust every opportunity to get sailors on the water this season, NYYC has moved the Annual Regatta to the first weekend in October. It will now include the Melges IC37 National Championship originally scheduled for those dates.
M32 Worlds
the M32 Class board canceled the 2020 World Championship scheduled for Miami on November 16-22. "The current travel climate due to the COVID-19 situation does not allow for intercontinental travel in a way that we need to have a proper World Championship," they stated. "With the logistics involved in running and competing in a World Championship we can not wait to see how restrictions evolve this fall." Racing "on a continental level" continues. The Marström 32 catamarans may be able to race for their North Americans on the dates previously planned for the Worlds.
In Cyberspace
Next Friday, September 4, at 10 a.m. PDT, on Quantum Sails' In Position video series, Ed Baird, Federico Michetti and James Dagg will share their trimming tricks and tips. See www.quantumsails.com/en/live-video-series-schedule.
Over the Horizon in 2021
Newport to Cabo
Newport  Harbor YC opened registration for the 2021 Newport to Cabo San Lucas International Yacht Race, to be held on March 19-25. Within minutes of opening the entries of the 2021 race, two boats entered. Doug Baker's Kernan 70 Peligroso and the Andrews 77 Compadres were the first boats to step up.
Congressional Cup
Long Beach YC has announced that the 2021 Congressional Cup dates will be May 12-16. "We're already counting down the days," states their press release. They had to cancel the 2020 edition of the world-class match racing regatta.
Receive emails when 'Lectronic Latitude is updated.
SUBSCRIBE