Emirates Team New Zealand Sets New Land-Speed Record
Records are meant to be broken. America's Cup holder Emirates Team New Zealand and land speed pilot Glenn Ashby have sailed Horonuku, their wind-powered land-speed world record craft, faster than any previous records.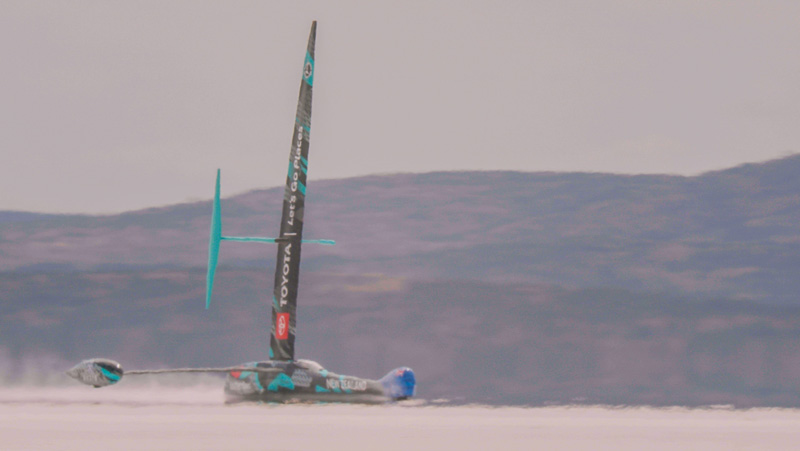 Horonuku, named by Ngāti Whātua Ōrākei and meaning "gliding swiftly across the land," did exactly that, and was clocked at 222.4 km/h (138.2 mph) in 22 knots of windspeed on Lake Gairdner (a large salt lake) in South Australia.
Pilot Glenn Ashby was very happy, but knows Horonuku can go much faster. "The team and I are obviously buzzing to have sailed Horonuku at a speed faster than anyone has ever before — powered only by the wind. But in saying that, we know Horonuku has a lot more speed in it when we get more wind and better conditions," Ashby said.
"So, for sure, there is a cause for a celebration, but this isn't the end."
Before the 222.4 km/h speed is declared "official" there is a stringent verification process that needs to be conducted in accordance with the international governing body, FISLY (Federation Internationale de Sand et Land Yachting), for the new world-record speed to become ratified. There was an independent FISLY-approved judge on the ground at Lake Gairdner to witness and verify the run. Measured on a two-second average speed, the result is directly comparable to that of the standing record of 202.9 km/h (126.1 mph) recorded over 13 years ago by Jenkins on March 29, 2009.
The high-speed run by Ashby and the team comes after a frustrating few months of unprecedented rainfall and surface water on the lake, leading to delays in the program. And the weather forecast for this weekend was equally challenging, with significant wind direction changes and the dreaded threat of rain and thunderstorms.
Now the team has passed the previous record speed and is confident that with more wind Horonuku has the ability go even faster. They now await a perfect weather forecast to have another run. Though in the absence of any more breeze in the foreseeable future, and with Christmas just around the corner, that is likely to come in 2023.
We reached out to Richard Jenkins, previous world land-speed record holder and CEO of Saildrone in Alameda for his comments. He referred us to his posting on LinkedIn. saying, "Huge congrats to #glennAshby & #TeamNewZealand for breaking my land speed record, which has stood for almost 14 years! Great work by a very professional team and well deserved.
"Of course, very flattering that they ended with a design so similar to Greenbird!"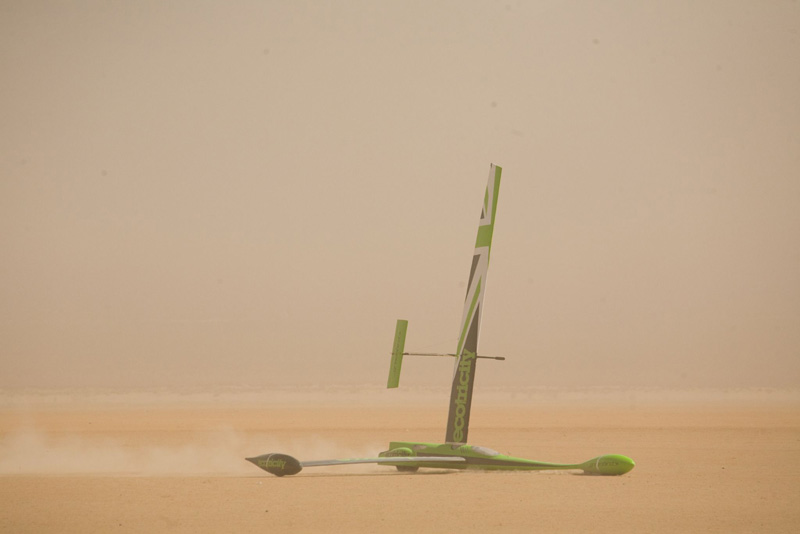 "Horunuku was a lot bigger and heavier than Greenbird, but the size of Greenbird was ultimately driven by something I could carry, assemble and run single-handed. Greenbird weighed 350 kg, and Horunuku weighed in at 2.5 tons. I used aerodynamic downforce for top speed, rather than static weight. The light weight meant it was nimble and fast to accelerate, so I could use smaller lake beds, which gave me a lot more venue flexibility; however, you do pay the price of top speed for the aero-induced drag. I was skeptical the heavy approach would achieve the record due to the acceleration penalty and not being able to utilize short gusts at top speed, but ultimately it obviously paid off in the right conditions. Great work and design optimization by the TNZ design team; well done."
Emirates Team New Zealand announced the achievement in a press release today.
Receive emails when 'Lectronic Latitude is updated.
SUBSCRIBE