How Not to Anchor During the Baja Ha-Ha
The Grand Poobah has compiled some tips on anchoring during the Baja Ha-Ha. And judging by the photos below, it's a good thing that he has!
Do it in deep enough water. It's not as if there isn't room for 1,000 boats to anchor in plenty-deep water at both Turtle Bay and Bahia Santa Maria.
In the first two photos we see Captain Marco's Lagoon 380 Younger Girl having to deal with anchoring in about four feet of water just off the beach at the Turtle Bay beach party.
"Marco, you're a little close to shore, don't you think?" the Grand Poobah hailed him.
"Oh, we'll be fine," he replied.
And he and his boat were fine. But only after about 70 people spent the better part of an hour or two trying to pull the boat off the beach.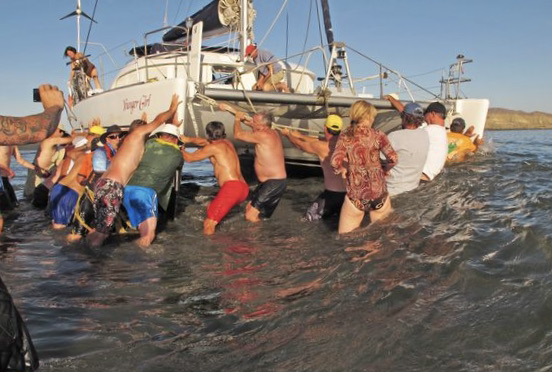 They were not successful. But Younger Girl finally did make it back to deeper water, after a rising tide had lifted her off the bottom. She suffered no damage.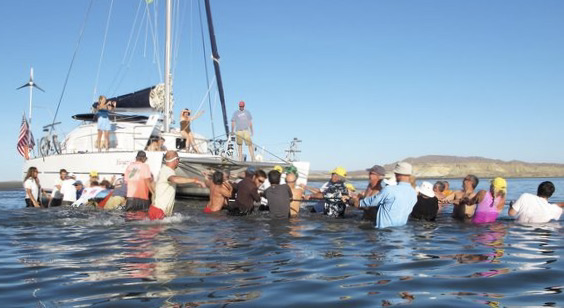 In the third picture you see Carol and Wayne of the Hughes 45 Capricorn Cat dancing on top of the house. They could do this because they'd anchored in deep water in the first place, and so had nothing better to do than dance, dance, dance.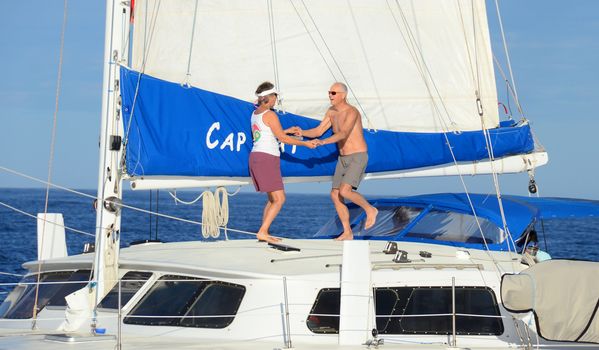 Be smart; don't anchor in water that's too shallow. Although I have to say, everybody had a great time trying to push/lift the cat off the beach.
Receive emails when 'Lectronic Latitude is updated.
SUBSCRIBE