A Boat by any Other Name Sails Just as Sweet
Early last month we shared a story about BoatUS's Top 10 Boat Names for 2020. It's to be expected that we all try to name our boat with something significant or unique. Despite our best efforts we sometimes choose names that are, to put it politely, popular. However, there are still myriad interesting names displayed across hulls and transoms the world over.
We asked readers to send us their boat names along with a photo — an exercise that turned up these unique (to us) names that we're now sharing with you.
Elegant'sea
"¡Hola! from s/v Elegant'sea — a 1978 Islander Freeport 36-B #29. We're the second owners, who kept the name her original owner of 30 years gave her. We are 2012 Baja Ha-Ha alums who came to Mexico and stayed. Our boat home is definitely "elegant" as are the seas of Mexico!" – Chip and Debbie Willis.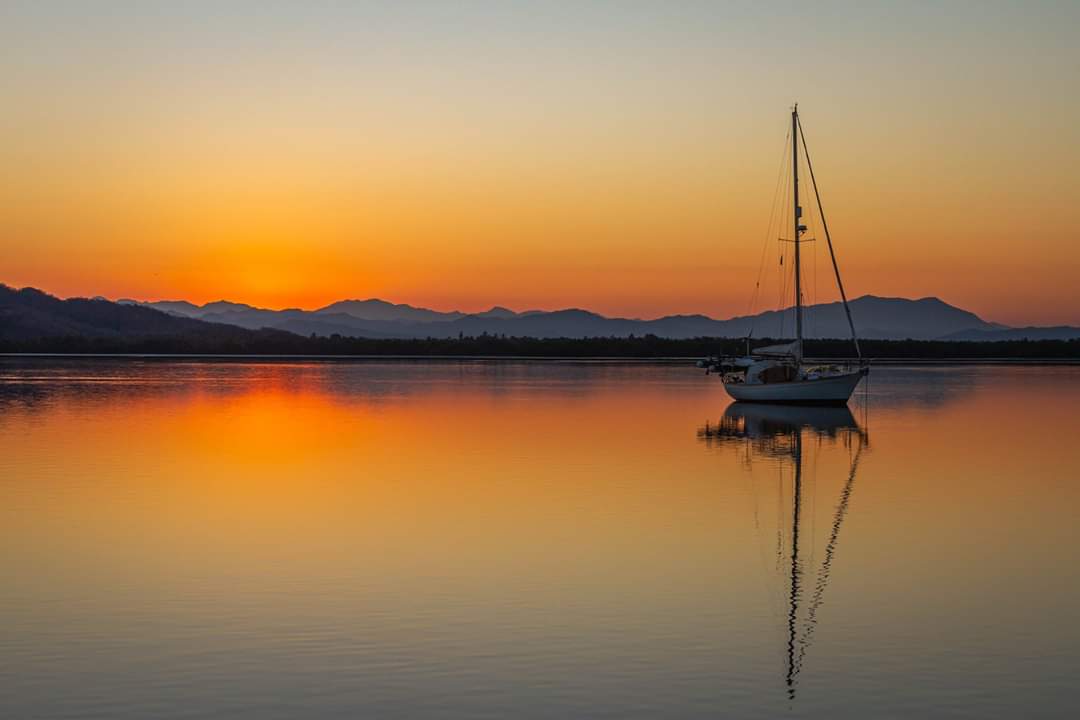 Infidel
"My boat's name is Infidel. She's a classic S&S 1973 Swan 44. I've owned her since August 1989. If the first of these pictures looks familiar, it's because it was taken by Latitude 38 on a rambunctious summer day, maybe 25 years ago. – Candy, Alameda, CA, and Incline Village, NV.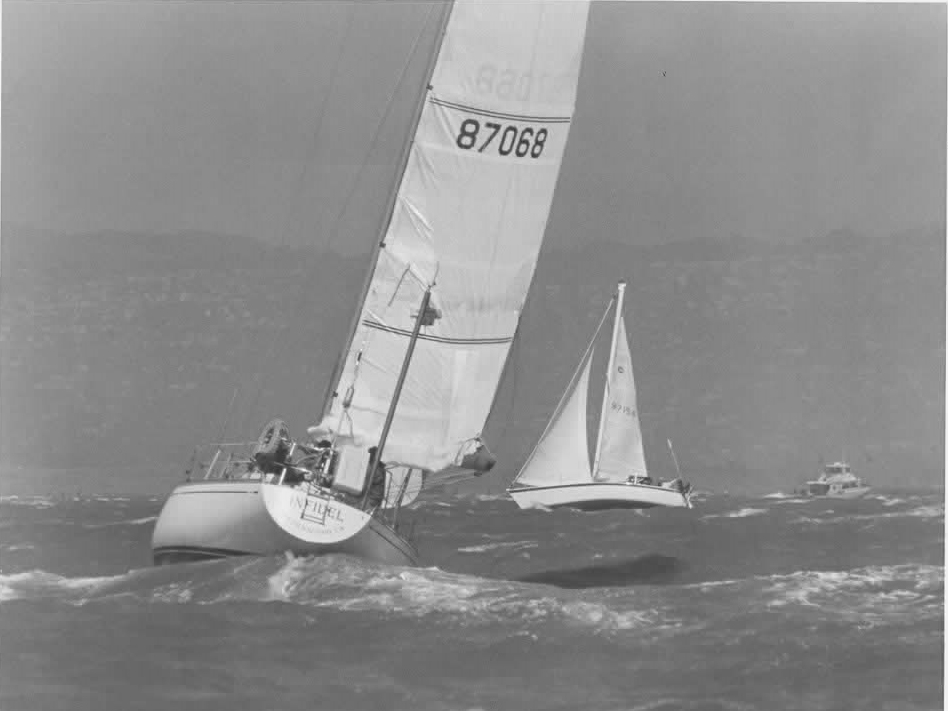 Cascade & Zephyr
"My boats are named for trains, and I use the logos from the trains. Our Antrim 27 is Cascade, named for the Daylight that runs San Francisco (really Oakland) to Seattle, and our Mercury is named California Zephyr for the train that runs Oakland to Chicago. Cheers!" – Steve Rienhart.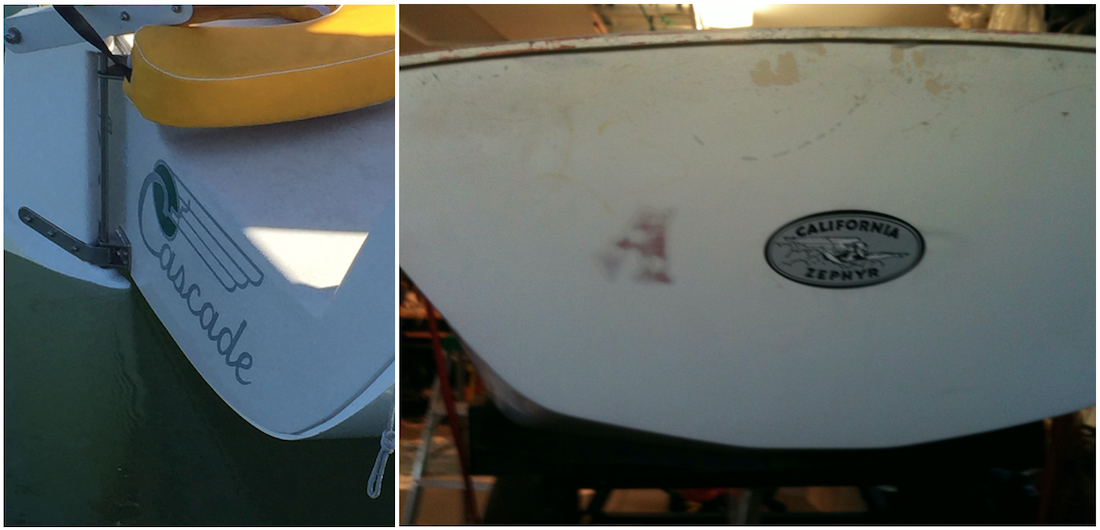 Just Us II
"I'm a lifelong sailor who recently had to go over to the 'dark side' when physical limitations from injuries made sailing difficult. Boating with my wife of 46 years is a lot of fun, but her not having the love of the water that I do, I needed an additional attraction to help get her out. The name of our trawler is Just Us II — being on the water, alone with Beverly, is one of my favorite things." – Peter Hine, Stockton.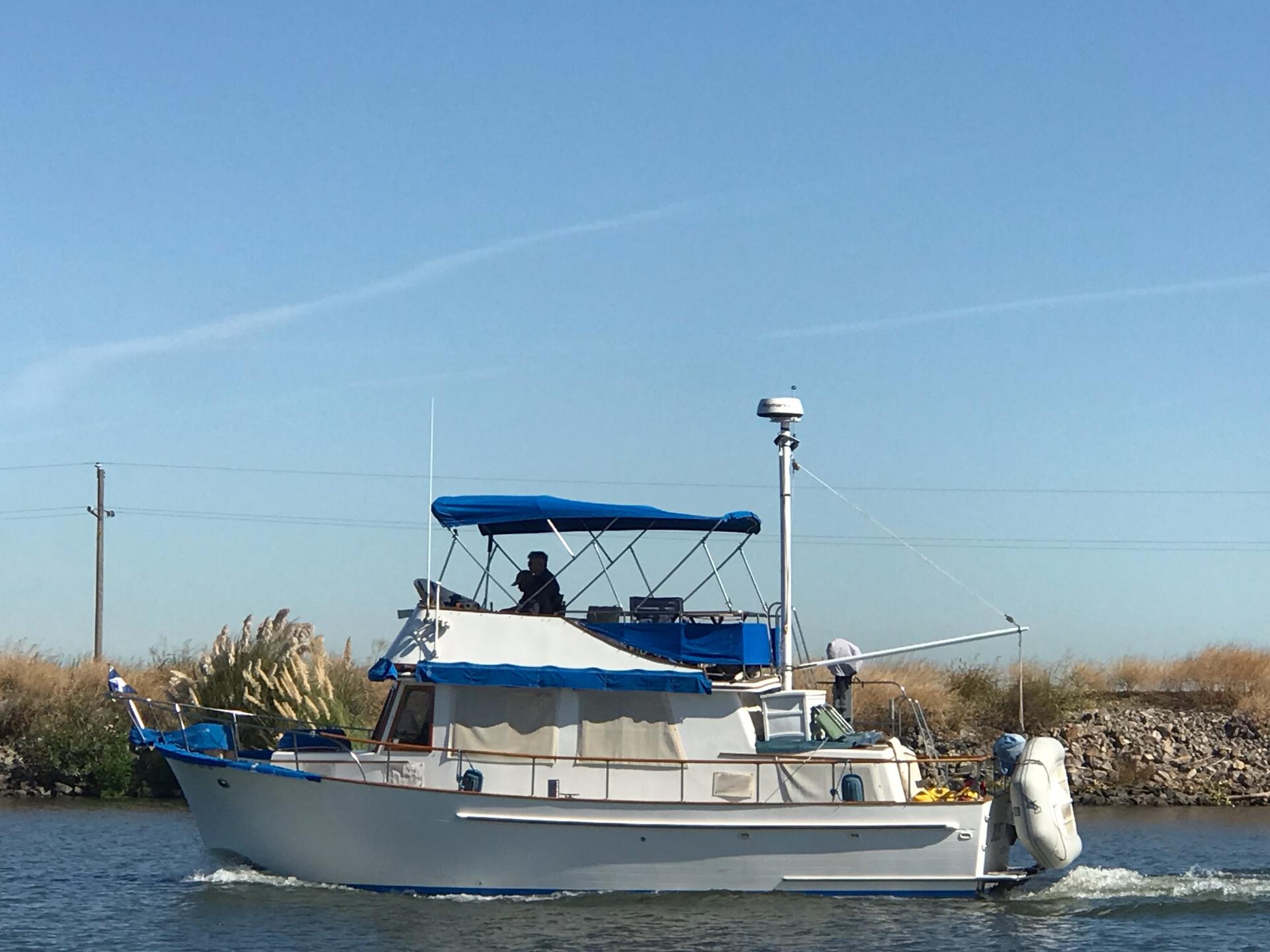 Nakamal
"We lived in Tucson, picked the model boat we wanted to buy — found the right fit in San Diego, and bought her there. We vacationed in Vanuatu and learned about kava and nakamals there. When I found a reference to nakamal translating to "place of peace" we knew we had our boat name. A nakamal is a traditional meeting place in Vanuatu in the South Pacific. It is used for gatherings, ceremonies and the drinking of kava."
Elan
Chuck Cunningham has more than one boat, and he sent us all their names: Chartwell – Cheoy Lee 55 trawler; Sea Wolf – CT 41; Elan (originally GU) – Express 37; September (birth month) – DeFever 54 trawler.
The one that is most intriguing is Elan. We asked Chuck about the meaning of the boat's orginal name GU. This is what he wrote:
"GU was actually Geographically Undesirable — a girl from the wrong side of the tracks (back in the day). The original owners were a couple and their son, Reese. The father was a highly accomplished structural engineer who was involved in designing the Richmond Bridge. The mother was a world-class economist out of Cal Berkeley. The son, Reese, was an actor who among other roles performed as the grapes  in the Fruit of the Loom commercials. Reese convinced his parents to buy the Express (new), in1985, and had Norm Davant set the boat up for the 1985 Transpac.
"Norm was based in SoCal, and managed Sobstad Sails. Reese was a cool guy and would come by to check on the boat after my partners and I bought the boat. When we bought the boat it had a blonde in a bikini on the transom. We got tired of being referred to as the "BimBoat" by the Express fleet. I had the blonde removed and just had the GU graphic painted. Later my partner left the partnership and I brought in Bill Reiss as new partner. We decided to re-christen the boat Elan, playing off the Express class name. Our motto was 'Fast with Class.'"- Charles Cunningham
Unfortunately we don't have a photo of Elan. But we do have photos of boats owned by some of the Latitude 38 crew:
Sospiro
"Sospiro means sigh or take a deep breath. There is a phrase "sospiro di sollievo" which translates to "a sigh of relief " in Italian. To me, this is how this boat feels on many levels, but I do call her Sosi for short. I look forward to painting and re-lettering that stern come spring." – Nicki Bennett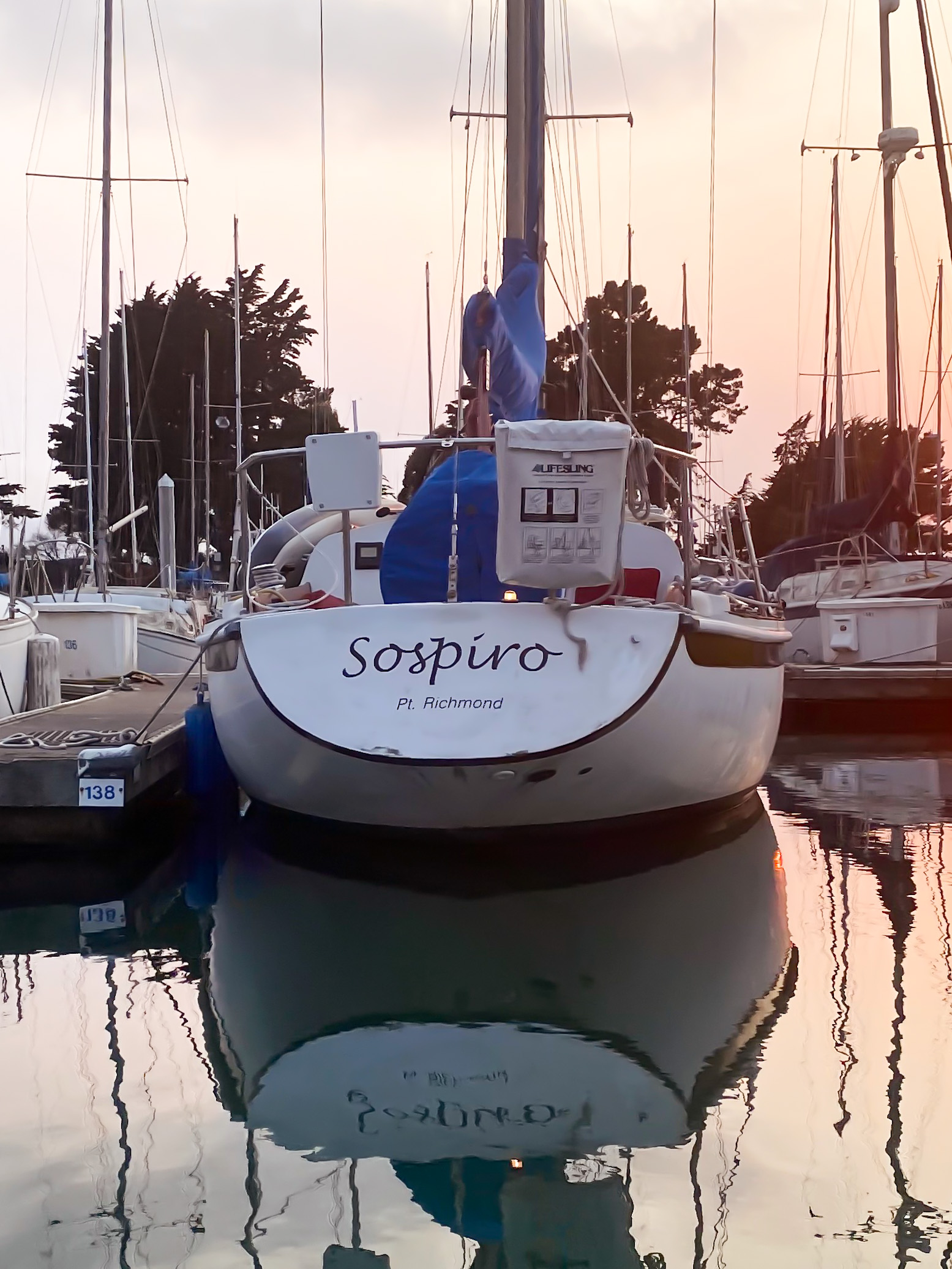 Banyandah
"Although we bought our boat in Miami, FL, we decided to give her an Aussie reference as I am Australian and my husband Jay holds dual citizenship (Australia/US). After much research we decided on Banyandah, which for Indigenous Australians means 'Home on the Water.'"  – Monica Grant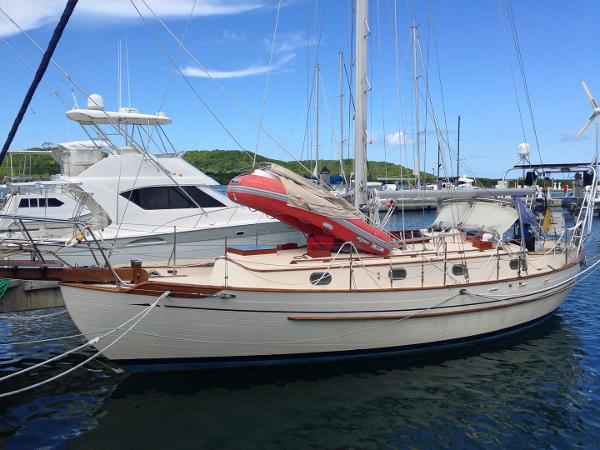 Summer Sailstice
Latitude 38 publisher, John Arndt has aptly named his boat for the annual sailing celebration he founded 20 years ago — Summer Sailstice.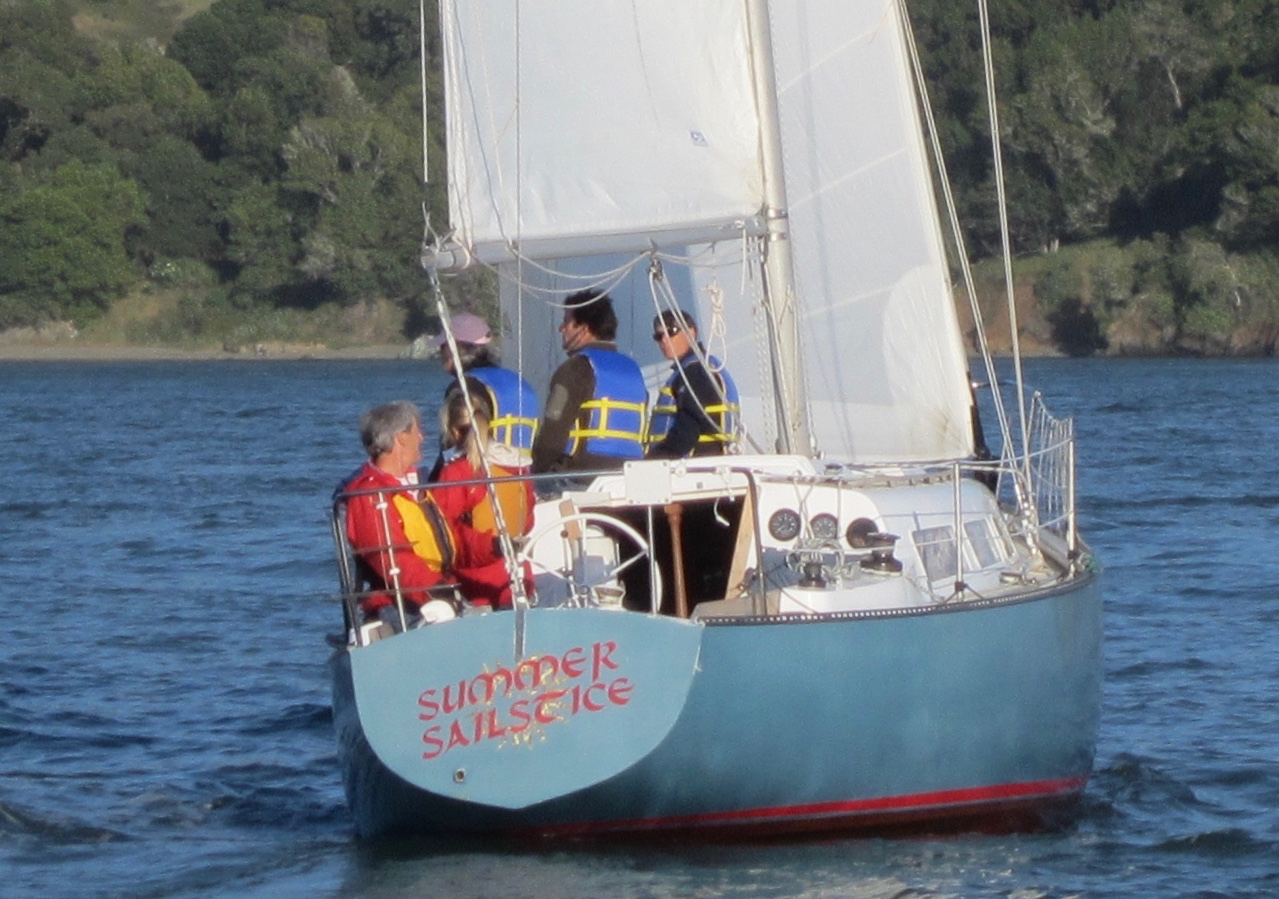 Receive emails when 'Lectronic Latitude is updated.
SUBSCRIBE