Trans-Sierra highways closed, trees down, power failures, shoreline roads and parking lots flooded, lighted boat parades and midwinter races canceled — Saturday's storm packed a powerful punch as it swept through California.
Berkeley Midwinters
Midwinter series on the San Francisco Bay racing schedule considered the wisdom of inviting competitors to brave the gale warnings. Berkeley Yacht Club's policy is to automatically cancel in the event of a gale warning, and so they did. Sunday's race proceeded as scheduled. About half of the boats registered showed up to race in the still-blustery wind and rain squalls on December 11. See www.jibeset.net/BYC000.php?RG=T004054696 for more info on the BYC Midwinters.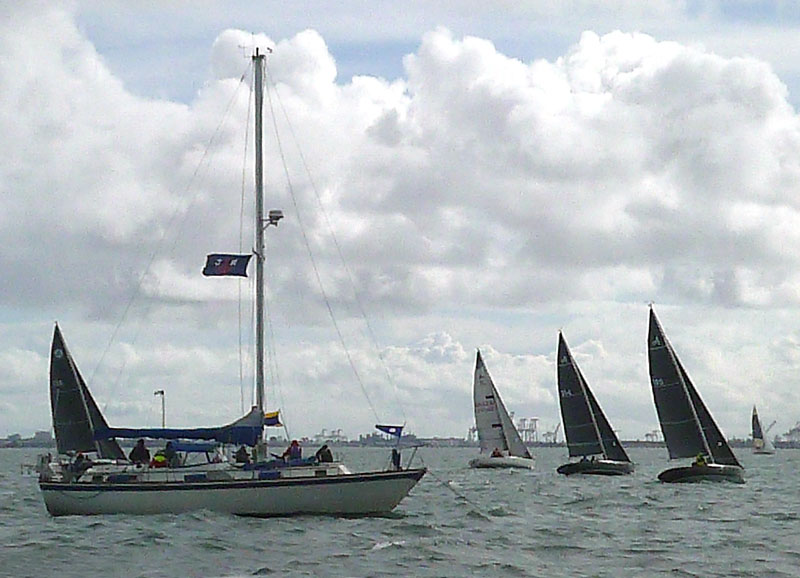 Lake Merritt
Duncan Carter, scribe for the Lake Merritt Sailing Club in Oakland, sent this message to the lake's racers on Thursday: "Commodore Denis Hazlewood regrets to announce that the first four races of the Edna and Howard Robinson Memorial Midwinters, scheduled for December 10, 2022, are canceled because of inclement weather. Be sure to join us on Sunday, January 15, 2023, for the second scheduled race day of the series."
Riding Out the Storm in Richmond
How windy was it? We recorded a gust of 44 knots on Saturday afternoon at Richmond Yacht Club. Thus, we were content to stay in the relative shelter of the harbor. While there, we also noted as high a tide as we've seen there in the past 10 years. The combo of a full moon, heavy rain, low air pressure and wind-driven fetch tossed waves over the rip-rap seawall protecting the Richmond Harbor and Potrero Reach.
Making tea in the bouncy boat wasn't so easy!
Sausalito YC/RegattaPRO Winter One Design
Sailing a bit to the west of the Berkeley Midwinters, the RegattaPRO Winter One Design series had two races scheduled on Saturday. On Friday, PRO Forrest Gay posted this notice:
"The scheduled first warning signal for Saturday, December 10, is changed to 1300," from 11:30.
"We have been monitoring the approaching winter storm for three days now, and all of the most reliable forecasts are currently lined up indicating that the dangerous wind in the over 25-knot range should be clear of the race area right around late morning to noon, allowing for one or two afternoon races. There will still be plenty of rain and wind likely throughout the afternoon, and the National Weather Service has a "gale warning" in place until 3 p.m., so please use caution and make the best decisions about sailing and racing amongst your crew. Reminder: RRS Rule 3 states, 'The responsibility for a boat's decision to participate in a race or to continue racing is hers alone.' The sailing instructions do not allow for signals to be made ashore, so any further postponements deemed necessary after 1300 will be made on the water."
Forrest is filling in for the usual PRO of the series, Jeff Zarwell, while Jeff recovers from a medical procedure. "Forrest was acting PRO and made a great call to change the starting time to 1 p.m.," commented J/105 sailor Tim Russell. "The storm passed through and winds died, and we had two short races in 15-20 knots of breeze and a couple of showers. Five J/105s showed up and one Moore 24. We were back at the dock by 4:15."
Receive emails when 'Lectronic Latitude is updated.
SUBSCRIBE