Most people wouldn't be excited at the prospect of receiving 96 tons of trash, but a crowd of Sausalito well-wishers were elated to see their ship come in with a fresh haul from the North Pacific Gyre. Arriving under sail, the 140-ft vessel KWAI passed under the Golden Gate Bridge on Saturday, July 23, completing a 45-day garbage-trawling expedition that started in Hawaii. KWAI docked at the Bay Model in Sausalito Tuesday and Wednesday, July 26-27, for visitors to tour the boat and view the unloading.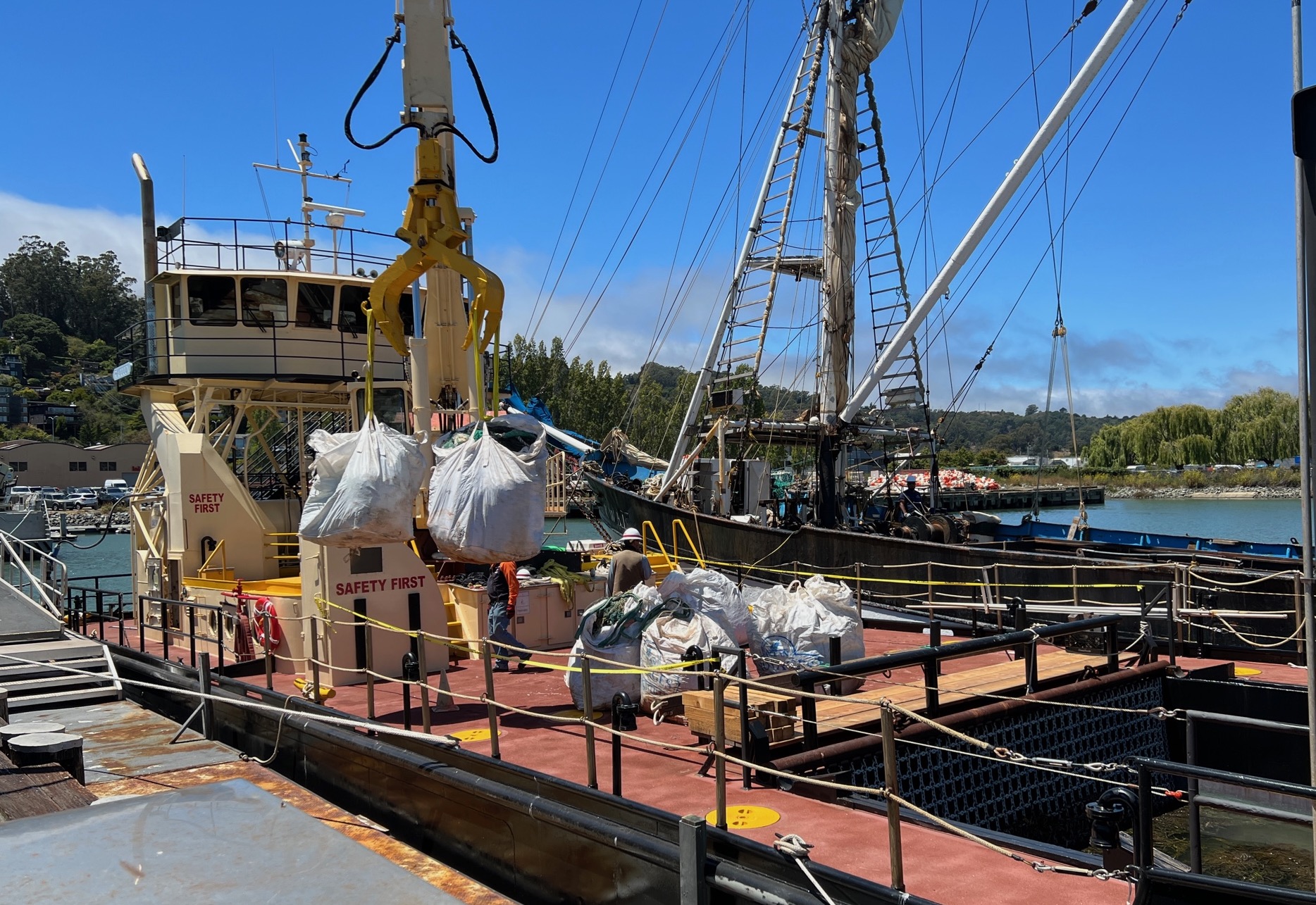 "No smell, surprisingly. The material was well organized, mostly in cargo bags," said Andy Stock on seeing the huge haul of trash. Stock is a San Francisco-based sailor and commercial fisherman who toured KWAI on July 27. "Hard work for what they believe in. Truly satisfying. It's a cause well worth supporting; they do a lot with a little."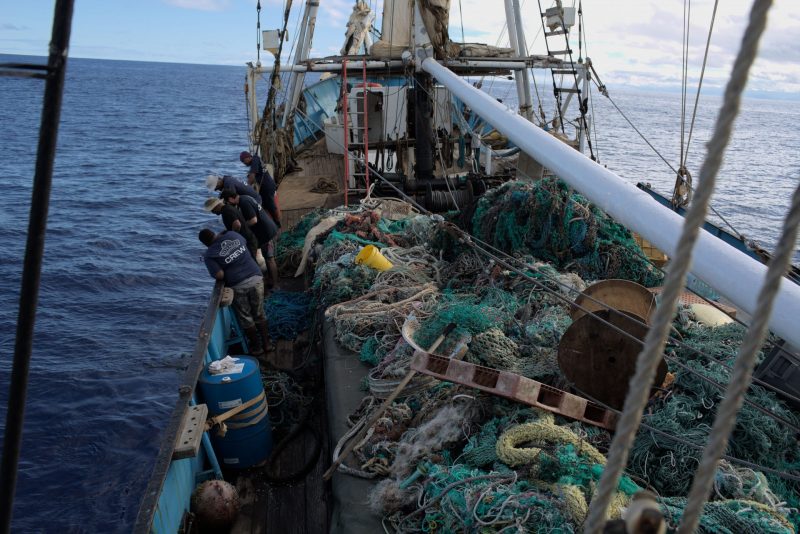 The dockside visitors included California Lieutenant Governor Eleni Kounalakis, who toured the boat and viewed the unloading. KWAI will still be seen for at least another week anchored in Richardson Bay, with plans afterward to repeat its mission.
KWAI is a reincarnated cargo ship, built in Germany in 1950 and outfitted with a sailing rig in 2005. The vessel was purchased by the government of the Marshall Islands for the purpose of offsetting the nation's carbon footprint, and is currently leased to the nonprofit Ocean Voyages Institute of Sausalito. It is ketch-rigged, with an auxiliary engine, but with the stated goal to use the engine as little as possible.
"Sustainable sailing cargo is what we're all about. We're able to stay at sea 55 days without running out of fuel," said KWAI's captain, Locky MacLean, who points out that the vessel uses only a small fraction of fuel compared to comparably sized vessels, thanks to the sails. "We are always sailing, even when motorsailing."
"Garbage is not a time-sensitive material that has to be on a tight schedule, so sail power is fine for this," said Chris McKay of Ocean Voyages Institute, which coordinated the expedition. "Pulling plastic by burning carbon is just nuts. So if you can do this by sail, it's a real win."
McKay describes the Pacific Garbage Patch as "a floating city of garbage," and admits that each haul might only make a small dent in the patch. However, "I think a lot of it is about building awareness. And the crew actually are doing something. They're going to keep going back and forth, and it will take a long time, but at least it's some progress. You can remove this plastic, turn it into construction products or energy. The main part is getting it out of the ocean and back to shore."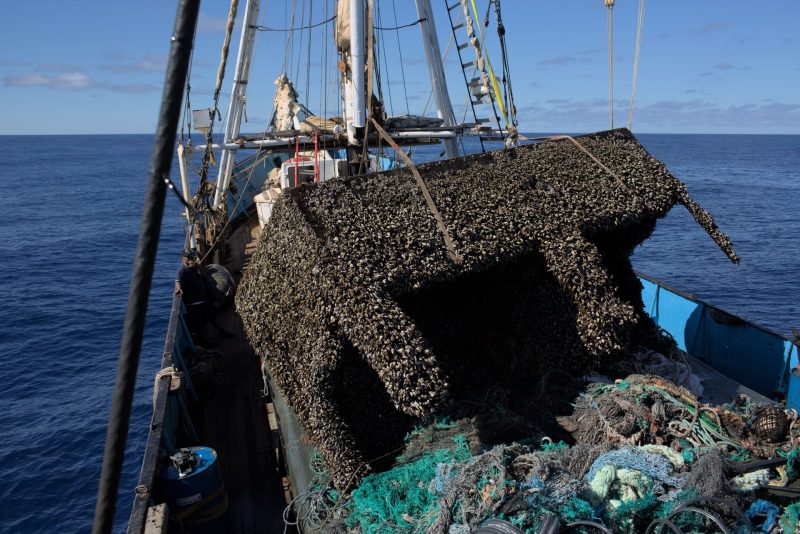 The science behind finding ocean garbage is surprisingly sophisticated. KWAI's crew, the shoreside team at Ocean Voyages Institute, and partners including NOAA and the University of Hawaii, rely on both satellite images and GPS trackers from volunteer sailors who spot and tag fields of debris.
"People want to do something worthwhile, and sailors help us by taking our trackers," said Mary Crowley, who founded Ocean Voyages Institute in 1979. Crowley herself is a lifelong sailor who has logged thousands of sea miles in places like the Caribbean, Galápagos, Panama, Pitcairn, Scandinavia, and West Africa. The OVI network of volunteer sailors even included several crews from the recent Pacific Cup race from Hawaii to San Francisco. "Sailors tag the trash, then we look over the radius and find all sorts of other debris and nets. The trackers have been beacons leading us to more areas."
KWAI's work is ironically aided by so-called "ghost nets," which are jetsam from fishing vessels, abandoned and left floating in the ocean, where they passively collect trash that accumulates over years. KWAI slows its speed when approaching a ghost net, which requires some work because the boat has no reefing points, so entire sails have to be changed and hoisted for different speeds and winds. The boat pulls alongside the trash to haul it out of the water, like a carefully orchestrated Crew Overboard maneuver.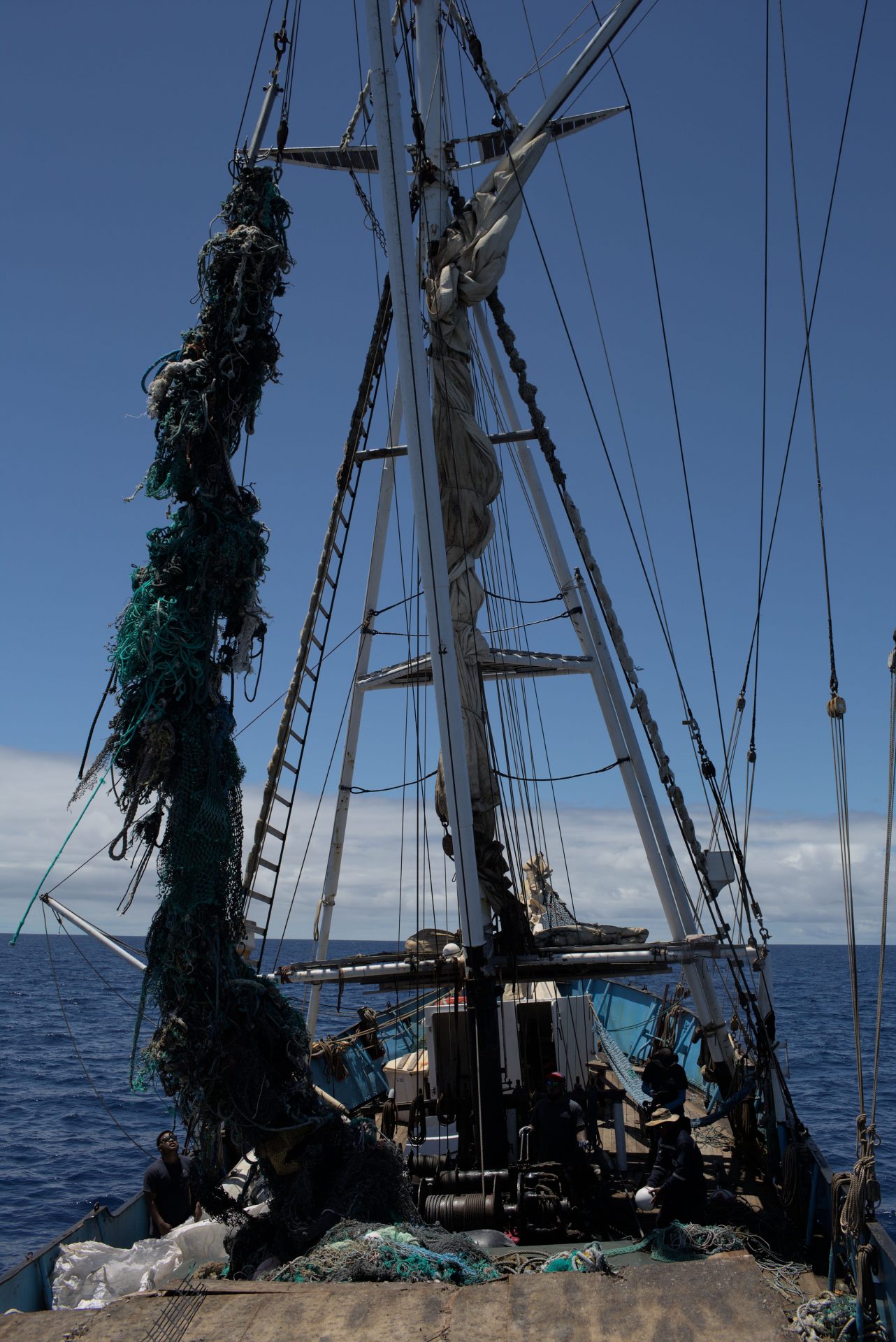 "You have to climb up; everything is old style, physically intensive," said Captain MacLean, who adds that many of the crew's hauls have been made while moving and entirely under sail. "We have to be pretty handy with the grappling hook."
"Ocean VELCRO®" is how Captain MacLean describes the ghost nets. "It's actually quite useful. They act like a magnet for smaller debris, like plastic toothbrushes and Crocs."
Captain MacLean says that his experiences have pushed him to reexamine his consumer habits, even saying that after seeing so many plastic toothbrushes in the ocean, he opted for a bamboo toothbrush. He is no stranger to the sea and environmental activism. Locky MacLean has been a professional sailor for over 20 years, and was even spotlighted on the cable show Whale Wars.
"Plastics will break down if you leave them long enough; then they're really dangerous, as microplastics." Captain MacLean describes a twofold threat from plastics in the ocean: first, as a threat to the food chain when plastics are ingested by fish, then second, a threat to ocean plankton's ability to absorb carbon and produce oxygen.
KWAI is one of several iterations of cleanup boats procured by Ocean Voyages Institute over the years. This is their largest vessel to date, and they're planning for another. To crew, track, or learn more, visit the OVI website at www.oceanvoyagesinstitute.org.
Receive emails when 'Lectronic Latitude is updated.
SUBSCRIBE