Nacra 17
Three classes of sailing will compete today (August 3 in Japan) at the Olympics, including the Nacra 17 medal race. Riley Gibbs (Long Beach) and Anna Weis (Fort Lauderdale, FL) earned their medal race berth after a strong performance on the final day of qualifying races. The first-time Olympians and Pan American Games gold medalists are mathematically eliminated from medal contention in Tokyo. They're in ninth place overall.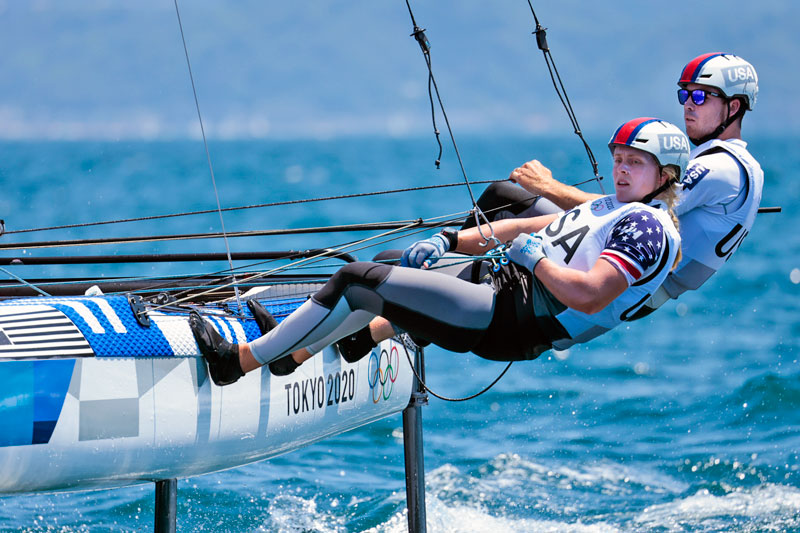 The medal race will start at 3:30 p.m. August 3 in Japan — that calculates back to 11:30 p.m. August 2 (tonight) Pacific Daylight Time.
470 Classes
In the Men's and Women's 470 classes, American sailors are competing in tight qualifying battles for the medal race. Following the two races scheduled for Tuesday in each class, the top 10 teams will advance. Stu McNay (Providence, RI) and Dave Hughes (Miami, FL) stand in 11th overall. In the women's fleet, Nikole Barnes (St. Thomas, USVI) and Lara Dallman-Weiss (Shoreview, MN) sit in 9th overall.
Laser
In the Laser, two-time Olympian Charlie Buckingham (Newport Beach) started July 30 in 8th overall, poised to fight for a medal race berth during races 9 and 10. The previous day, Buckingham had orchestrated one of the best days of his sailing career, earning a 3, 2 to vault himself into the top 10. However, a treacherously light-air day on the Enoshima course led to two races where many top Laser athletes found themselves deep in the pack. Buckingham's 16, 23 scoreline on Friday left him in 13th overall, just shy of the medal race field, and ended his regatta.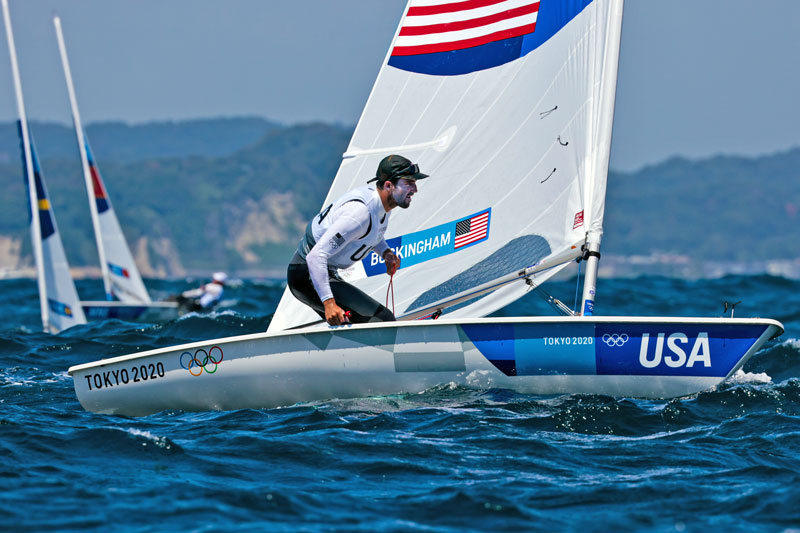 49erFX
On Saturday, 49erFX athletes Stephanie Roble (East Troy, WI) and Maggie Shea (Wilmette, IL) competed in the final three races of the 12-race qualifying series. Roble and Shea entered the day in sixth overall and 15 points from third. The final races of the qualifying series would determine who would finish in the top 10, and advance to the medal race, and be within reach of the podium.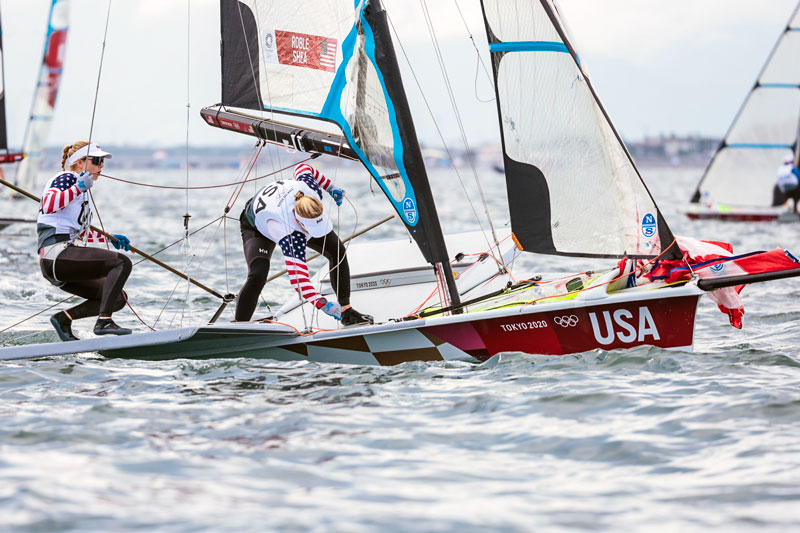 All courses on Saturday experienced a patchy 5-9 knots of wind with significant current. Despite the difficult conditions, Roble and Shea had a strong start in race 10, but finished 14th after receiving a career-first yellow flag penalty from the umpires for a Rule 42 breach for improperly moving their bodies to propel the boat in the very light conditions. In the second race (Race 11), the Americans again started strong, but touched the first mark as they were rounding in seventh place.
"After hitting it, we were working to get around the mark as the whole fleet was right there," said Shea. "We didn't want to get tangled up on the mark and cause a pileup. We wanted to get out of the way. We got around the mark, and immediately started spinning [a penalty-clearing 360° turn]. In the process of spinning, the umpires flagged us again for what we thought was hitting the mark. We were already spinning for hitting the mark, and kept sailing once we finished, thinking we were clear."
Roble and Shea crossed the line eighth in Race 11. But the umpires informed them that they had been scored DNE for both incurring a second yellow-flag penalty for Rule 42 and for failing to retire from the race.
"We told the umpires that we spun for hitting the mark," said Shea. "We and others that I've spoken to assumed that they were flagging us for hitting the mark. We knew we hit it, and we were in the process of getting out of the way of the fleet in order to spin."
A strong fifth-place finish in Race 12 came next. It would have left Roble and Shea in medal contention if the Race 11 score had not been converted from an eighth into a non-discardable DNE (disqualification non-excludable). Instead, Roble and Shea placed 11th overall, three points short of advancing to the medal race.
Completed Racing for Team USA:
Women's 49erFX – Stephanie Roble and Maggie Shea, 11th Overall – Final Recap
Women's Laser Radial – Paige Railey (Clearwater, FL), 37th Overall, Final Recap
Men's Laser – Charlie Buckingham,13th Overall – Final Recap
Women's RS:X – Farrah Hall (Annapolis, MD), 15th Overall – Final Recap
Men's RS:X – Pedro Pascual (Miami, FL), 9th Overall, Final Recap
Men's Finn – Luke Muller (Fort Pierce, FL), 13th Overall
Racing will continue through August 4. For information about how to watch video coverage of the sailing, see www.ussailing.org/olympics/tokyo.
Receive emails when 'Lectronic Latitude is updated.
SUBSCRIBE