The Classic 1960s Ocean Racing Legend
The Cal 40 is a roughly 39-ft 4-in fiberglass production racing and cruising sailboat, of which about 155 were built in Costa Mesa, California, starting in 1963. The first mass-produced sailboat that was capable of sustained surfing on waves, the Cal 40 dominated ocean racing during the 1960s like no other design before or since. It's the original longboard, a Southern California surfing machine that is capable of sustained 15-knot downwind speeds.
The Boat That Changed Everything
This breakthrough design ushered in dramatic changes in offshore racing, from the moment that Cal 40 #2, Conquistador, won the 1964 Southern Ocean Racing Conference, the marquee big boat series at the time. "Wooden ships and iron men" had been replaced by fiberglass boats and kids, as Cal 40s, sometimes crewed by teams of teenagers, crushed the competition in the Bermuda Race, the Transpac and many others.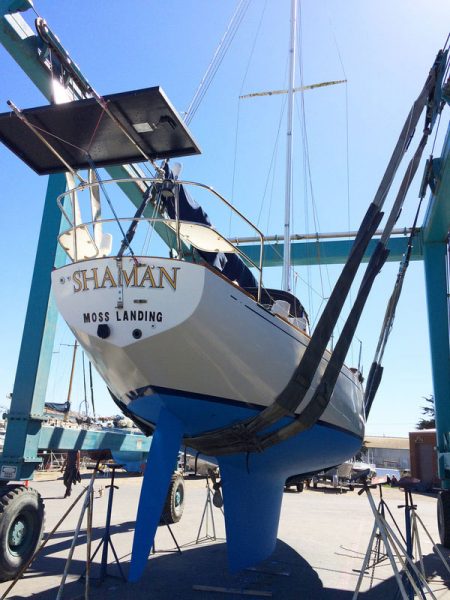 The Cal 40 was created as the combined work of three men. George Griffith, a successful racing sailor and member of the Los Angeles Yacht Club, reportedly drew the outline of a new kind of racing yacht hull on the back of a napkin, and showed it to his friend, naval architect C. William Lapworth. Griffith observed that sailing dinghies, like the International 14 class, were extremely maneuverable with their rudders hanging on their transoms, unlike the typical 40-footer of 1962, which was a full-keeled, heavy beast with the rudder swinging on the back of the keel.
Radical Ultralight Hull
Griffith's sketch showed a flat-bottomed, radically ultralight hull, lithe and canoe-like in shape, but with a brutal, trapezoidal 6,000-pound wing stuck to the bottom. And behind this wing of a keel, way back, was a separate "spade" rudder. The design that Bill Lapworth created, at 15,000 pounds, was considered questionable, radically light and dangerously underbuilt by many of the yachting authorities, not to mention its being built out of the avant-garde new boatbuilding material of fiberglass, referred to as "extruded snot" by the esteemed L. Francis Herreshoff.
Griffith and Lapworth unsuccessfully shopped their design around to several California boatbuilders, experiencing polite rejection until they showed the plans to Jack Jensen, who agreed to build the boat on the condition that Griffith could guarantee orders for at least ten boats.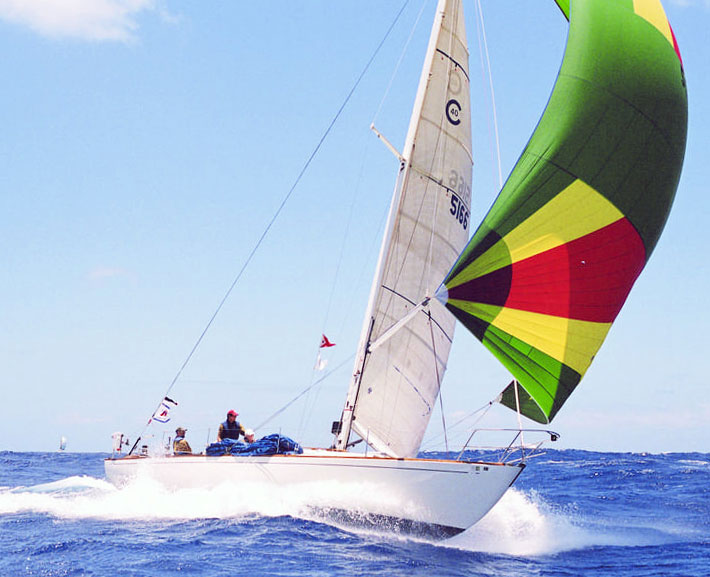 Fast forward to the present, and today the Cal 40 has attained true 'cult' status as a design that is sought after, restored and passed down through multiple generations of families. Try searching for Cal 40s that are for sale on Yachtworld and other sites, and you'll likely come up empty. Folks spend multiple years and a quarter of a million dollars restoring Cal 40s and fitting them out with the latest sails, gear and electronics.
Standing the Test of Time​
The Cal 40 has endured because it is not only a relatively quick downwind raceboat, but also a sweet-sailing light cruiser that, in the words of Cal 40 owner Stan Honey, "has no bad habits." It steers beautifully under autopilot — plus it is rare to find a tiller-steered 40-ft sailboat, especially one with a light helm.
​Cal 40s have twice achieved the record of being the biggest one-design fleet ever in the biennial Transpac Race, with 14 boats in 1966 and 2005. And the boat continues to rack up trophies in big ocean races too, as San Francisco Bay-based Cal 40s have continued to place well. Azure, Rodney Pimentel's Encinal-based program, has been consistently near the top of the fleet in Bay, coastal and Pacific races. Green Buffalo and Red Head, from Richmond Yacht Club, have won at the top level. And no list of modern-era Cal 40 accomplishments is complete without mention of the husband/wife team of Stan Honey and Sally Lindsay Honey onboard Illusion.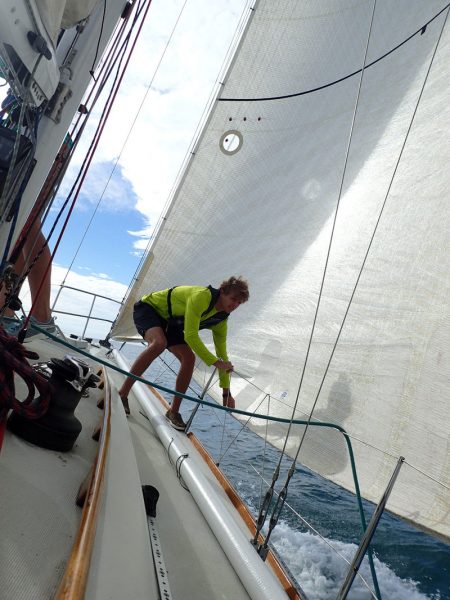 ​Many Cal 40 restorations are underway, or have happened recently. Fred Cook's complete down-to-bare-glass rebuild of Sequoia, documented in a great series of videos, is the most famous one. He's worked with Cree Partridge, Jim Antrim, Kame Richards and other top East Bay pros to create a virtually brand-new boat.
​A Swell Cal 40 Voyage
Perhaps the most well-known Cal 40 belongs to Liz Clark, who has been roaming the Pacific aboard Cal 40 #68, Swell. On what she calls, "a sailing surfer's voyage of awakening," Captain Clark has pushed the boundaries of solo cruising and sustainable living, all while attracting notice for her exciting adventures and sponsorship from the likes of Patagonia and North Sails. We have a copy of her excellent narrative, a book called Swell, onboard Shaman.
Receive emails when 'Lectronic Latitude is updated.
SUBSCRIBE