The last hundred days leading up to the Pacific Cup are usually a hive of activity as competitors are busy preparing their boats, making their final lists, getting inspected for safety and compliance, and spending time on the water training. Most of those same activities are still well underway this year. But, just like almost every other aspect of life right now, these unprecedented times call for new measures and no shortage of fluidity and adaptability. To that end, the Pacific Cup Yacht Club has revised their schedule of race deadlines and inspections while moving their pre-race board meetings and seminars entirely online to comply with social-distancing regulations. Many competitors have also adapted in a variety of different ways, all hoping to seamlessly move toward sailing in the 21st running of the Pacific Cup.
Some programs are very optimistic and charging full speed ahead with their preparations. "We are definitely still planning to race… If they let us go out the Gate we will be Hawaii bound!" insists Jason Crowson of the new-to-the-Bay J/125 Rufless. "We are still pushing forward, getting the boat ready, and making sure we meet all the requirements. We are pretty close to being ready. Rufus is even finishing the last few touches on our emergency rudder, a thing of beauty and probably nicer than most boats' main rudder! We are just trying to keep our social distancing while still getting everything ready to go," Crowson further explained.
Crowson and his brother, Richmond-based boat builder and pro sailor Rufus Sjoberg, have recently acquired the boat from Europe and brought it back to the Bay to give the rare and venerable 40-ft J/Boats platform a full rebuild before their first race to Hawaii on it.
Former Pac Cup commodore and multi-time race veteran Buzz Blackett tells us how he's been kept off the water but is still preparing for another Pacific Cup. "The need to shelter in place and California's county and state orders pretty much stopped all of our sailing preparations. We've only gotten 'io out in the ocean once and don't know when we'll get out again. Without sailing, I've shifted my focus to other new-boat stuff, like getting a VHF call sign and MMSI numbers for the radios, and working out gear stowage, sleeping, galley and other below-deck arrangements. We very much want to do the race, but recognize that there will have to be a lot of good news if it's gonna happen anytime soon."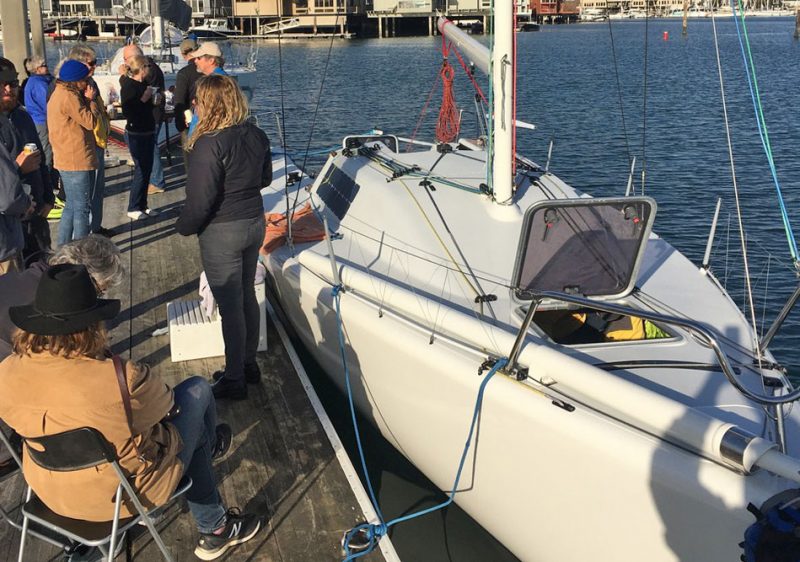 Blackett and his co-skipper, famed naval architect Jim Antrim, are planning to race Buzz's brand-new custom carbon fiber Antrim 27 'io. Both skippers turn 70 this year, but in their first outing on the new boat, they claimed first overall out of more than 300 starters in January's Three Bridge Fiasco. The coronavirus may target 'older' people, but these two senior citizens are raring to race to Hawaii and compete for overall victory.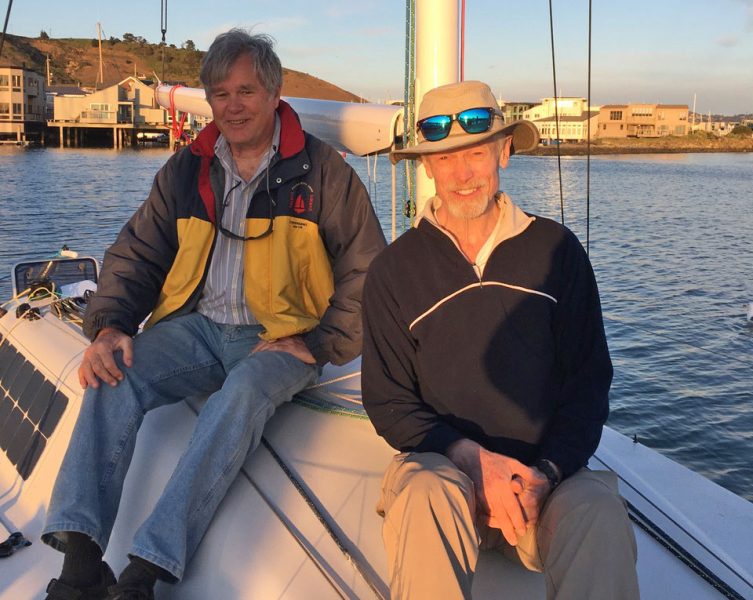 Out-of-town competitors such as Florida's Peter Fray, skipper of the prototype Mini Transat 415, have to deal with not just the coronavirus but the resultant uncertainty and logistical hurdles involved with remotely preparing for a race that may not be.
"We joke around that the Vegas odds are 19:1 against a race," Fray told us. "As such, we have delayed the shipping of our little boat to San Francisco until June. The boat is very close to ready, but I'm not investing in anything new at the moment, like sails or life raft. This will greatly impact my ability to get a PHRF certificate and inspections done before the race, but I can't afford to ship the boat without a race. We desperately want to do the race and are hoping for positive news. If the race is on and my crew is healthy we will compete. We have been attending the seminars remotely. That's actually a positive about the virus, because now the remote boats can attend these seminars."
Receive emails when 'Lectronic Latitude is updated.
SUBSCRIBE