We feel confident in saying that Randall Reeves is about to complete his ambitious Figure 8 Voyage, though he has yet to cross the official finish line. We'll paraphrase from our first conversation with Reeves in 2017 about his post-voyage philosophy and routine: "After a long time at sea, I like to anchor at Drake's Bay before sailing under the Gate," Reeves said, referring to his 12,000 singlehanded Pacific cruise in 2010 aboard his Far East Mariner Murre. "After being alone at sea for weeks, it can be a bit shocking to suddenly be in a car going down a six-lane freeway through the city."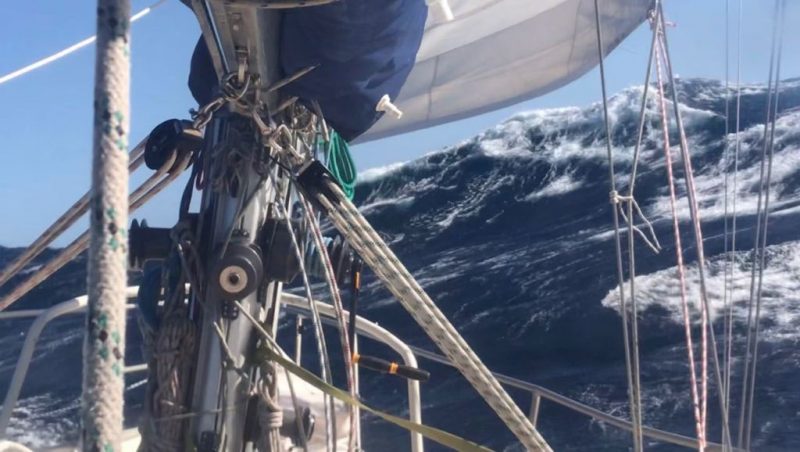 Reeves arrived in Drake's Bay last week, and will sail under the Golden Gate on Saturday, October 19. We'll share the details about the official reception in a moment.
First, a quick recounting of Reeves' last year. A circumnavigation of the Southern Ocean, and a (near) circumnavigation of the Americas, which, of course, included transit of the Northwest Passage. Reeves made good time through the Gulf of Alaska to arrive at the Bay's doorstep for the 'final leg'. From his tracker, it appears that Reeves and Moli have gone from Drake's to Bodega Bay.

Before he made landfall on the West Coast, a final gale put him and his 41-ft sloop Moli to the test. "Again and again Mo is pushed over by a crasher. If it catches her on the flank, there is the sound of a cannon and then green water flows over the house. Many times the leeward windows go under and the cockpit scoops up a sea . . . That I have chosen to put Mo in harm's way so close to home, that having been through so many gales, I could mistake the power of this one — this angers me. But the anger does not cover a low and gnawing fear. Could we fail to make it home at all?"
While intense, the gale was short-lived. "I relax a little. I prop myself into a corner and watch. By evening the barometer is still dropping but the wind has come down. The rigging no longer wails. I have unrolled the jib. We fly homeward over dark seas licked by moonbeams." Reeves slipped into Drake's Bay practically unnoticed as the Bay prepared for Fleet Week.
It is difficult to state the significance of Randall Reeves' soon-to-be-completed Figure 8. Sailors circle the word all the time, but few choose routes so long, unique and mind-bogglingly challenging — and few sailors have documented their voyages with such candor and humility. As Bay Area sailors, we cannot begin to express our pride and admiration for what Randall Reeves has done.
We hope that the sailing community will show their support for Reeves and his remarkable accomplishment. Let's give him a proper West Coast welcome.
October 19's event details, timelines, and opportunities to RSVP:
There is one RSVP invitation for the "shore" event at the Sausalito Yacht Club. If you are planning on attending you must RSVP on the invite or we're not going to be able to let you in. If we don't have your name (and the number of guests you're bringing) on the list, we'll be making sad faces. We don't want to make sad faces.
11.30 a.m. Moli / Randall estimated arrival at Mile Rock.
Flotilla: Plan to be out there. Please note we will have two to three media boats with cameras etc.  People on land: You can drive out the Headlands and watch / take photos of Randall coming in. It's quite a view but note that he won't be able to see you. You'll be too high up/tiny.
12.30 p.m. Moli / Randall estimated sailing under the Golden Gate Bridge.
Flotilla: Please stay on Moli's starboard side so the folks on land can get their photo opportunities. People on land: We'll be on the breakwater at the end of Travis Marina/ Point Cavallo. Lots of parking around the Bay Area Discovery Museum. Limited parking at Point Cavallo. It's a short walk from the Bay Area Discovery Museum.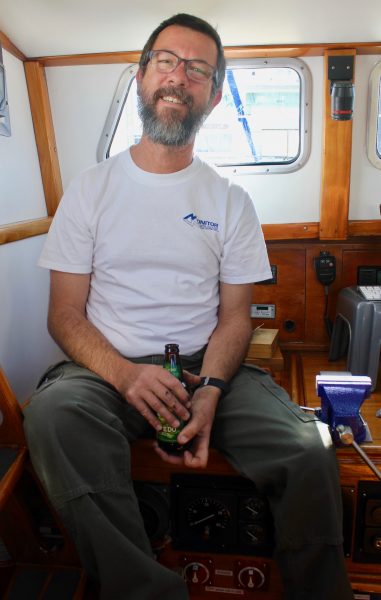 Final notes and next steps:
We already have several requests from multiple locations and groups for Randall to come in and speak about his adventures. If you're interested in joining we'll be posting the opportunities on the site, so stay tuned. If you have a group or organization that might be interested in hearing Randall speak about his adventures please feel free to reach out.
Remember to RSVP to the Yacht Club Event if you plan to attend.
This story originally included a information about an event at Sausalito Yacht Club — that gathering is now sold out.
Receive emails when 'Lectronic Latitude is updated.
SUBSCRIBE