Yesterday marked a milestone at Point Isabel Park in Richmond, as a new windsurfing launch was "christened" by a dedicated group of East Bay sailors. The launch was made possible by the advocacy of several involved citizens, as well as funding from multiple agencies. Technically, the new concrete ramp is "water access" and not exclusively designed for windsurfing. Point Isabel Regional Shoreline is also one of the most popular dog parks, like, in the entire world — or at least in the East Bay. The improved access is a win for everyone, but, that said, the hardcore East Bay crew will likely be the main beneficiaries in the coming summer months.
During a time when the Bay Area' sailing infrastructure is slowly shrinking, a new launch is a positive step — and one taken just in time for the windy season.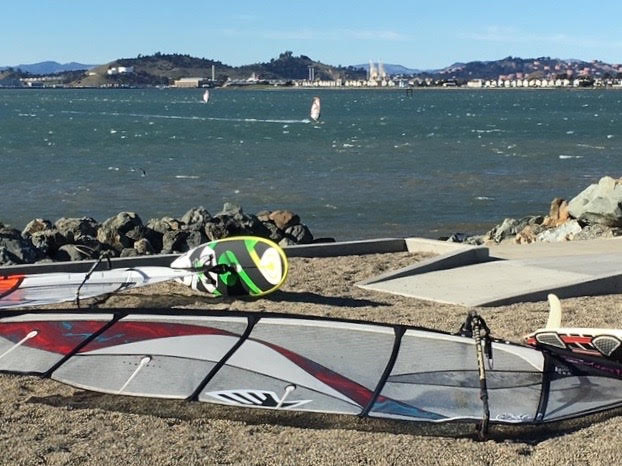 The concrete ramp replaces haphazard steps that used to lead down to the water. There's also a large pit filled with "pea gravel" which is ideal for rigging and unrigging (it's relatively soft, and your gear doesn't get sandy or grassy). This new "rigging station" replaces a haphazard patch of gravel and large areas of dirt where sailors formerly set up their gear. The pea gravel was another critical design feature that came to fruition from user input, according to a windsurfer involved in the project.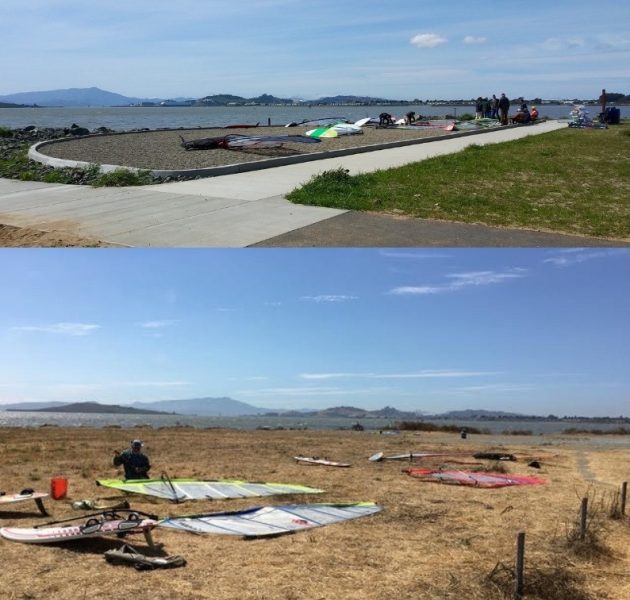 Yesterday was forecast to be super windy, but when this writer arrived around 2 p.m., the breeze was fizzling out. Windsurfer James Shalaby hosted a small BBQ as about 10 to 15 sailors shuffled in and out of the water, and back and forth from the buffet table.
I have been casually running into these guys (and a few women) for over a decade now, usually starting around March or April and extending into October. Yesterday, seeing the crew for the first time this year, some guys told me they already had 5 to 10 days of sailing under their belts.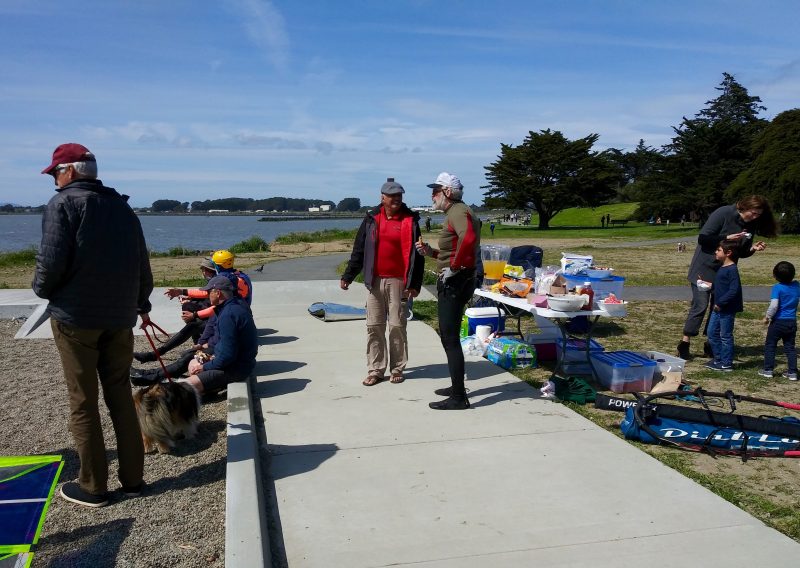 It was my first day of the season.
Officially known as the Point Isabel Water Access and Shoreline Restoration Project, the improvements were first proposed in 2002 in the Eastshore State Park General Plan. Construction at "Isabel" (its colloquial handle among sailors) began late last summer. There were numerous "cognizant agencies" involved in the project, but we'd like to tip our hats to the Bay Conservation and Development Commission, or BCDC, for helping to make this happen.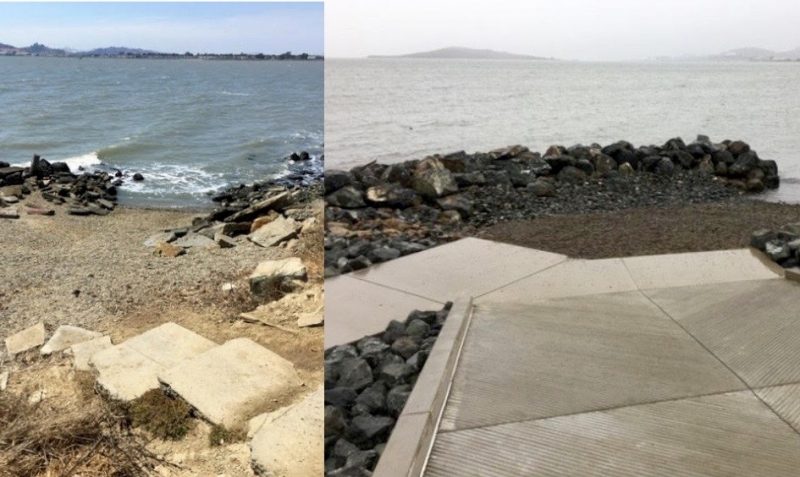 Perhaps the most involved windsurfer in the Point Isabel project was David Fielder. "He's our activist," another sailor told me last year. Initially, Fielder lobbied the East Bay Regional Parks District (EBRPD) Board in 2015 to plan and fund the Isabel project; he subsequently helped ensure that the final design met the needs of the windsurfing community. "That kind of advocacy — of who knows what's what — is critical," Fielder told me. He also started an email group among the East Bay crew soliciting feedback during the public comment period, as well as keeping everyone updated and documenting the project.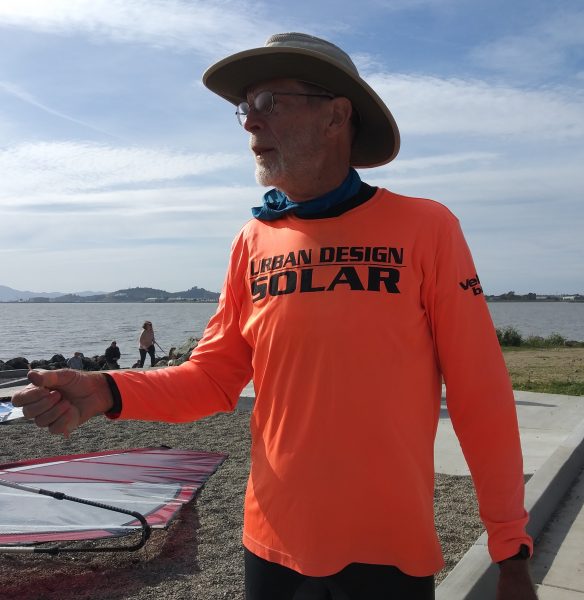 Fielder also made sure to credit the SF Bay Water Trail, specifically Ben Botkin (who was at the BBQ) as well as the California State Coastal Conservancy. "Both organizations were key project funding sources, although I believe the EBRPD put in most of the money."
The new launch represents Phase 1 of the Point Isabel project, which is estimated to take six years to complete. Next on the agenda is more parking. And next in line for an upgrade is the "other" East Bay windsurfing spot: the Berkeley launch at the now-boarded-up Hs Lordships. Stay tuned for our reporting on the fate of Berkeley's waterfront infrastructure — and some of the characters that windsurf in the East Bay — in a future issue of Latitude.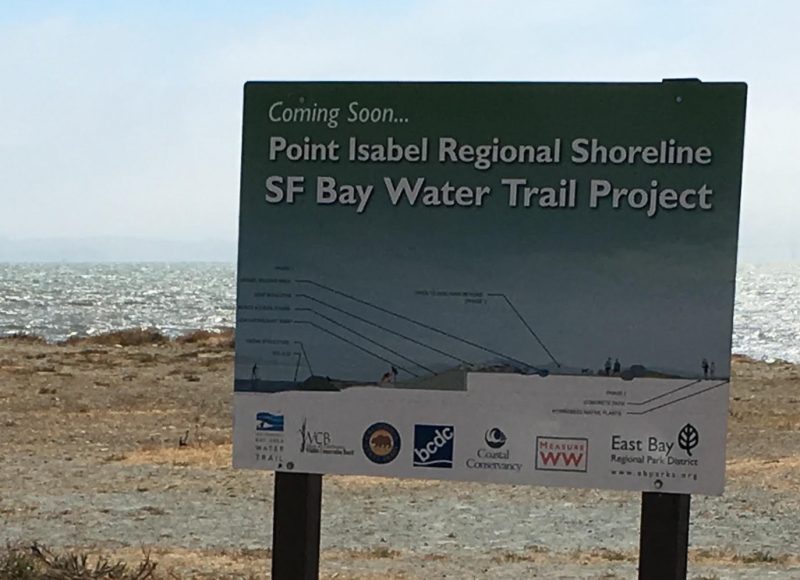 There were still a few puffs coming though yesterday afternoon, so I decided to take a lap or two. I was mostly "slogging," or not planing, but all it took was one decent gust — as I was headed toward Craneway Pavilion — to get things going. And so it starts: I trade obsessing over snow reports for obsessing over wind reports.
Let the Bay Area's windy season begin.
This story has been updated.
Receive emails when 'Lectronic Latitude is updated.
SUBSCRIBE