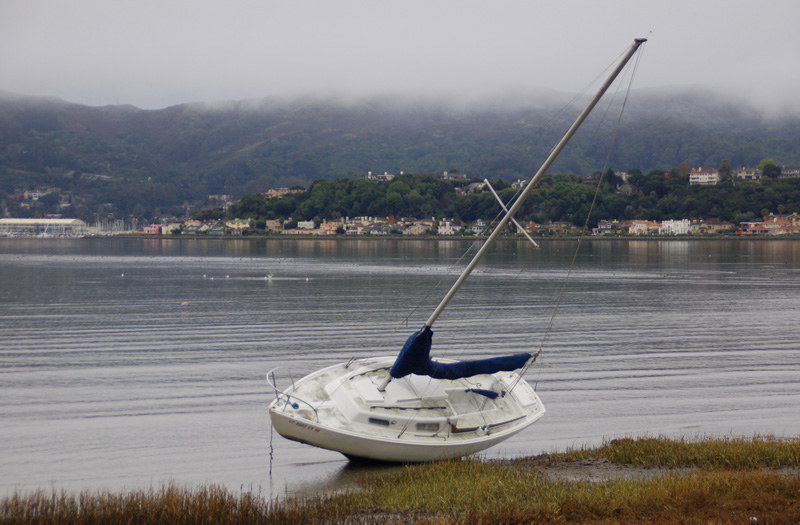 Unless you've gone into hibernation, you know that a monstrous storm system is heading our way this weekend with the promise of sustained winds up to 30 knots and higher gusts, accompanied by torrents of rain. In addition, early on both Saturday and Sunday, six-foot-plus high tides will elevate the storm surge coming out of the south, which will undoubtedly lead to localized flooding.
Knowing Bay Area sailors as we do, we'd bet that some diehards will venture out on the water despite such gloomy predictions. But the wiser option might be to curl up in a warm, dry spot — perhaps catching up on the latest sailing news in the January Latitude 38, or perusing our recently published Northern California Sailing Calendar and YRA Master Calendar.
Before heading for high ground, however, we'd strongly recommend that you put out extra fenders, check all your docklines and fit them with chafe gear and rubber snubbers. If you have a roller-furled headsail, remember to furl it tightly and tie sheets or a safety strap around it. Also, if your boat is single-side-tied in a double berth be sure to check the lines of your neighbor's boat. And if your boat is moored in a south-facing anchorage, especially in Sausalito's Richardson Bay, well, God help you. You're in for a wild ride.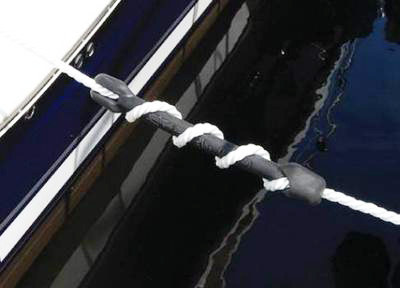 LOCAL RACING UPDATE:
• The Perry Cup races for Mercurys in Monterey on Saturday, January 7, have been canceled due to the inclement weather forecast.
• Racing for all classes in Richmond Yacht Club's Small Boat Midwinters is likewise canceled for Sunday, January 8.
• Sausalito YC's Race Committee will decide at 8:30 Sunday morning whether to proceed with that day's Chili Midwinter race.
If you do venture out on the water this weekend, be safe out there.
Peter Johnstone, the founder and former owner of Gunboat Catamarans, reports that Rainmaker, hull #1 of the Gunboat 55 series, is getting a refit. A total refit.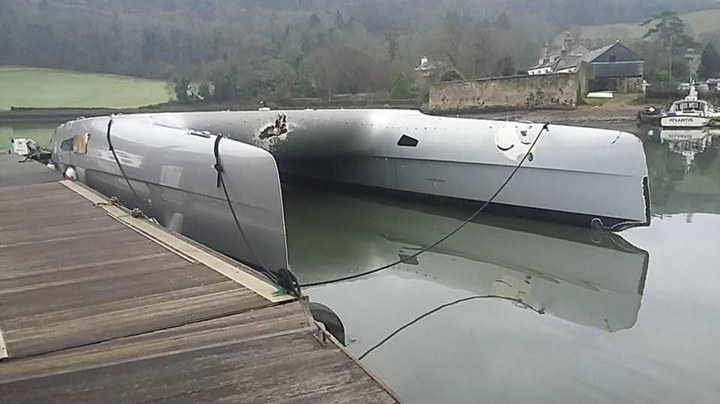 You may remember that Rainmaker's five-person crew abandoned her following a dismasting in very rough weather about 180 miles off the coast of North Carolina in late January of 2015. This was her first long ocean passage. Whether the crew should have abandoned her was the subject of some controversy.
In the following months the abandoned carbon-fiber cat was twice spotted awash while well offshore, but was destined to spend two winters in the North Atlantic left to her own devices. She was eventually spotted and towed to Bermuda by members of the Oracle Team USA America's Cup team.
Having received rave reviews prior to the incident, the abandonment of Rainmaker received tremendous publicity. It no doubt contributed to the bankruptcy of Gunboat, which was purchased by Grand Large Yacht — the parent company of French boatbuilders Allure Yachting, Garcia Yachting and Outremer Yachting — for $910,000 and the waiver of lawsuits.
Johnstone, the visionary and driving force behind Gunboat cats, always said he hoped that Rainmaker could be salvaged and rebuilt. His wish is coming true.
The auction of Rainmaker last August drew 20 bids, according to Cooper Capital Specialty Salvage, ultimately selling for just under $40,000. We don't know where she was taken for the refit, but given the background of the photos, several people have speculated that she's at the Multihull Center in Cornwall, UK.
It's fun to ponder whether buying Rainmaker was a smart purchase. The Gunboat 55s — which are still being launched — initially sold for more than $2 million. The basic structure of such a boat probably represents about 25% of the final cost. But the new owner paid less than 2% of the original $2 mil selling price. Nevertheless, Rainmaker will need well in excess of a million dollars to get sailing again. There is also the matter of how difficult it will be to get insurance for her.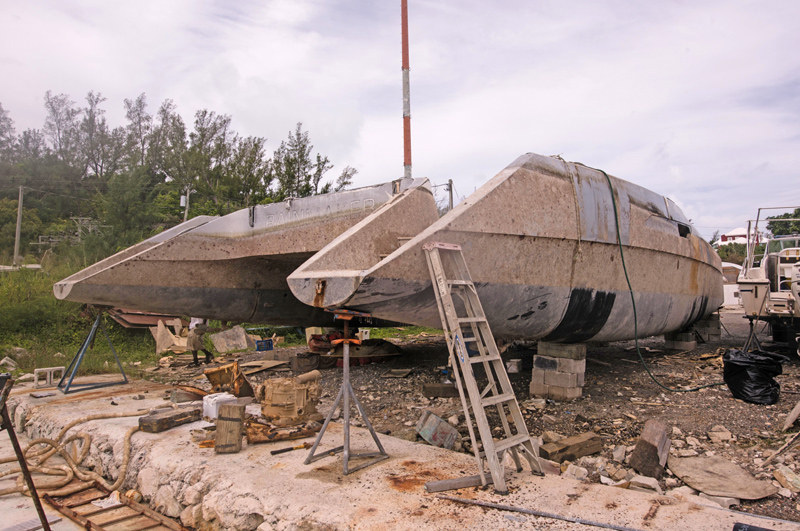 Latitude wishes the new owner success with his big project. And if Rainmaker wins a significant race or two after her restoration, it will be nice to see the smile on Johnstone's face.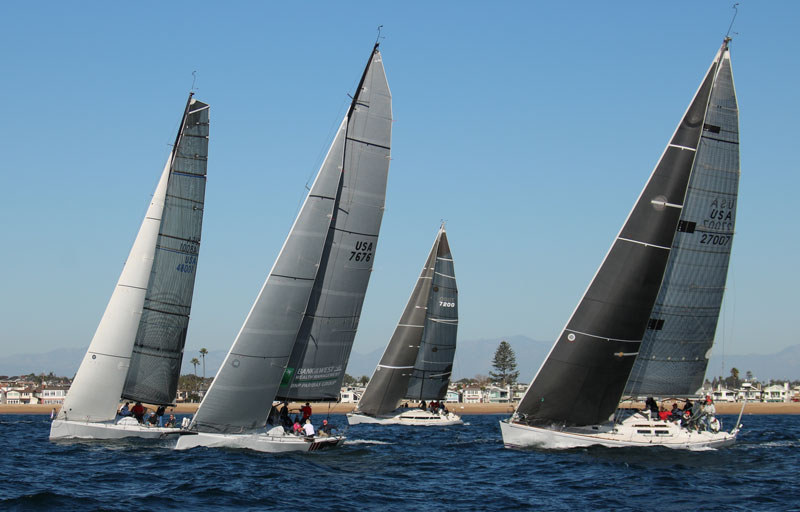 More than 100 sailors, representing the top fundraisers from Leukemia Cup Regattas throughout the country, and their guests took to the waters off Bahia Corinthian Yacht Club in Newport Beach on December 3. In Harbor 20s and PHRF boats, they took part in the Leukemia Cup Regatta Fantasy Sail with Gary Jobson. TNT, a 1D48 owned by Wes Selby, was the winner of the Fantasy Sail Challenge race.
The top 2016 national individual and team fundraisers were recognized during the weekend, including Matt Cromar, who raised $185,000 for San Francisco YC's Leukemia Cup. For the tenth year in a row, SFYC was awarded the Gary Jobson Cup as the host of the top fundraising Leukemia Cup Regatta. The SFYC Leukemia Cup, held this year on October 22-23, raised $690,000 in 2016 and has raised more than $7 million during the 11 years since its inception.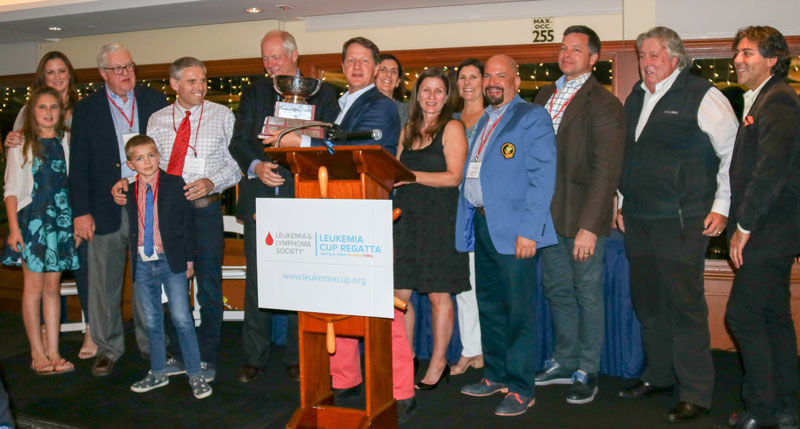 Gary Jobson helps to organize and host the Fantasy Sail weekend, and he sailed on two of the boats during the Challenge races. Jobson has served as the national chairman of the Leukemia Cup Regattas since 1993. His involvement took on personal significance in 2003 when he was diagnosed with lymphoma. He underwent a stem-cell transplant and has been in remission since then.
During the Newport Beach event, it was announced that the 2017 Fantasy Sail with Gary Jobson is scheduled for October 27-29 in Annapolis, MD. The weekend will celebrate Jobson's 25th year of service as the national chairman of the Leukemia Cup Regattas.
For more info, visit www.leukemiacup.org. See more photos from the Fantasy Sail at www.joysailing.com.
Receive emails when 'Lectronic Latitude is updated.
SUBSCRIBE