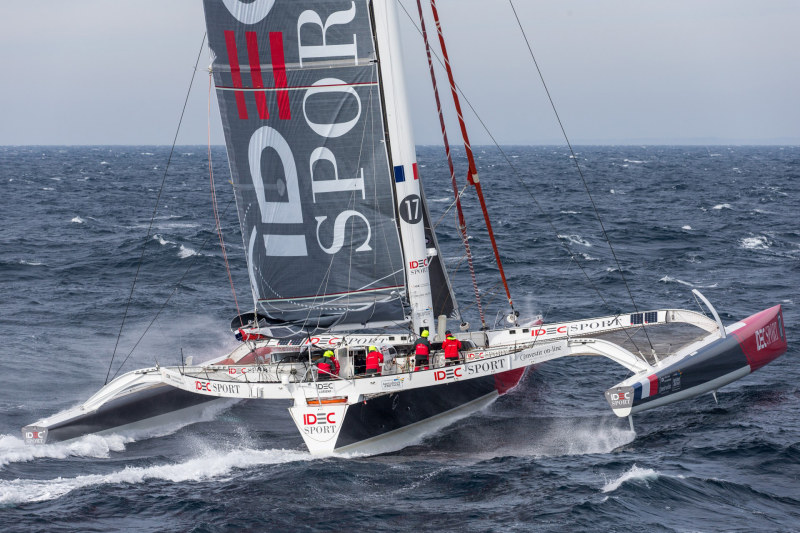 For around-the-world race fans 2017 has gotten off to a brilliant start, as IDEC Sport, the 105-ft VPLP trimaran that formerly graced the Bay Area when named Lending Club 2, is now halfway through her Trophée Jules Verne attempt, and is smashing speed records at a pace of almost one per day!
When she entered the Roaring Forties and the Southern Ocean, IDEC Sport was roughly 750 miles behind the record pace set by Banque Populaire V. Since then, Francis Joyon and his crew of five have managed to sail on the same low-pressure system for more than a week. Averaging an incredible 35 knots straight down the rhumbline, the red, white and grey maxi-trimaran has turned that 750-mile deficit into a lead of just over 1,000 miles. But Joyon and crew must soon take their feet off the gas slightly to avoid outrunning the dream weather pattern that could continue to propel them toward Cape Horn.
Although IDEC Sport has not yet eclipsed Banque Populaire V's 24-hour record of 907 miles — set in the North Atlantic in 2009 — Joyon and crew have managed to sail more miles in one day than the much bigger Banque Pop V did during her Trophée Jules Verne record attempt. During the final days of 2016, IDEC Sport racked up 24-hour runs of 876, 871 and 869 miles respectively, allowing her to absolutely smash the record across the Indian Ocean and the benchmark time from France to Cape Leeuwin, Australia. As many fans know, thanks to the boat's online transponder track, IDEC Sport just crossed the Indian Ocean in a jaw-dropping 4 days, 9 hours and 37 minutes at an average speed of 35.08 knots.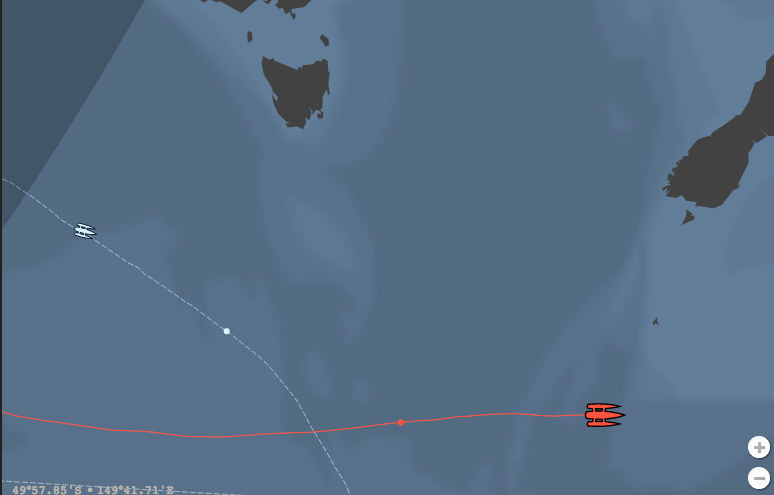 Meanwhile, in the (solo-sailed) Vendée Globe, leader Armel Le Cléac'h on Banque Populaire VIII is beginning to reach the southeast trades off the coast of Brazil and is again making steady gains on Alex Thomson, who currently holds second place aboard Hugo Boss, while Jeremie Beyou remains solidly in third place on Maître Coq. Jean-Pierre Dick's fourth place is anything but solid, however, as Yann Elies and Jean le Cam are both challenging Dick's lead while the trio smashes upwind. See the website for more.
Jack van Ommen wants his family, friends and many fans not to be overly concerned about what looks like a perilous situation for him and his Gig Harbor, Washington-based Naja 30 Fleetwood.
"Grounding on soft mud is nothing to worry about," he assures everyone, "although the incident taught me not to trust the cruising guides too much."
While Jack didn't say where he'd gone aground, we believe it was in an estuary of El Salvador. If we're not mistaken, El Salvador is the 53rd country he's visited since starting cruising in his mid-60s, financed entirely by a mid-level Social Security pension. Jack's a Latitude hero.
We know that Jack had already made it across the Gulf of Tehuantepec, having taken a little dusting from the edge of a T-Pecker, and then made an unscheduled stop at the Marina Pez Vela in Puerto Quetzal, Guatemala. He reports that his boat is the only sailboat in the marina.
How quickly can you move along in a small boat? Jack sailed south with the Baja Ha-Ha fleet in early November, spent some fine days in La Cruz later in the month, then continued south. His goal is 'Around the World in 80 Years', which means he has to cross an imaginary line between Trinidad and Miami before he turns 80 in late February. He still has a lot of ground to cover, but we think he'll make it.
Other noted septuagenarians on the move or about to be on the move include Jeff Hartjoy of the Longbranch, Washington-based Baba 40 Sailors Run and Jeanne Socrates of the Victoria-based Najad 380 Nereida. Having finished his singlehanded nonstop around-the-world voyage in Ecuador, Jeff is now moving up the mainland coast of Mexico to Barra de Navidad and La Cruz. Jeanne, denied on her attempt to set another singlehanded nonstop around-the-world record, is also headed to La Cruz in anticipation of yet another record attempt starting later in the year.
Let's face it, when it comes to singlehanded sailing, the 70s are the new 30s.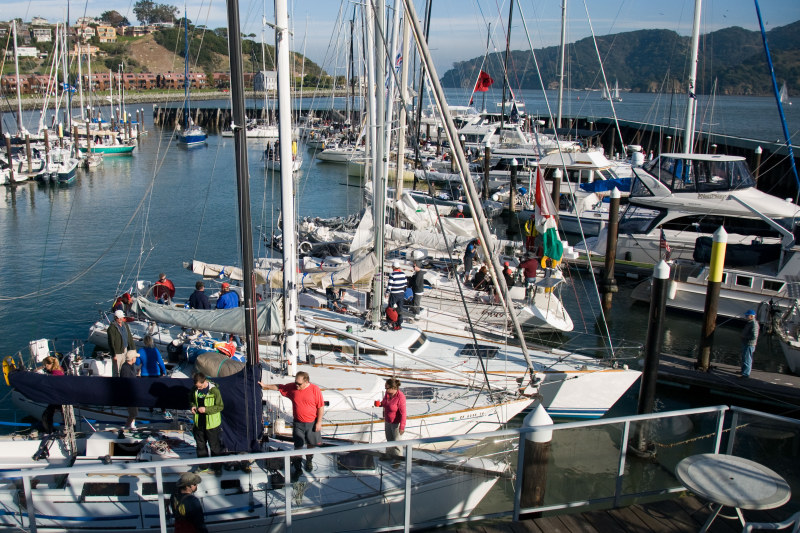 Like storms in a wet year, the winter season of racing on San Francisco Bay rolls along. More players join the fun during the month of January, starting this Saturday, January 7. That's the date that Tiburon Yacht Club's midwinter series begins. The three-part series will continue on February 4 and March 4.
Oakland YC's seven-race Sunday Brunch Series will kick off on January 15 and conclude on March 26. Brunch itself is offered in the clubhouse in the morning, and guest skippers are welcome to tie up at guest dock #2. Post-race, return to OYC's Alameda clubhouse for results, daily prizes, and more sustenance.
Attracting sailors from all over the globe, including from California, the tropical waters of Florida will set the stage for Quantum Key West Race Week on January 15-20. Six hundred sailors on more than 90 boats, representing 11 nations, will sail in nine classes. We hope that some of the West Coast-based sailors will let us know how this 30th edition plays out.
Like last year, KWRW will be followed by the Conch Republic Cup from Key West to Cuba on January 22-February 3. One hopes that, in this second consecutive year, some of the kinks will be smoothed out.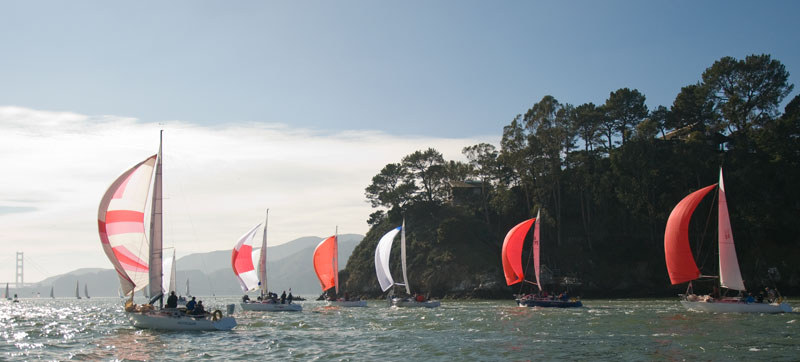 Perhaps the biggest (in terms of entries and parties) of the Bay Area midwinter series will start on January 21-22. Corinthian YC in Tiburon serves as a convergence point for racers from all points of the compass, and the shoreside scene acts as a post-holiday reunion for the sailors. The four-race series will conclude on February 18-19.
According to the organizers, "The Three Bridge Fiasco, conducted by the Singlehanded Sailing Society of San Francisco Bay with more than 350 competitors, is the largest sailboat race in the United States." On January 28 the Fiasco will take singlehanders and doublehanders on a 21-mile Bay tour. What makes it a (sometimes complete) fiasco? Skippers get to choose the direction of starting, finishing and mark rounding; it's a pursuit race, so mass quantities of boats often cross the line (from opposite directions) all at once; and, in some years, the big currents and fickle winds of winter make it almost impossible to finish at all. The skippers' meeting will be held at Oakland YC on Wednesday, January 25, which is also the deadline to enter.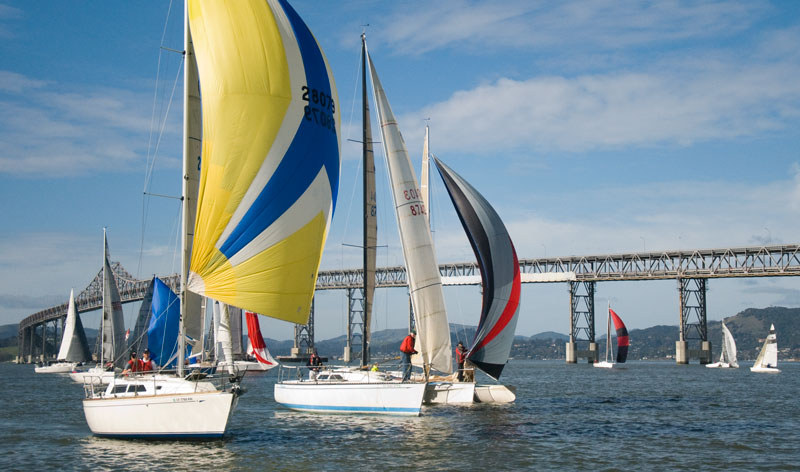 These and many more worthy races can be found on our Calendar in the January issue of Latitude 38. Here's one that missed getting into the magazine:
Trailer-sailors have been invited to the Superbowl Charity Regatta on January 28 in Marina del Rey. It's open to boats less than 25 feet, ranging from Vipers to Lido 14s to Optis, and three courses will accommodate the diverse designs. The regatta will benefit the Santa Monica Bay Sailing Association. (In case you're worried about missing the eponymous football game, there's no conflict, as that other sporting event will be held on February 5).
Receive emails when 'Lectronic Latitude is updated.
SUBSCRIBE