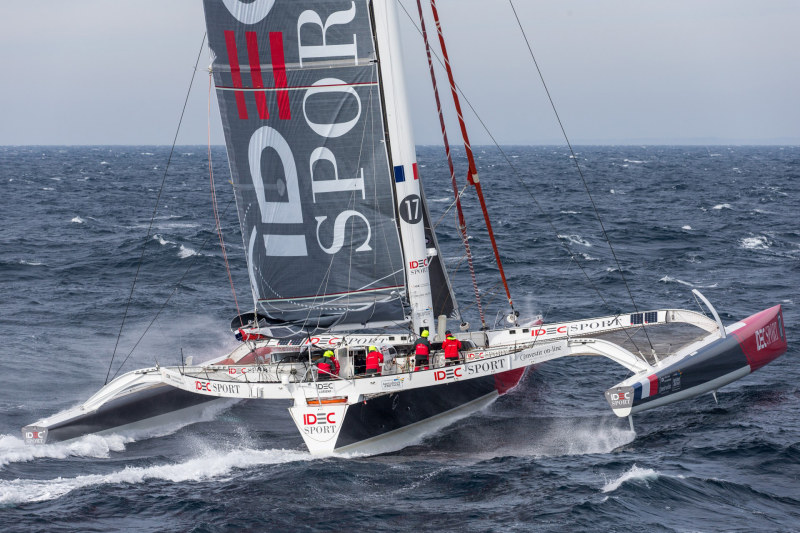 For around-the-world race fans 2017 has gotten off to a brilliant start, as IDEC Sport, the 105-ft VPLP trimaran that formerly graced the Bay Area when named Lending Club 2, is now halfway through her Trophée Jules Verne attempt, and is smashing speed records at a pace of almost one per day!
When she entered the Roaring Forties and the Southern Ocean, IDEC Sport was roughly 750 miles behind the record pace set by Banque Populaire V. Since then, Francis Joyon and his crew of five have managed to sail on the same low-pressure system for more than a week. Averaging an incredible 35 knots straight down the rhumbline, the red, white and grey maxi-trimaran has turned that 750-mile deficit into a lead of just over 1,000 miles. But Joyon and crew must soon take their feet off the gas slightly to avoid outrunning the dream weather pattern that could continue to propel them toward Cape Horn.
Although IDEC Sport has not yet eclipsed Banque Populaire V's 24-hour record of 907 miles — set in the North Atlantic in 2009 — Joyon and crew have managed to sail more miles in one day than the much bigger Banque Pop V did during her Trophée Jules Verne record attempt. During the final days of 2016, IDEC Sport racked up 24-hour runs of 876, 871 and 869 miles respectively, allowing her to absolutely smash the record across the Indian Ocean and the benchmark time from France to Cape Leeuwin, Australia. As many fans know, thanks to the boat's online transponder track, IDEC Sport just crossed the Indian Ocean in a jaw-dropping 4 days, 9 hours and 37 minutes at an average speed of 35.08 knots.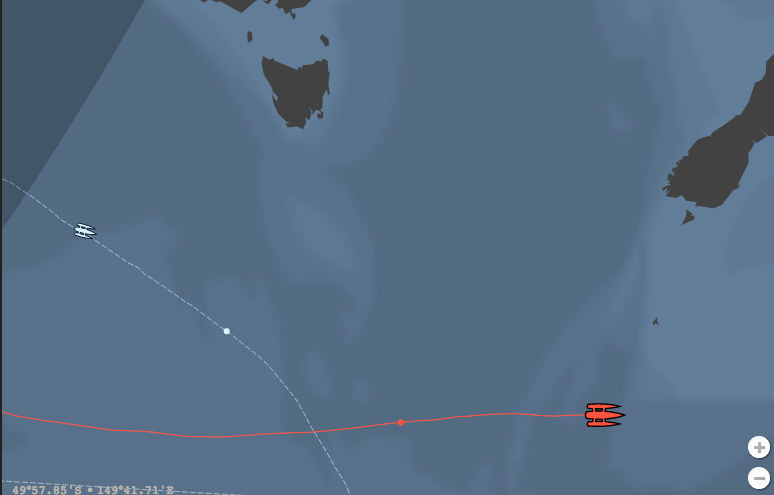 Meanwhile, in the (solo-sailed) Vendée Globe, leader Armel Le Cléac'h on Banque Populaire VIII is beginning to reach the southeast trades off the coast of Brazil and is again making steady gains on Alex Thomson, who currently holds second place aboard Hugo Boss, while Jeremie Beyou remains solidly in third place on Maître Coq. Jean-Pierre Dick's fourth place is anything but solid, however, as Yann Elies and Jean le Cam are both challenging Dick's lead while the trio smashes upwind. See the website for more.
Receive emails when 'Lectronic Latitude is updated.
SUBSCRIBE