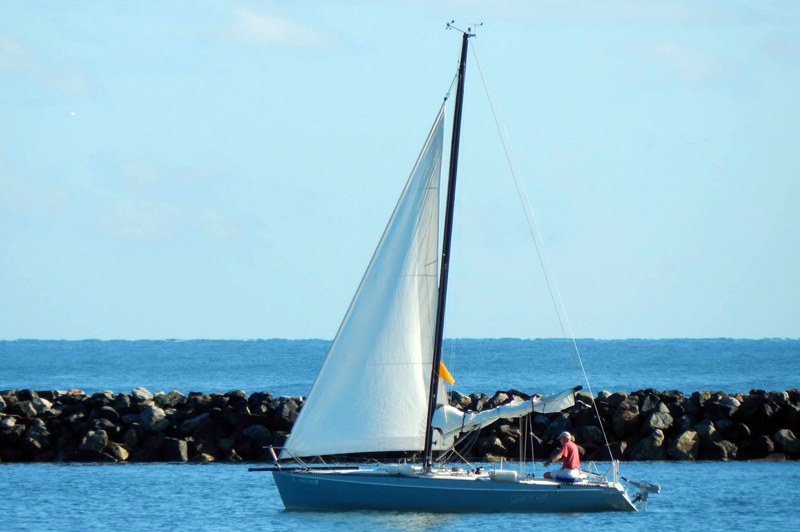 If you're a fan of sailing literature, you've probably read harrowing accounts of crossing the Tasman Sea between New Zealand and Australia — a 1,000-mile-wide body of water that's notorious for rough and rowdy conditions.
Many sailors dread the idea of making that crossing, while others, such as Webb Chiles, 74, simply take it in stride. As noted in earlier reports, he is currently roughly a third of the way through his sixth circumnavigation. This time, aboard a tiny yet well-equipped Moore 24 named Gannet.
"We arrived in Bundaberg, Australia, a few days ago," reports Webb. "On the passage, there was no drama. After a fast start with 20 to 25 knots behind us, the sailing was mostly easy and mostly slow. Still, any passage to or from New Zealand that does not include a gale is a success."
"A combination of our course to the NNW, the position of the sun, and wind direction, caused most of my six deck-mounted solar panels to be shaded by the sails most of each day and thus poor solar charging. The tiller pilot was running the battery down, so I switched to a sheet-to-tiller self-steering, which I've used for more than 35,000 miles on other boats. I knew it would work, and it steered for half the passage."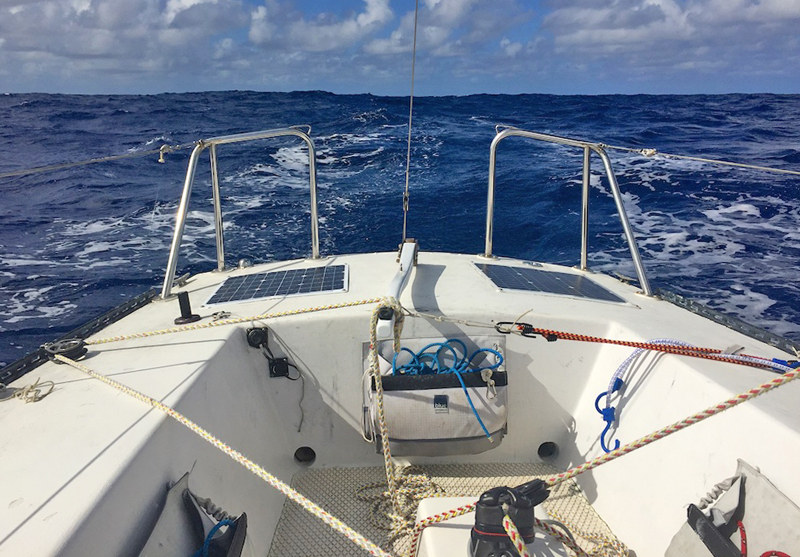 If you haven't tried this old-school technique, check it out sometime. Back in the day, before autopilots and windvane steering devices, sheet-to-tiller steering was an extremely common technique among adventurous offshore sailors — especially singlehanders.
The basic idea is that both sheets are led aft via blocks and fairleads, then attached to the tiller by simple knots or via jam cleats; thus making adjustments for weather helm or lee helm is easily accomplished. Try it sometime on your own boat, even if you have wheel steering. If nothing else, it will give you a good illustration of the physics of sailing, and you'll be able to take comfort in the fact that you now have a reliable 'additional driver' who'll always be standing by to take a turn at the helm. Needless to say, however, this simple technique will work much better on boats of 50 feet and under than it will on a megayacht. (If you want to dig deeper into this subject, check out John S. Letcher, Jr's classic Self-Steering for Small Craft.)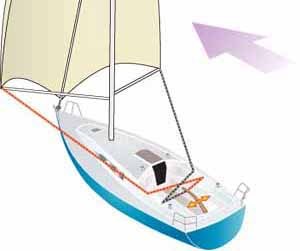 Webb Chiles isn't into posting updates from mid-ocean, preferring to relay his adventures in book form — to date, he's written at least seven of them, and his current lap around the planet will undoubtedly produce another.
Can you identify the sailing club in today's mystery photo? Here are a couple of hints:
If you get the impression the club is on a river and is primarily for small boats, you'd be correct. Nonetheless, lots of large vessels — some of them well beyond 200-ft long — pass by every day and night.
While most of the boats that sail in the river tend to be under 30 feet, some of them — although none of those in the photos — are among the most well-known in the world, having been seen by millions of people.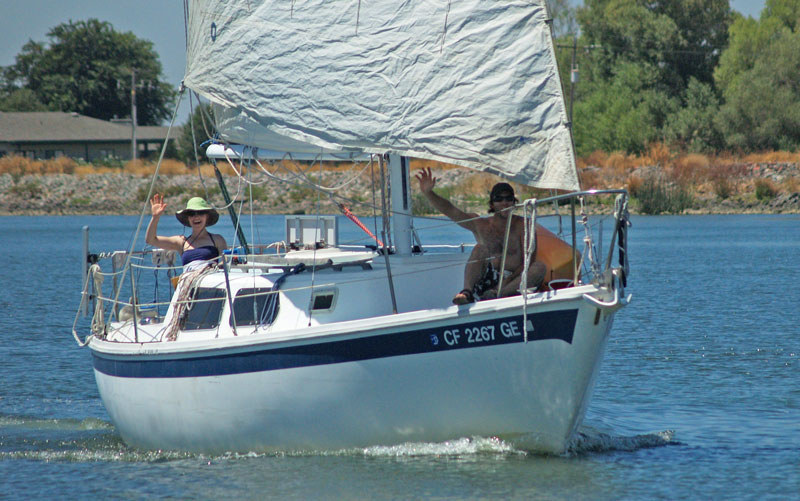 The Delta Doo Dah Kickoff Party will return to Berkeley Yacht Club this year, on Sunday, May 22, from 4 to 7 p.m. Like last year's, it will be combined with Craig and Ann Perez's Delta Cruising Seminar. Normally held at Richmond YC, where Craig was commodore last year, the seminar had to move this year as RYC's clubhouse renovation is not quite complete. BYC graciously stepped in and offered to host the event.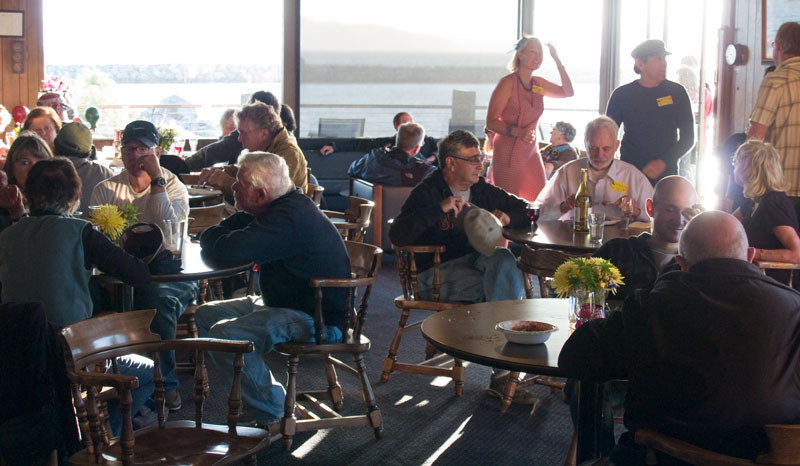 BYC will have casual food available to purchase, something they call 'linner'. "We will have a $10 pasta bar set up in the bar room: meatballs and spaghetti, mushroom penne pasta, green salad and crusty bread," says BYC manager Mark Sokolov. The bar will be serving reasonably priced drinks. Bring cash. Get directions here. Parking is free.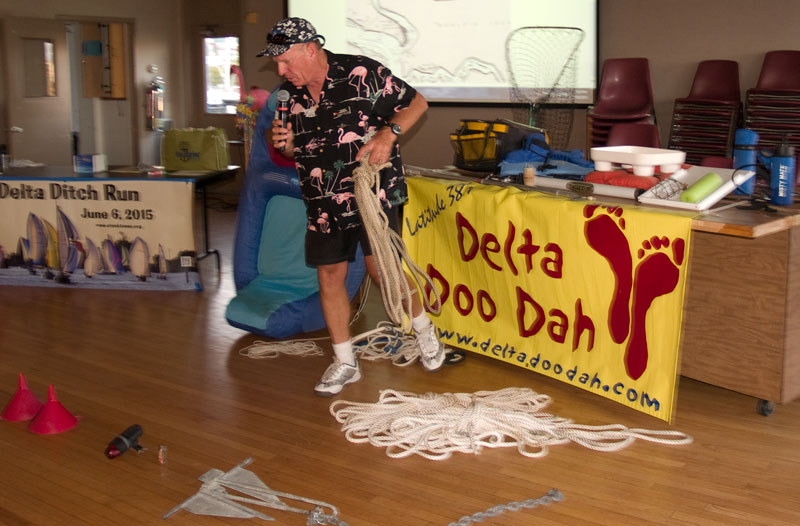 What's that funnel for? How can an old foam PFD be repurposed? What's the best kind of anchor to use in the sloughs? Isn't the Delta too shallow for deep-keel boats? How can sailors keep their cool in the heat? Explore the answers to these questions and many more at the Delta Cruising Seminar, which is interactive and invites participation from Delta vets — it's not just for novices. We encourage all Delta Doo Dah entries to attend.
And you must be an official Delta Doo Dah entry to win door prizes! Prizes to be given out at the Kickoff Party include:
We have a fresh supply of Discover the California Delta booklets to give out from the California Delta Chambers & Visitors Bureau, handy maps made up by Latitude 38, and sample itineraries devised by Craig Perez. We'll be selling Delta Doo Dah 8 burgees and hats, plus clearance-priced swag from previous years.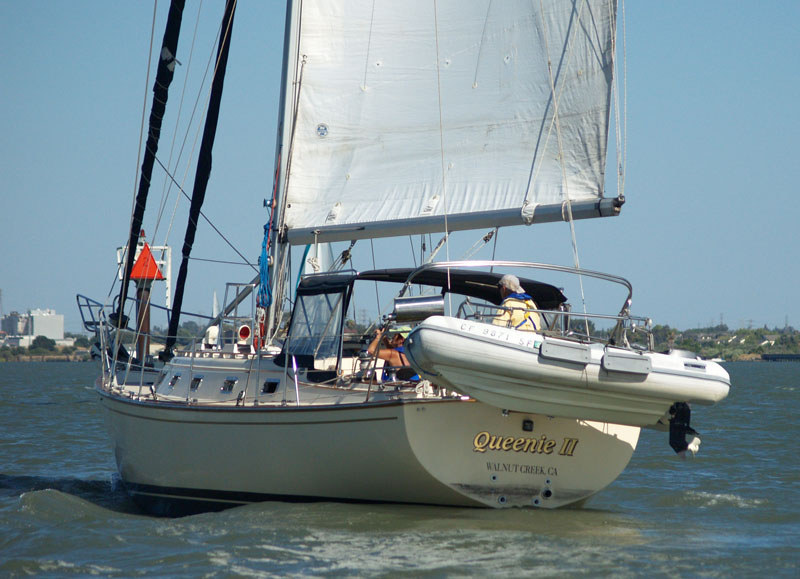 For more information, contact Doodette Chris by email or at (415) 383-8200 x103. And, if you haven't already, sign up for the Delta Doo Dah at www.deltadoodah.com.
Receive emails when 'Lectronic Latitude is updated.
SUBSCRIBE