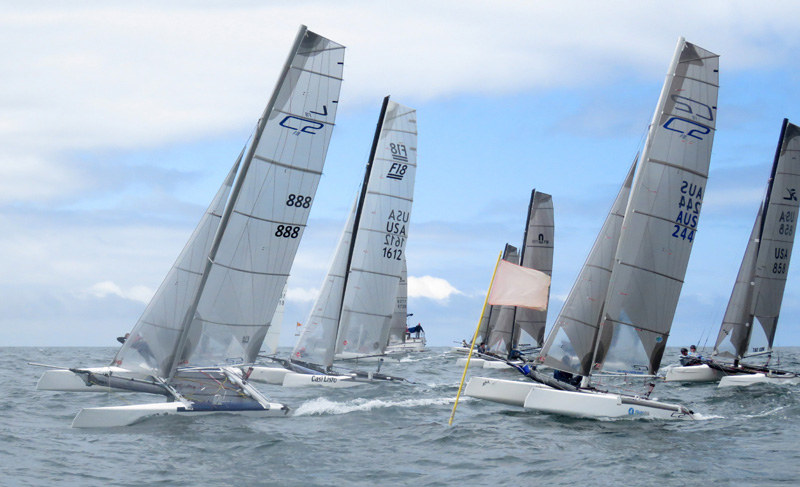 Catamaran fleets are exploding in San Diego. On May 14 and 15, Mission Bay Yacht Club hosted Cat Fight 2, the largest gathering of high-performance catamarans on the West Coast since the F18 World Championship in 2012.
Twenty-seven boats showed up for the fun. Competing in six races over two days, the spinnaker fleet had 19 boats on the start line, while A-cats had eight.
Saturday's light and bumpy seas provided frustrating conditions for the fleet. But Sunday was the fun-day, as Mother Nature gave the cat sailors a perfect 12 to15 knots of breeze, with a few 20-knot gusts thrown in just for fun. It's not a cat race unless there's a capsize.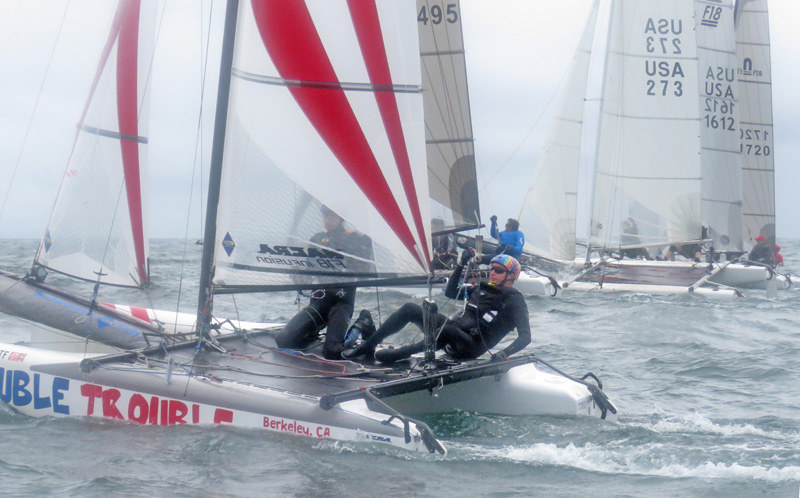 The current F18 National Masters Champion Scott Miller enjoyed surfing the waves downwind in the good breeze. The low points of his day were hitting the windward mark, not once, but twice. On Race 2, Miller was distracted by a capsized outrigger canoe on the course, when he realized his fleet was in their starting sequence. He launched his kite and accelerated toward the line, pulling off a decent start, then navigated through 18 other cats with his chute up. Miller and his wife Patty's skills overcame those few mistakes, and Team Miller took third place overall in the Regatta.
Skipper Travis Vetter and crew Jason Jarrell had their own kitemare. They caught a fishing line between their daggerboards, and when they launched their spinnaker it created a rat's nest. Somehow they managed to stay upright, and crew Jarrell drove the boat and trimmed the chute while helmsman Vetter untangled the mess. Miraculously, they kept pace with the fleet and didn't give up much time.
This year's Regatta was filled with both intense racing and personal triumph. Matt Morris, the 23-year-old comeback kid, was the crew on the winning boat from last year's Cat Fight. After the racing in 2015, Morris suffered a seizure and later had to have brain surgery. It's been a difficult year for Morris fighting his way back to health and vitality, but the doctors finally gave Morris the thumbs-up to compete again. This weekend's Cat Fight was Morris' first time back on the water racing. "Matt is the gas pedal on the boat," said helmsman Brian Paine. Like true champions, Morris and his skippers Steve Stroebel and Brian Paine defended their title as overall 2016 Cat Fight 2 Champions. It was absolutely the "feel good moment" of the Regatta.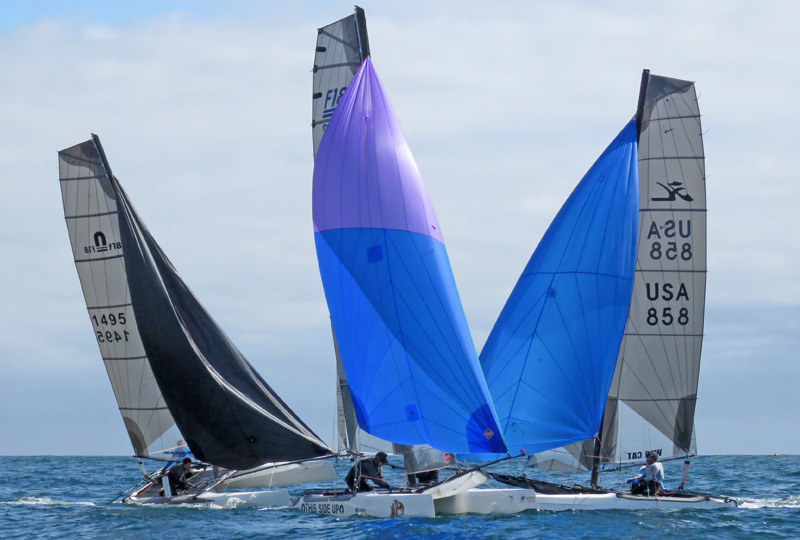 Receive emails when 'Lectronic Latitude is updated.
SUBSCRIBE